Consider this your reminder - Mother's Day is May 8th! Find and order the perfect gift before May 6 so that it arrives in time! And if your mom enjoys flowers, hop on over to urbanstems.com and check "Mother's Day gift" off your to-do list (and save 20% with code CNN20 while you're at it). Mother's Day is the most popular day of the year to send flowers — who doesn't love feeling appreciated? Beautiful blooms are a great way to show you care, and UrbanStems has some very special arrangements that're sure to thrill any mom. Bonus: If you purchase a bouquet early you may just earn that coveted "most thoughtful child" title. "Thoughtful spouse" has a nice ring to it too!
Flower deliveries of yore have gotten a bad rap; wilted flowers, sad arrangements and uninspired designs have left underwhelmed customers. No more! UrbanStems actually sources directly from farms and quality checks every bouquet. The company is involved at every stage of the process to ensure beautiful blooms go to every recipient. And these gorgeous florals ship super fast (next-day shipping), so fresh flowers spend less time in a box and more time with your mom.
UrbanStems offers modern bouquet designs, on-trend dried bouquets and popular plants, but even better, it offers convenience. It's almost as enjoyable to send a gift as it is to receive one. (Almost. Let's not get carried away.) Whatever you choose, UrbanStems has a special offer for CNN readers, and it's happening right now! Use code CNN20 for 20% off your next gift and order by May 6 at the latest so mom can enjoy the gift just in time.
But enough about the details — let's see those blooms. Here are some of UrbanStems' top picks for Mother's Day gifting this year.
For the dynamic mom: The Firecracker ($70; urbanstems.com)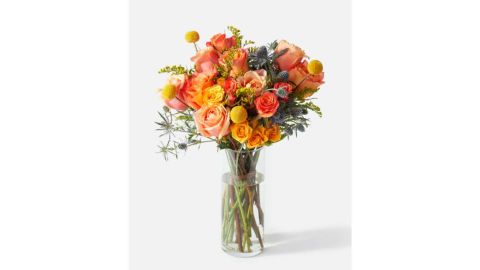 A bold mix of oranges and golds accented by blue thistle, The Firecracker is one vibrant bouquet. Roses, craspedia and solidago will thrill any mom who appreciates a pop of color.
For the natural mom: The Juliet ($65; urbanstems.com)
Delphinium, roses, ruscus, aster and lisianthus create this fresh and free-spirited bouquet. The Juliet is ideal for the mom who loves a pastel palette.
For the luxe mom: The Manhattan ($130, originally $150; urbanstems.com)
If Mom is a city gal, she will relish this romantic and bright collection of lilies, snapdragons and roses. Upgrade with various vases and treats!
For the romantic mom: The Peony ($85; urbanstems.com)
Perfect for the mom with understated taste, this is a simple, stunning bouquet full of lush, blush-toned peonies.
For the upbeat mom: The Poppins ($130; urbanstems.com)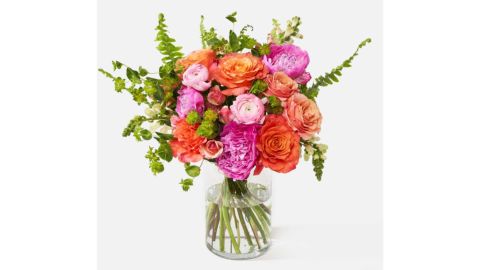 Much like its ephemeral nanny namesake, this bouquet is "practically perfect in every way." Peonies, spray roses and ranunculus in bright corals and pinks are breathtaking.
For the sophisticated mom: The Amethyst ($95; urbanstems.com)
A vision of jewel-toned blooms (including fluffy mums, leucadendrons, roses and ranunculus), this bouquet will charm even the most discerning mother.
Beyond bouquets
If you want to send cheer beyond Mother's Day, a subscription (complete with free delivery) is an option that Mom will surely appreciate. Opt for Classic, Seasonal or Luxe bouquets and choose your frequency (weekly, biweekly or monthly). It's a great value — send a floral subscription and get 25% off, plus free delivery on every order.
If Mom is into plants, consider one of UrbanStem's on-trend offerings. Orchids, succulents, mini roses, money trees, snake plants and more are available to ship straight to Mom.
UrbanStems is famous for its flowers, but if you're looking for something beyond a single fresh bouquet, check out its entire selection of gifts. Dried flowers are having a moment, and you'll certainly get some bang for your buck here; dried bouquets won't fade after the holiday.