Lunya's glam loungewear and luxe at-home separates are made for unwinding at home like a queen. Right now, you can save big on the brand's past collections during the Lunya Archive Sale, with up to 50% off previous seasons' styles. That's not to say that they're outdated or out of style (loungewear is doing nothing if not becoming more in style), and there's some beautiful pajamas, stylish wide-legged bottoms and other wear-forever pieces currently seeing mega discounts.
Styles are already selling out fast, so don't wait too long to add your selections to your cart. These are the kinds of clothes you want to wear around the house all day but also look great for a run to the bodega or to pick the kids up from school. Those kinds of all-day, everyday outfits are a win-win in our books. Read on for our favorite picks from the sale below — and then get shopping stat.
$278 $222.40 at Lunya
Silk pajamas that you can also throw in the wash? Yes, please. This chic set will make you feel like a Hollywood starlet. These pajamas feature a cropped top with elbow-length sleeves (that personally we'd be tempted to wear out of the house), plus comfy wide-legged trousers with a side slit for a little extra airflow under the blankets.
$258 $180.60 at Lunya
We love nothing more than a versatile piece in our closets, and this pullover can be worn front-to-back or back-to-front for two looks in one. It's endlessly wearable too, whether you're pairing it with shorts, lug-sole boots and tights on a cooler day in spring, a midi skirt for fall, or your favorite denim anytime of the year.
$68 $40.80 at Lunya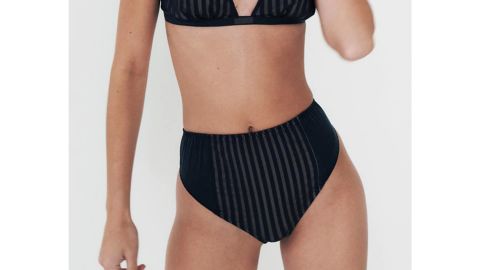 Hello, new favorite underwear. These high-waisted briefs don't have that weird cut-in to your lower stomach like a lot of Kardashian-inspired ones do, and they're so breathable and lightweight that they might just become your go-to everyday knickers.
$198 $118.80 at Lunya 
This mid-length dress is like wearing a T-shirt that just happens to cover all the necessary parts — and a thigh-high slit and sleeveless design keep it sexy for sundowners, too. Of course you can wear it to bed, but with a dress this pretty, who would want to save it just for that?
$198 $138.60 at Lunya 
This all-purpose dress seamlessly goes from bed to out-and-about courtesy of a great mini-rib fabric that won't leave it stretched out after a day of wear and a fitted bodice that adds a little shape. Plus, unlike most body-hugging dresses, you can actually walk (versus hobble) around in this one.
$78 $46.80 at Lunya 
With an oversized fit and a dropped armhole, this easy-wearing tank is great for lounging, erranding or any other -ing your day brings you. If you run a little hot as the days warm up, the cooling fabric will help alleviate some sweatiness, too.
$178 $115.69 at Lunya 
The next best thing to not wearing clothing at all, this romper has a delightfully oversized fit that's comfy all year round, with the added bonus that you can answer the door in it without raising eyebrows. It's made from pima cotton that's also designed for thermoregulation, so it's a four-season kinda deal.
$48 $33.59 at Lunya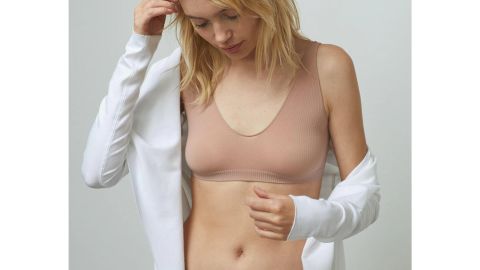 Like wearing a bra without wearing a bra (isn't that what we all want?), this bralette is super lightweight and easy-wearing thanks to sheer fabric and modal that's soft and comfortable whether you're lounging, sleeping or bopping around town.
$148 $88.80 at Lunya
Easy and breezy, this sleeveless short dress is all about cooling fabric and a functional cut that's both sporty and figure-flattering, thanks to some well-placed panels.