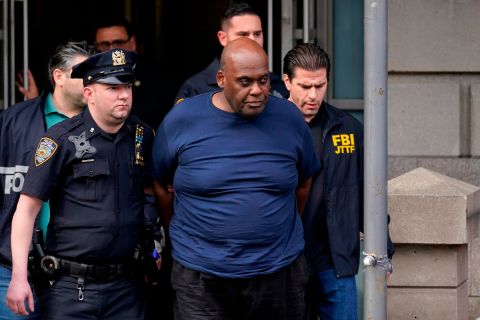 In pictures: Brooklyn subway shooting
Updated 4:15 PM EDT, Thu April 14, 2022
Editor's note: This gallery contains graphic images. Viewer discretion is advised.
Ten people were shot in a mass shooting on the New York subway Tuesday morning, authorities said.
A male train passenger put on a gas mask, deployed smoke grenades and then opened fire inside a subway car, according to New York City Police Commissioner Keechant Sewell. The incident happened as a Manhattan-bound train was waiting to enter the 36th Street subway station in Brooklyn at 8:24 a.m.
People were struck by bullets on the subway car and on the subway platform, Sewell said, adding that there were no life-threatening injuries. At least 19 other people were treated for injuries that weren't gunshot wounds, according to hospital representatives.
A 62-year-old suspect, Frank James, was arrested Wednesday afternoon in New York's East Village neighborhood. He was charged in federal court with violating a law that prohibits terrorist and other violent attacks against a mass transportation system, according to Breon Peace, US Attorney for the Eastern District of New York. James appeared in court Thursday and did not enter a plea.