Editor's Note: Sign up to get this weekly column as a newsletter. We're looking back at the strongest, smartest opinion takes of the week from CNN and other outlets.
The quest for justice is embedded deeply within us. In experiments with babies, psychologist Paul Bloom found that "even 3-month-olds respond differently to a character who helps another than to a character who hinders another person."
Children display "a rudimentary sense of justice – an understanding that good guys should be rewarded and bad guys should be punished," Bloom has said.
So when the horrors of Russia's invasion of Ukraine play out in full view, when a Kyiv suburb is turned into a killing field, when a missile strikes a train terminal packed with people trying to flee the war, there's a powerful impulse for justice. Yet, with the West ruling out military action in support of Ukraine for fear of sparking a wider war, there are limits to what sanctions and symbolic steps can achieve.
"With every image of a murdered civilian lying on the sidewalk in a Ukrainian town devastated by occupying Russian forces, with every interview of a tearful woman mourning dead relatives by the side of a grave, the level of frustration rises around the world," wrote Frida Ghitis.
"How can Russian President Vladimir Putin get away with brazenly assaulting a neighboring country, targeting noncombatants and killing thousands of innocent people while repeatedly claiming his troops are not committing atrocities or aiming at civilians? Can't he be stopped?"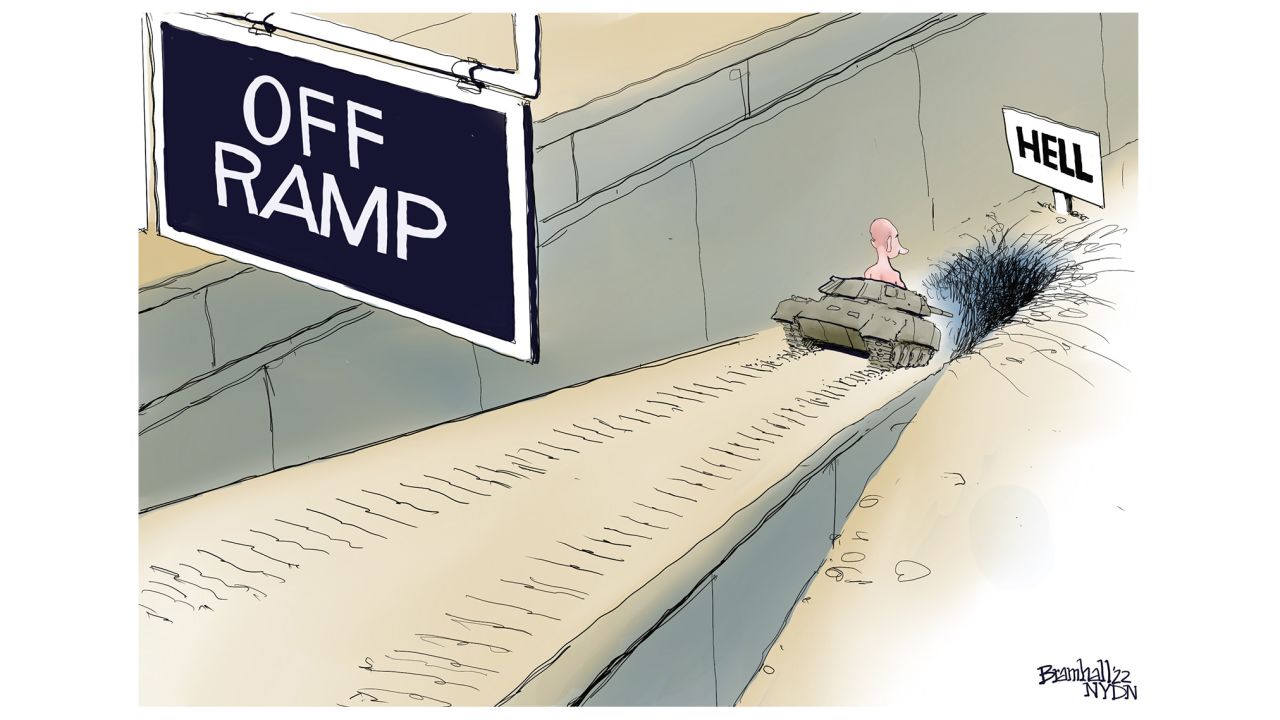 The West's response to Putin's invasion has been threefold – shipping arms to Ukraine, slapping sanctions on Russia and supporting symbolic measures like Thursday's UN General Assembly vote to expel Russia from the UN Human Rights Council.
"That the UNGA was able to issue a damning indictment by expelling it from the UNHRC shows that, profoundly flawed as it is, the UN still provides a place for the expression of the world's outrage," Ghitis observed.
"But barring Putin's Russia from the UNHRC is a purely symbolic act. It will not save a single life. Unless, that is, it becomes the first move in an effort to repair the architecture of international diplomatic institutions."
'Genocide'
After visiting Bucha, where the bodies of slain civilians were found lying in the streets, Ukrainian President Volodymyr Zelensky branded Russia's actions a "genocide" and called for prosecuting those responsible for the atrocities. The Biden administration responded "cautiously to any references to genocide in Ukraine," wrote Daniel Rothenberg. "And rightly so; genocide is a complex legal concept, which many experts consider difficult to apply and widely misused." But given the reasoning Putin has presented for the war, "along with Russia's military actions and what UN officials have described as targeting of civilians, the term genocide may well apply to what we're seeing in Ukraine."
Putin argued before the invasion "that there is no legitimate Ukrainian state that represents the Ukrainian people's right to self-determination. In a February 21 speech, Putin explained 'since time immemorial, the people living in the southwest of what has historically been Russian land have called themselves Russians and Orthodox Christians.' He went on to describe modern Ukraine as a false construction, presenting those supporting Ukrainian sovereignty as terrorists and neo-Nazis," added Rothenberg, a professor at Arizona State University.
Ruti Teitel, an expert on international law and a professor at New York Law School, observed that "the law of war has long prohibited intentional attacks on civilians, called noncombatants, as well as attacks that do not distinguish between civilian and military targets."
"A report this week by Human Rights Watch, based on interviews with eyewitnesses, victims and local residents of Russia-occupied territories between February 27 and March 14, documents many law of war violations. Interviewees described repeated rape and summary killings, as well as threats against civilians."
"Some of these offenses, especially those coming to light in Bucha, may not only be war crimes but possess such gravity as to be considered crimes against humanity."
US officials revealed additional sanctions against Russia last week, targeting two adult daughters of Vladimir Putin, along with relatives of other Russian leaders and two big Russian banks. But so far, sanctions apparently haven't succeeded in deterring the military campaign against Ukraine.
"The ratcheting-up of sanctions on Russia gives the world the illusion that real action is taking place on Ukraine," wrote Peter Bergen, "but will they have any effect on Putin's decision-making? History suggests that this is quite unlikely."
"Indeed, the whole theory behind sanctions is fundamentally flawed since it assumes that strongmen like Putin will change their policies if enough pain is inflicted on them, their cronies and their populations."
For more:
Peter Bergen: What's behind Russia's history of atrocities
Cristina Florea: Putin knows that controlling history is the key to total power
Supreme Court's new justice
With solid support from Democrats and the votes of three Republicans, the Senate confirmed Ketanji Brown Jackson to the US Supreme Court.
Peniel E. Joseph captured the historic significance of the moment, alluding to Rev. Martin Luther King Jr.'s famed Riverside Church speech 55 years ago this week: "King's work to build a more just, inclusive and equitable society is alive in Jackson. Once confirmed, she will be the only Supreme Court justice in American history to not only be a Black woman but to have served as a public defender. Her efforts to bring empathy and compassion to the criminal justice system are a reflection of King's dream to build a beloved community in America, one wherein institutions recognized the humanity of Black people and underdogs from marginalized communities around the world."
Tomiko Brown-Nagin, who wrote a biography of Constance Baker Motley, the first Black woman appointed as a federal judge, noted that "It has taken over 230 years to reach this auspicious moment. Until 1967, when former President Lyndon B. Johnson appointed Thurgood Marshall to the Supreme Court, presidents only selected White men to serve as justices. And for hundreds of years, race and gender not only defined the court's membership, but the court, in its decisions, also served as an instrument of discrimination against people of color and women …"
"We should not only celebrate the achievement of one exceptionally accomplished Black woman. We must also work harder than ever to create a more equitable society – one that supports the development of high achievers from every background and every neighborhood in America."
The Republican few
Democrats could have confirmed Jackson with only their party's votes, but some observers praised the Republicans who supported the nomination. Rep. Charlie Dent, a member of the GOP, wrote, "Most senators typically disqualify a Supreme Court nominee of the opposing party on ideological grounds, even as they acknowledge the strong qualifications and good character of the nominees themselves," Dent observed, after Sen. Susan Collins announced that she would back Jackson. "America needs more leaders with guts, and we have one in Sen. Susan Collins. The nation would be well served if we had several dozen more like her in office."
In contrast, the Republican leader in the Senate, Mitch McConnell, wouldn't commit to holding a hearing for Biden's future Supreme Court nominees, if the GOP wins control of the Senate in the November midterm election.
An uglier note was sounded by Rep. Marjorie Taylor Greene, who lashed out at the three GOP supporters of Jackson's nomination on Twitter, Jill Filipovic observed. "When a sitting US congresswoman gives oxygen to a dangerous conspiracy theory by falsely accusing her colleagues of being 'pro-pedophile,' the country has a problem – and her party has an urgent obligation to fix it.
"Unfortunately, the issue here is deeper than one unhinged congresswoman. It's the unhinged, morally bankrupt and chronically dishonest behavior of many of the party's leading voices."
For more on politics:
SE Cupp: Matt Gaetz's pathetic stunt falls flat
Dean Obeidallah: Lawmaker falsely claiming Trump caught bin Laden perfectly sums up today's GOP
Barack and Joe
Twelve years after the passage of the Affordable Care Act, former President Barack Obama returned to the White House to mark the occasion with his former Veep, President Joe Biden.
Paul Begala, who served in the Clinton White House, noted a shift in how Biden approached the occasion. "Rather than just praising what Democrats accomplished through the ACA, the President explained how Republicans could undermine those gains and leave Americans worse off – a framing his Democratic colleagues would be wise to take note of."
"Democrats should build a campaign message around the threat Republicans pose rather than seek an attaboy from people who are in no mood to thank anyone," wrote Begala. "I speak from experience. Heading into the 1994 midterm elections, my then-boss, former President Bill Clinton, wanted every Democratic member of Congress to carry around cards on which we'd printed all the good things the party had delivered to the American people: the Family and Medical Leave Act, tax cuts for working families, the creation of AmeriCorps, a ban on assault weapons, the Violence Against Women Act – and more. We lost 52 House seats and eight Senate seats."
Get our free weekly newsletter
Sign up for CNN Opinion's newsletter.
At another event, Obama was confronted with questions about the war in Ukraine and his handling of relations with Putin's Russia. SE Cupp wrote that "Obama was asked point-blank if he wishes he'd been stronger on Putin knowing what we do now."
He replied, "I actually don't, because the circumstances were different.'"
In a 2012 debate against Republican Mitt Romney, Obama faulted his opponent for labeling Russia America's greatest geopolitical foe. Asked last week about his reasons for not arming Ukraine, Obama said: "We were concerned about making sure that we did not give (Russia) an excuse for another incursion," and "You had issues of training." As Cupp noted, "He stunningly explained how we got to a place where Russia believed it could invade a sovereign nation. He said, Western democracies 'have gotten complacent.' Seemingly, the kind of warning Romney was flagging in 2012."
"It's hard to imagine a person being less self-reflective and more dug in on an obvious foreign policy blunder, and one that you could easily argue helped lay the path for this current invasion."
Ivanka and Jared
Two members of former President Donald Trump's family have spent hours testifying before the House select committee investigating the Capitol riot, in contrast to onetime Trump associates like Steve Bannon and Peter Navarro, who have refused to cooperate.
"It's notable that Ivanka Trump and her husband Jared Kushner chose to voluntarily cooperate," wrote Michael D'Antonio. "This choice saved them from the prospect of being subpoenaed and forced to decide whether to testify under the threat of being cited for contempt."
"As someone who was in the Oval Office on January 6," Ivanka "could have offered specific memories of events. Committee members are particularly interested in any discussions about Donald Trump's 2:28 p.m. tweet chastising Vice President Mike Pence for not supporting the plan to block certification of Biden's electoral win. They are also curious about the planning and her father's state of mind on that day."
"It's hard to imagine that anyone in the world can better assess Trump's state of mind than his daughter. The Trumps long operated their business as a close family unit, which meant she worked with him directly. She seemed to enjoy an unusual latitude when it came to establishing an independent identity."
Elon Musk's Twitter surprise
"I want to die on Mars," Elon Musk has famously said. "Just not on impact." This week, the outspoken entrepreneur (and world's richest man) had a different kind of impact – he announced that he had taken a 9% stake in Twitter and was appointed to the company's board.
As Julian Zelizer wrote, "Musk, a strong advocate of free speech who has used Twitter to spread disinformation and mock politicians, has already suggested he would work with the company to make 'significant improvements' … Meanwhile, some conservatives are calling on Musk to allow Trump back on the platform after the former President was permanently suspended two days after the January 6, 2021, attack on the US Capitol 'due to the risk of further incitement of violence.'"
"The potential for Trump to regain access to Twitter could have a significant impact on the 2024 Republican primaries, assuming the former President is planning to run again. Twitter was integral to Trump's political success, and if his accounts are restored, he would have immense leverage to secure the Republican presidential nomination and enhance his position in a general election."
Trump's Twitter alternative, "Truth Social, is flailing," Kara Alaimo wrote. "It was supposed to be 'fully operational' by the end of last month, according to its parent company's chief executive, former Rep. Devin Nunes of California. But now, it's plagued by a lack of content, technical issues and the resignations of top executives."
It's no surprise, Alaimo argued. "To sign up for Truth Social is to lend legitimacy to the former President and his behavior. It's no wonder that a lot of companies and people aren't clamoring to do so: they recognize that joining would cause self-inflicted reputational damage to themselves by mere association. As a result, it simply isn't possible for this social network to take off on a significant scale."
Conservatives take on Disney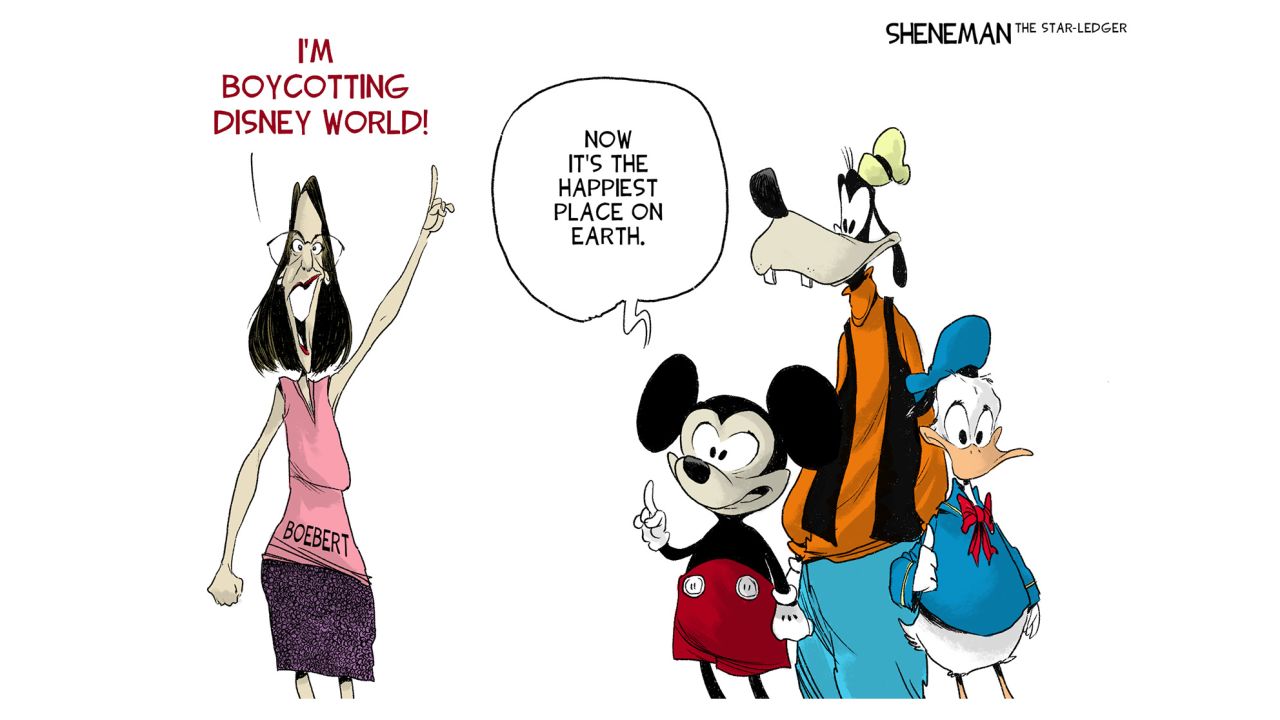 Conservatives in Florida and other states are passing bills to regulate what children can be taught in schools. Alongside these efforts, a growing cohort of publishers is offering content designed "to seal conservatives' children off from a broader culture," as Nicole Hemmer noted.
"'Are your children being brainwashed?'"
"That's the question that greets visitors to the Tuttle Twins website, which sells libertarian children's books. The books, written by Connor Boyack, are meant to protect children from the 'socialism and woke-ism' that the website says American educational and cultural institutions are 'pushing into the minds of our kids.' A cartoon on the site shows a mother wielding a Tuttle Twins shield while protecting her frightened children, absorbing the arrows of socialism, Marxism, collectivism, and 'media lies.'"
"Throw in the Daily Wire's vow to spend $100 million on conservative children's programs to oppose Disney in its conflict with Republican Florida Gov. Ron DeSantis – and Glenn Beck's secretive new Florida Project, launched to counter Disney's so-called 'gay agenda' – and you have the emergence of a full-on right-wing children's entertainment complex. Its sole mission: to fight what the right sees as liberal indoctrination with some indoctrination of its own."
Don't miss
Art Acevedo: These laws tie law enforcement's hands behind their backs
Roy Schwartz: The world of 'Morbius' was born over 9,000 years ago
Marta L Tellado: The silent threat in your burger wrapper
David A. Andelman: Putin casts a shadow over Macron's reelection bid
Yanzhong Huang: Why Xi can't quit zero-Covid
AND…
Sports comebacks
After a lockout-shortened spring training, Major League Baseball's Opening Day finally arrived. The sport "which was once the most popular in the country, has a bevy of problems that have landed it, at best, a distant second place in America's hearts. This is especially true among America's youth," wrote Harry Enten.
Also attempting a comeback was golf legend Tiger Woods, who competed in the 86th Masters tournament this weekend.
"It was just over a year ago when the world was stunned by the news that Woods had been in a horrible car accident in Los Angeles," Roxanne Jones recalled. "Woods' right leg nearly had to be amputated but was saved by emergency surgery. Afterward, many wondered whether Woods ever walk again, let alone play golf."
Remarkably, Woods "finished the opening round at 71, 1 under par. He was four strokes behind the leader, South Korea's Sungjae Im." Woods fell further behind in the third round Saturday. "Still, as we've seen so many times," Jones wrote, "even when Woods is not winning, he elevates the game and everything around it, as evidenced by the huge crowds and intense media buzz in Augusta, Georgia … They call it the 'Tiger Effect.' And it has forever changed the way we see the game of golf."