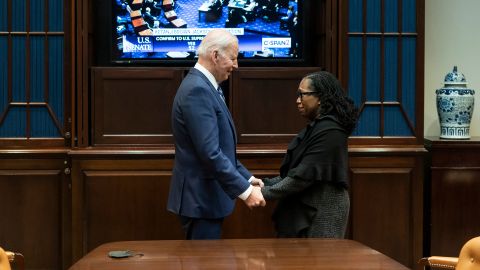 Updated 11:33 AM EDT, Fri April 8, 2022
History was made Thursday when the US Senate confirmed Ketanji Brown Jackson to be the first Black woman on the US Supreme Court.
Jackson, 51, will be sworn in sometime this summer when Justice Stephen Breyer retires. She was confirmed by a 53-47 vote, with three Republicans joining Democrats to vote in favor.
"In the 233-year history of the Supreme Court, never, never has a Black woman held the title of Justice," Senate Majority Leader Chuck Schumer said ahead of the vote. "Ketanji Brown Jackson will be the first and I believe the first of more to come."
Here are some of the stories that made headlines over the past week, as well as some photos that caught our eye.
Editor's note: This gallery contains graphic images. Viewer discretion is advised.