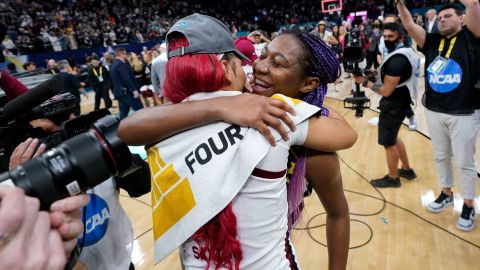 In pictures: South Carolina wins second national title
Updated 1:01 AM EDT, Mon April 4, 2022
For the second time in school history, the South Carolina Gamecocks are national champions in women's college basketball.
The Gamecocks, the top-seeded team in the NCAA Tournament, dominated all season, and Sunday night's final against UConn was no different. They jumped out to a 22-8 lead after the first quarter and never looked back, defeating the Huskies 64-49 at the Target Center in Minneapolis.
South Carolina point guard Destanni Henderson scored a game-high 26 points and added four assists and three steals. Gamecocks forward Aliyah Boston, the Naismith Player of the Year, scored 11 points and had 16 rebounds.
South Carolina finishes the season with a record of 35-2. This is the program's first championship since 2017.
UConn (30-6) was looking to add to its record of 11 national titles, but the Huskies were overmatched by a South Carolina team that dominated the boards 49-24 and caused 15 turnovers. This is the first time in school history that UConn has lost an NCAA final; the Huskies were 11-0 up until this point.