Getting more mindful about the way you shop? Now more than ever before, consumers are searching for brands that marry high-style with sustainability. Luckily, brands like The Sak offer both.
Take a quick glance through its spring bag collection and you'll notice nature-inspired earth tones, textures that invite touch and designs that truly help you express your personal style. That said, The Sak is about so much more than bags; it's also about combining a passion for artisanal techniques with social and environmental change.
How, exactly? For one, this company is B Corp Certified, which is a label that's awarded to companies that meet the highest standards for positive impact on the global economy (also making The Sak, along with Sakroots, the largest handbag company to be B Corp Certified). Beyond that, The Sak is dedicated to detailed, high-quality craftsmanship (which you can see reflected in every responsibly sourced leather bag or hand-crocheted shoe) and has made a commitment to use only 100% sustainable materials by 2024.
Check out a few of The Sak's latest styles below, including bags to feel good about and comfortable shoes for the warm weather.
Rylan Satchel ($149; thesak.com)
From brunch to the beach, this satchel will go everywhere with you. It's hand-crocheted in a slouchy silhouette that always retains its shape, thanks to its pliable, unlined interior. It's so lightweight and easy to pack—just roll it up and take it anywhere! No matter which color you choose, its sustainable strings are multicolored for depth and texture. Despite its laid-back feel, the crocheted pockets are practical, and the roomy interior complements your lifestyle.
From the hand-crocheted Static collection comes this signature round shoulder bag, which uses sustainable strings made from recycled plastics. (Three different colored filaments are twisted into one yarn for a look that's elevated, stylish and highly textured.) The unlined interior contributes to its light weight, while the soft organic shape adapts to carry everything from your phone to your water bottle. Its comfortable shoulder strap keeps all of your essentials close by.
Los Feliz Large Tote in Vachetta Leather ($229; thesak.com)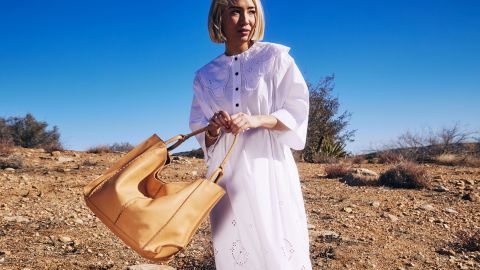 One reviewer called the Los Feliz tote the "best everyday bag" they've ever had, though according to other 5-star ratings, it's just as well suited for work and adventuring. On the outside, the natural, untreated leather elevates your wardrobe, but the single oversized compartment is big enough for books and laptops too. Meanwhile, the hanging compartments organize smaller items like your phone, keys and sunglasses. (Check out The Sak's entire Vachetta leather collection to see other designs that feature this rich, supple leather that's been tanned with sustainable vegetable-based dyes.)
Mendocino Slide Sandal ($79; thesak.com)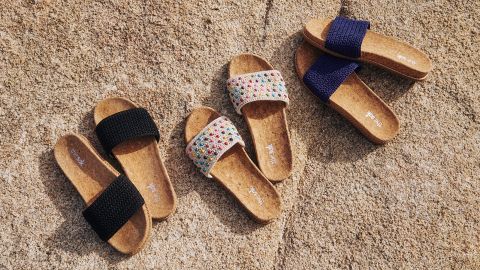 The hand-crocheted strap keeps your foot encompassed in comfort, while the cork footbed is adaptive, antimicrobial, sustainably made, shock-absorbing and supportive. These slides are available in your choice of several different colors, but no matter which one you choose, they come packed in a market bag made from natural cotton, which you can reuse over and over again. For other styles, browse through The Sak's shoe shop.
120 Hobo Custom ($149; thesak.com)
Looking for a foolproof Mother's Day gift? The 120 Hobo custom bag has an astounding 4.9-star rating for a reason: You can personalize every aspect of this iconic, slouchy silhouette, from the pattern on the body to the message on the interior label. As always, the bag is hand-crocheted using artisanal methods and mindful materials.