Get '5 things' in your inbox
If your day doesn't start until you've gotten up to speed on the latest headlines, then let us introduce you to your new favorite morning fix. Sign up here for the '5 Things' newsletter.
A new set of European tech rules meant to boost competition in online services will change the way people interact with major tech companies like Apple, Google and the like – and the effects could be seen far outside of Europe.
Here's what you need to know to Get Up to Speed and On with Your Day.
(You can get "5 Things You Need to Know Today" delivered to your inbox daily. Sign up here.)
1. Ukraine
Russia's defense ministry said the country will "drastically reduce military activity" in the Ukrainian cities of Kyiv and Chernihiv after a round of peace talks in Istanbul yesterday. However, US officials are skeptical of the claims, and the situation on the ground shows a Russian offensive in full force. Ukrainian officials say there was no reduction in hostilities overnight, and no area in the country was without sirens as the siege persists. New images and video from cities like Irpin and Mariupol show the extent of the destruction, with entire blocks obliterated. US leaders are facing pressure to form a united front against Russia and its neighboring allies, but a well-supported bill to suspend normal trade relations with Russia and Belarus is languishing in the Senate because of split priorities and a looming recess. 
2. Capitol riot
The confirmation hearings for Supreme Court nominee Judge Ketanji Brown Jackson will resume later today. In the first day of hearings yesterday, Jackson assured senators that she takes her "duty to be independent very seriously." If confirmed, Jackson would become the first Black woman to serve on the high court. Democratic Sen. Dick Durbin of Illinois helped put Jackson's nomination in historical context yesterday, noting that of 115 Supreme Court justices, 108 have been White men. Democrats celebrated the groundbreaking nature of Jackson's nomination and praised her unique experience and legal record. Republicans, meanwhile, used their opening statements to focus on past contentious Supreme Court confirmation hearings, but promised that Jackson's hearings won't be a repeat of the heated process that Justice Brett Kavanaugh went through. Senators from both sides of the aisle will have an opportunity to question Jackson on her experience today. Democrats hope to confirm Jackson by early April.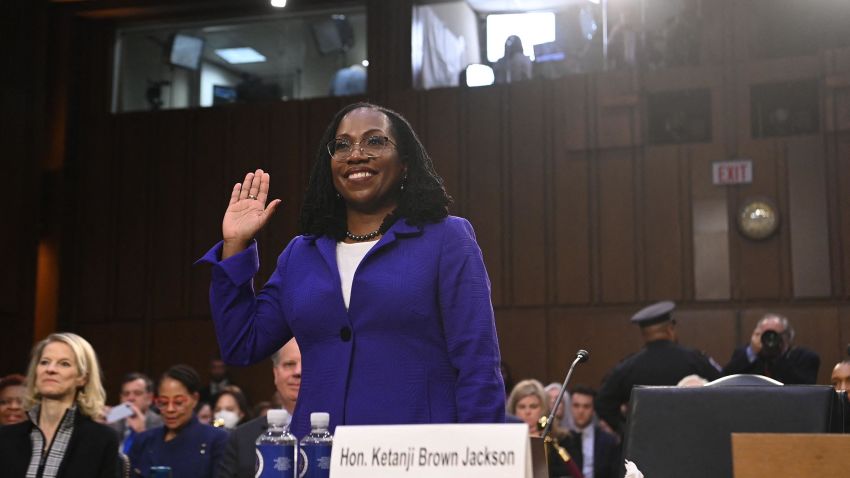 See Supreme Court nominee Ketanji Brown Jackson's opening statement
3. Coronavirus
No survivors of a China Eastern Airlines plane crash have been found as search efforts entered a second day today, Chinese state media said. The Boeing 737-800 – carrying 132 people – crashed Monday in a remote, mountainous region in the south of the country as it flew from Kunming to Guangzhou. Chinese officials have declared it the country's worst air disaster in more than a decade. The cause of the crash is not yet clear, and authorities have not released any additional information on the casualties. Investigators at the site, facing difficult terrain and poor weather, have not located the plane's so-called black boxes – the flight data and cockpit voice recorders – which could hold crucial clues to how the disaster unfolded.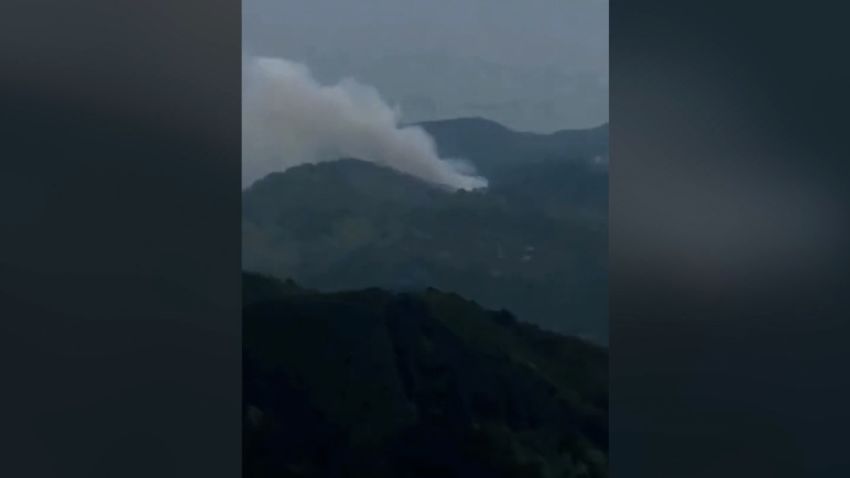 Video shows what happened to China Eastern airliner that crashed
4. Residential schools
Indigenous Canadian leaders and survivors of Canada's residential schools met with Pope Francis at the Vatican on Monday, seeking a papal apology for the Catholic Church's role in the deadly and damaging residential schools system. Hundreds of unmarked graves were discovered last year on the grounds of former residential schools in British Columbia and Saskatchewan, and Canada's Truth and Reconciliation Commission has reported that more than 4,000 Indigenous children died either from neglect or abuse at the schools, many of which were run by the Catholic Church. During this week's meeting, the delegation asked the Pope to consider if the church should use its resources to help with work linked to the discovery of unmarked graves on residential school properties.
5. Georgia voting laws
A controversial election overhaul effort in Georgia has stalled after a state Senate committee gutted the massive bill following complaints from both parties that it was complicating their work in an election year. The bill sped through the GOP-led state House earlier this month, but now faces a time crunch as the Georgia General Assembly is set to adjourn next Monday. The initial overhaul would give the state investigations agency authority to initiate election fraud probes, and calls for public inspection of original paper ballots and limits on third-party donations for election administration. The only part of the bill the state's Senate Ethics Committee chose to keep was a requirement that employers provide time off for workers to vote during the early voting period. The decision was praised by voting rights activists who have criticized repeated attempts by the state's conservative leadership to change the state's election code, including a restrictive voting law passed last March. 
BREAKFAST BROWSE
Questlove missed Will Smith's slap because he was meditating
The show may be ending after thousands of dramatic paternity tests, but Maury's catch phrase will live on forever: "You are… not the father!" 
These were the best and worst places for air quality in 2021
The air in Los Angeles was the most polluted out of more than 2,400 US cities analyzed. Yikes. Where does your city rank?
There are now more than 5,000 confirmed worlds outside of our solar system
NASA is spearheading a hunt to discover more worlds (and whatever what may be on them.)
Blue Origin announces replacement for Pete Davidson on next space tourism mission
Meet the lucky new individual getting a 10-minute supersonic joyride!
Were you struggling with some Apple services yesterday?
If so, it was because a number of the company's services – including the App store, Apple Music, and iCloud – were all hit by a brief outage.
TODAY'S NUMBER
4.4 million
That's how much Obamacare premiums are for low-income Americans this year who missed signing up for 2022 Affordable Care Act coverage. Those with incomes less than 150% of the federal poverty level – $19,320 for an individual and $39,750 for a family of four – can now enroll in plans with $0 premiums through a special enrollment period, the Centers for Medicare and Medicaid Services told CNN exclusively yesterday. Most people will be able to select plans with no premiums, while others may have to pay a few dollars.
TODAY'S QUOTE
"Lynching was pure terror to enforce the lie that not everyone … belongs in America, not everyone is created equal."
– Ukrainian Foreign Minister Dmytro Kuleba, on the death of 96-year-old Holocaust survivor, Borys Romanchenko, who was killed Friday by a Russian strike on the Ukrainian city of Kharkiv. Romanchenko survived the concentration camps at Buchenwald, Peenemünde, Dora and Bergen-Belsen during World War II, according to his memorial. Kuleba called Romanchenko's death an "unspeakable crime" on Twitter.
TODAY'S WEATHER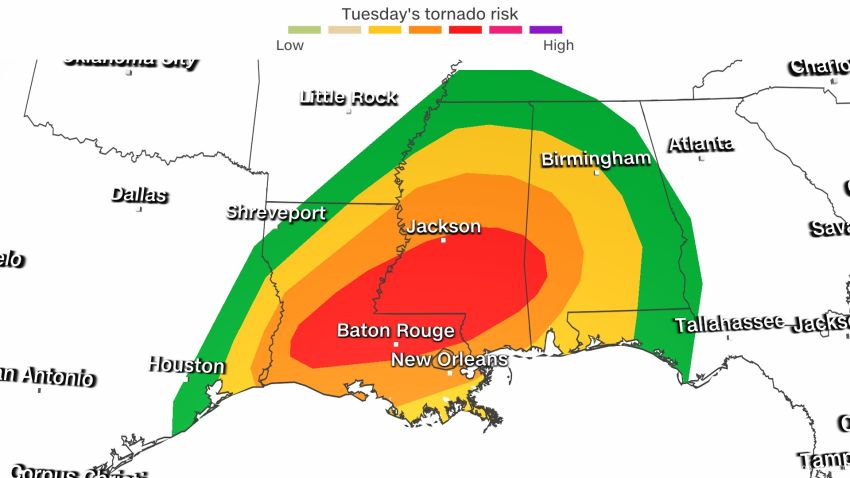 Strong tornadoes, large hail, and strong winds likely for parts of the South
Check your local forecast here>>>
AND FINALLY
Surprise!
Elephant crashes the pool party
What would you do if an elephant wanted to hang out at the pool with you? (Click here to view)