Editor's Note: Vanessa Hua is the author of the forthcoming novel "Forbidden City," and of "Deceit and Other Possibilities" and "A River of Stars." She is a columnist for the San Francisco Chronicle and has written for many publications about Asia and the diaspora. The views expressed here are her own. Read more opinion on CNN.
To explain the plot of the recent Pixar movie "Turning Red," I told my 10-year-old twins before we watched it: "It's about a girl who goes Hulk when she's mad. Instead of turning green, she turns into a red panda."
"Do we know anyone else who…goes Hulk?" I added. They laughed sheepishly. My husband and I have talked to our kids about the importance of emotional regulation, especially amid the stresses of the pandemic.
The movie is a classic coming of-age story, with an allegorical twist. Every time she gets riled up, she transforms into a cuddly, gigantic red panda.
"Is it set in China?" asked the twin currently obsessed with geopolitics and warfare. "A Chinatown," I said. In Toronto's Chinatown. "Like the one we visited for Chinese New Year."
In San Francisco, just across the bridge from where we live, we'd stocked up for the holiday, buying snacks and firecrackers that we later set off on our driveway. My sons are multiracial – half Chinese, half Serbian and Northern European. Throughout their childhood, with varying degrees of success, I've attempted to expose them to their maternal ancestral culture and heritage, with afterschool Mandarin classes and meals at dim sum palaces.
When I was growing up in the suburbs east of San Francisco, Asian Americans rarely appeared on screen. Long Duk Dong, the dorky exchange student in the "Sixteen Candles" teen romance scarred a generation of us who longed for representation of a different sort. His first line – delivered hanging upside down from a bunk bed – "What's happening, hot stuff?" still rings in my ears.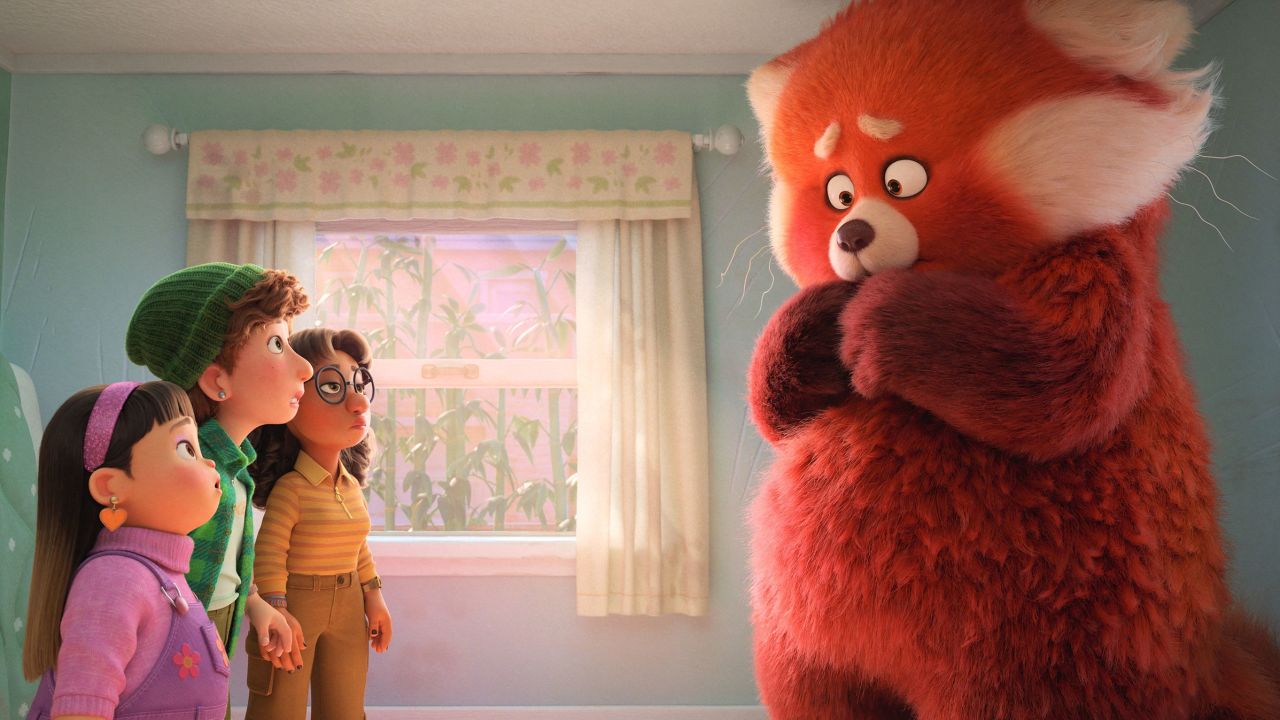 Back when middle school bullies tossed my shoes out the bus window, I could never have dreamed of a heroine who resembled me. Like the protagonist of "Turning Red," Mei Lee, I'm also the daughter of Chinese immigrants. When I was in the eighth grade, I was also pint-sized, played the flute, studied French – and got swept up into outsized emotions. My parents, as a term of endearment, called me "mei mei," a tender nickname for "youngest daughter."
During our family movie night watching "Turning Red," I was rapt as Mei faltered and regained herself, alternating cringing and soaring along with her as she has her first crush, goofs around with her friends, sneaks out to go to a party, and saves up for a boy band concert while still trying to honor traditions and help take care of her family's temple.
One of my sons declared the film "funny"; the other left during the movie and read a Percy Jackson book instead. They haven't talked about it again, but I'm glad they know such a strong-willed, enterprising heroine exists.
I didn't feel pandered – panda'd? – to, despite what a now-deleted Cinema Blend review might claim. Its critic deemed the movie "a tad limiting in scope" because of how deeply the story was rooted in Toronto's Asian community, and therefore risked "alienating" audiences.
I wonder who exactly this critic pictured watching the film? And by that logic, no one should be able to relate to robots, toys, cars or tropical fish – to name just a few Pixar protagonists – either.
On Rotten Tomatoes, the film has received a critic's rating of 95 percent, in reviews that described it as "heartwarming" and "richly layered, thematically bold."
As I tell my creative writing students, the power of a story lies in the details, in the specifics that bring a character to life, on the page and on screen. In this way, "Turning Red" makes the struggles of this particular 13-year-old universal as she learns who she is and wants to be – ultimately embracing her red panda exuberance.
The Asian diaspora is not a monolith, but so often we get portrayed as all look same, all act same, all are same – perceived as perpetual foreigners, perpetual aliens. When you deny us our stories, you deny us our humanity. Instead, the same tropes appear and reappear: Dragon Lady, submissive whore, nerd, kung fu master, or cold-hearted and calculating villain.
No such stereotypes end up in "Turning Red." The film is among the many movies and novels released in recent years that portray characters of Asian descent as fully human – flawed, eccentric and dreaming of a bigger life – including "Always Be My Maybe," "Tigertail," "The Half of It," "Interior Chinatown" and the forthcoming "Portrait of a Thief" and "Counterfeit."
As a journalist and a novelist, I've also tried to shine a light onto untold stories that might inspire a change in thinking and a change in action. Change that we've never needed more.
"Turning Red" was released on March 11, the second anniversary of the World Health Organization declaring Covid-19 a global pandemic. Former President Donald Trump and his associates variously dubbed the coronavirus the "Wuhan virus," "Chinese virus" and "Kung Flu" – stoking an environment where anti-Asian hate crimes rose across the country. The racist banner cry: "Go back to where you came from!"
From March 19, 2020, to the end of last year, 10,905 hate incidents against Asian Americans and Pacific Islanders were reported to the group Stop AAPI Hate.
Wednesday marks the one-year anniversary of the Atlanta spa shootings, in which a White gunman killed eight people, six of them Asian American women: Soon Chung Park, Hyun Jung Grant, Suncha Kim, Yong Ae Yue, Delaina Ashley Yaun, Paul Andre Michels, Xiaojie Tan and Daoyou Feng.
Justice for Asian Women is holding nationwide events to remember the victims and speak out against persistent anti-Asian hate. The violence and fear confronting Asian Americans has only grown more acute in the year since the Atlanta killings. Just last week, an attacker punched and stomped on a 67-year-old woman of Asian descent outside her building in Yonkers.
We cannot let up on protesting, organizing and voting. We must continue to support victims and improve mental health services, and address systemic racism and sexism.
"Turning Red" gives me hope, though, in its captivating challenge to stereotypes that can often lead people to view Asian Americans as "other" – the first step toward targeting them.
Get our free weekly newsletter
Sign up for CNN Opinion's new newsletter.
"I'm finally figuring out who I am," Mei tells her mother. "But I'm scared it will take me away from you."
It's a poignant moment that would surely touch anyone with a heart. The growing body of creative work by Asians in the diaspora deepens our collective understanding about what we share. And each time someone recognizes themselves in the characters, it paves the way for them to tell their stories too.