Redbubble's talented artist community creates designs for over 125 different products that let you express yourself. Wall art, mugs, T-shirts, shower curtains, dad hats and more functional items feature designs from hundreds of thousands of independent artists, which means you can find exactly what you're looking for no matter the occasion. Whether you're shopping for a little something to treat yourself or that perfect gift, you'll find it at Redbubble. A dreams classic T-Shirt? A radiate positivity cap? Perhaps a dragon jigsaw puzzle would be up your alley? This is the fun stuff you'll find at Redbubble, and we're here for it.
Original art abounds, and Redbubble also has official licensing agreements so you can also shop items featuring entertainment properties including "Dune", "Jurassic World", "The Big Lebowski," "Schitt's Creek," "Back to the Future" and more. Your favorite singers and comedians are right there alongside adorable panda illustrations. There's truly something fun for everyone.
Redbubble turned 15 this year and it's celebrating 15 years of providing customers with unique products. The 15 Years of Moments Collection contains cool, memorable designs on quality items.
New to Redbubble? Here are some of its customers' favorite categories from the new 15 Years of Moments Collection:
Stickers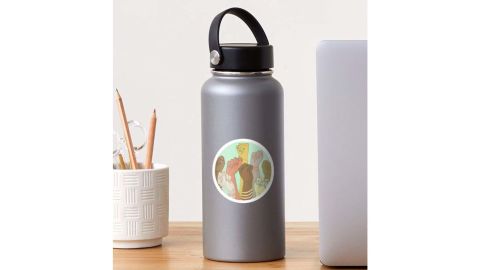 So many hilarious and cute stickers, so little time! Slap some on your water bottle, your laptop or your notebook. The Rainbow Cats design is a cute and popular sticker choice. (Who can resist cats and rainbows?) Or you could go inspirational with the together sticker. Or just opt for a screaming hamster. So many choices! And just a few bucks let you express yourself on practically any surface.
T-shirts
Wear your feelings with a funny, sarcastic or even serious shirt. Choose from designs by over 700,000 artists and designers and find that perfect tee. Redbubble has all the hottest pop culture themes, but the best part is that your T-shirt is completely yours — choose from over 15 shirt styles, plus choose the color and even the material. Some top picks from Redbubble's 15 Years of Moments collection include the cool S P A C E illustration or the sassy Couple of Fruits tee.
Phone cases
Practical and fully customizable, phone cases are a modern must-have. Why not personalize yours? Redbubble has stylish and protective cases that'll project your personality. Bestsellers include the bold Vote As If Your Life Depends On It and the vibrant Gentle Love soft case. Opt for a soft case, a snap case or a tough case for your iPhone or Samsung Galaxy.
Hats
When perusing Redbubble's hats, pick your design, then choose from a baseball cap style or the '90s special, the dad hat. Opt for a political design like "human" spelled in various queer flags or go for something lighter like Avocado Yoga. Whatever you choose, you're getting a quality hat. There's truly a hat for everyone here.
Posters
If you're looking to class up the joint with some wall art, Redbubble is the right site. The sheer number of posters offered will delight and astound. Some favorites from Redbubble's 15 Years of Moments collection include the motivational illustration Sisterhood and the sweet Green Coral Sea Turtle. But don't stop there — Redbubble boasts over nearly 100K poster designs.
Express yourself, support independent artists and shop responsibly at Redbubble. Each item is print on demand and made to order to prevent waste so you can feel good about your purchase. Celebrate 15 years of Redbubble expression and save up to 35% on Greeting cards, up to 20% off your next Mug, or buy 6 Art Boards and get 20% off. Bundle discounts automatically apply to your order and no code is required. You'll find your new favorite thing.