Russian forces launched multiple missile attacks on a wide range of targets across Ukraine in the early hours of Friday, striking airfields in the far west of the country and, for the first time, hitting the central city of Dnipro, to which Ukrainians from other embattled cities have fled.
The airport at Lutsk, some 70 miles from the Polish border, was reported to have suffered substantial damage in the attacks. The governor of Volyn region said four missiles had been fired from a Russian bomber and that two people were killed.
Plumes of smoke also rose from the military airfield at Ivano-Frankivsk, about 240 kilometers (150 miles) south of Lutsk. It was previously struck by missiles on the first day of the conflict.
"On the morning of March 11, high-precision long-range weapons attacked Ukraine's military infrastructure. The military airfields in Lutsk and Ivano-Frankovsk were put out of action," the Russian Defense Ministry said Friday.
Three Russian airstrikes also caused serious damage in and around the central city of Dnipro on Friday morning, killing one person, the State Emergency Service of Ukraine said in an official Telegram channel. One strike was near a preschool and an apartment building and another hit a shoe factory, causing a fire, the service said.
Many Ukrainians evacuated in recent days from other cities under Russian fire had been taken to the relative safety of Dnipro.
The Office of the UN High Commissioner for Human Rights (OHCHR) said Friday it remains "gravely concerned by the rising death toll and human suffering in Ukraine" and called "for an immediate end to the attacks."
"Civilians are being killed and maimed in what appear to be indiscriminate attacks, with Russian forces using explosive weapons with wide area effects in or near populated areas," OHCHR spokeswoman Liz Throssell said in a statement.
OHCHR said it has so far recorded 549 civilian deaths and 957 injuries since the invasion began on 24 February, "although the actual figure could be much higher."
"Schools, hospitals, and kindergartens have been hit – with hugely devastating consequences," Throssell said. On March 3, 47 civilians were killed when Russian airstrikes hit two schools and several apartment blocks in Chernihiv and on March 9, a Russian airstrike hit a Mariupol hospital, injuring at least 17 civilians, she said.
"We are still investigating reports that at least three civilians may have been killed in the airstrike," she said. "We spoke to different sources in Mariupol, including local authorities, indicating consistently that the hospital was both clearly identifiable and operational when it was hit."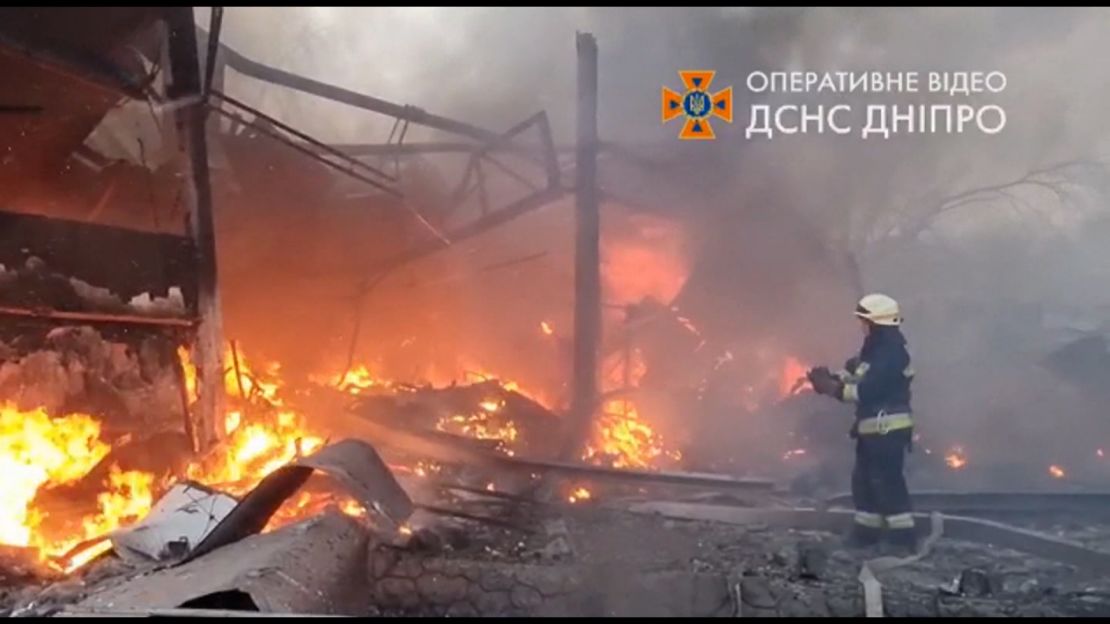 Throssell also said OHCHR has received "credible reports of several cases of Russian forces using cluster munitions, including in populated areas." The use of cluster munitions in populated areas is "incompatible with the international humanitarian law," she said.
Elsewhere, in the southern city of Mykolaiv, heavy shelling erupted on Friday evening.
Social media videos showed fires in the area and Vitaliy Kim, Head of Mykolaiv Region Administration, said that there were "active hostilities near Guryivka," to the north of the city.
In a series of messages on his Telegram channel, Kim said the bombardment amounted to "indiscriminate shooting at civilian targets," including a cafe and apartment block.
And in the southeastern city of Melitopol, Mayor Ivan Fedorov was seen on video being led away by armed men from a government building on Friday.
The prosecutor's office for the separatist, Russian-backed Luhansk region now says they are weighing terrorism charges against him. Fedorov's detention by the armed men is the first known instance of a Ukrainian political official being detained and investigated by Russian, or Russian-backed forces, since the invasion began.
The Ukrainian Foreign Ministry published a strongly worded statement on Facebook, calling Fedorov's detention an "abduction" and a "war crime."
Meanwhile the number of people who have fled Ukraine continues to rise.
The UN High Commissioner for Refugees, Filippo Grandi, said Friday that the number of people who have left the country has now hit 2.5 million.
Many others are still trapped in dire conditions as Russian forces bombard multiple cities. Ukrainian authorities said there was limited success Friday in securing the evacuation of civilians from areas worst affected by the fighting.
Resistance persists
In eastern Ukraine, there is growing evidence that the town of Volnovakha, has finally fallen to Russian forces and their allies in the so-called Donetsk People's Republic. The city had been surrounded almost since the beginning of Russia's invasion but had been fiercely defended by Ukrainian forces.
Some social media videos from the city showed Russian soldiers and vehicles in several neighborhoods, as well as abandoned Ukrainian tanks. Other videos showed widespread destruction in Volnovakha, and the Russian defense ministry spokesman, Major General Igor Konashenkov, claimed the town had been taken.
Russia has made some additional advances around the rest of the country in the past 24 hours, a senior US defense official told reporters on Friday.
But the French government painted a less than rosy picture of the Russian military's progress.
The Russian army was poorly prepared for its invasion of Ukraine and is now facing many difficulties on the ground, "particularly in the logistical field and in the field of intelligence," French armed forces spokesperson Pascal Ianni told TV station France2 on Friday.
"It is possible that an attack on Kyiv will be carried out in the next few days, but actually taking control of Kyiv is a whole other matter and will take a long, long time," he said. "The Russian army is also caught up in a premature spring," he added, with the defrosting ground causing mobility difficulties for the military.
Britain's Ministry of Defence said on Friday that Russian forces continued to make "limited progress" in advancing toward Kyiv – but could be preparing for a fresh attack against the Ukrainian capital in the coming days.
"It remains highly unlikely that Russia has successfully achieved the objectives outlined in its pre-invasion plan," the ministry said in an intelligence update. "Logistical issues that have hampered the Russian advance persist, as does strong Ukrainian resistance."
Fighting intensified to the northeast and east of the capital Friday, after the Ukrainians successfully intercepted and attacked an advancing Russian tank column on Thursday.
An overnight airstrike on the Brovary district just east of the capital caused no casualties, according to Kyiv authorities. Ukrainian authorities also reported a missile strike on the town of Baryshivka overnight into Friday, some 45 miles east of the city.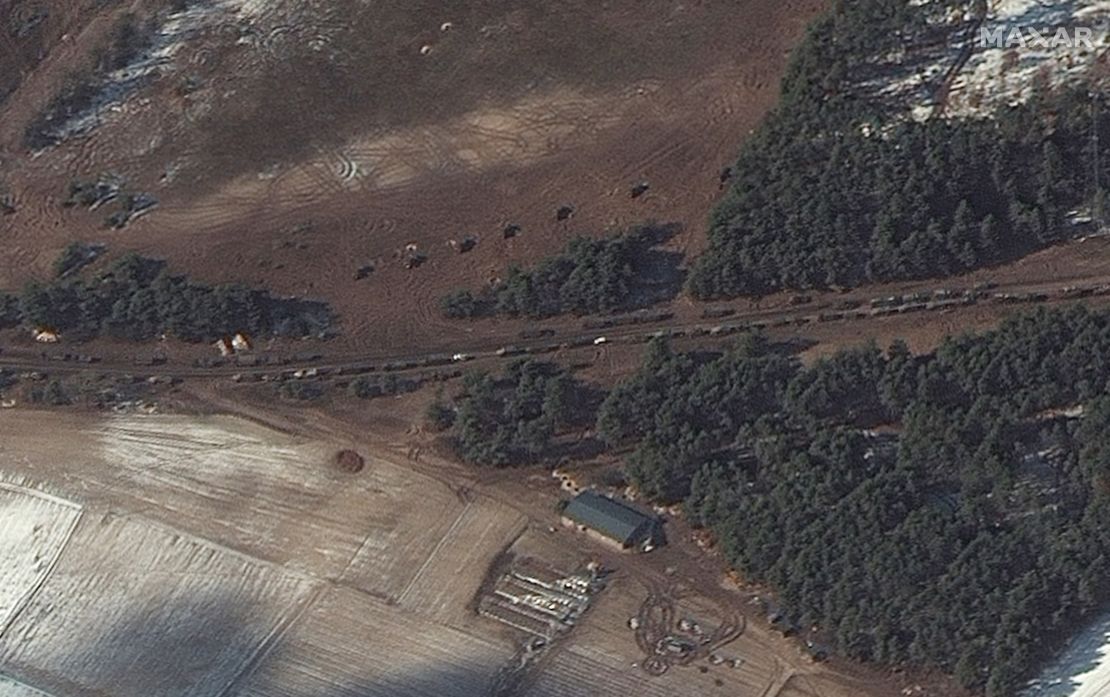 A Russian column that had been stalled for nearly two weeks outside Kyiv has now dispersed, according to Maxar satellite imagery from Thursday. The forces appear to be regrouping.
And a western defense official confirmed on Friday that a third Russian general had been killed by Ukrainian forces. He was named as Major General Andriy Kolesnikov, and was commander of the Eastern Military District, according to the Russian defense ministry website. The official noted for context that three Russian general staff officers were killed during the whole Syrian conflict.
In Moscow, Russian Defense Minister Sergei Shoigu said Friday that the invasion was being carried out successfully, despite claims from Western leaders that its military has encountered unplanned obstacles and resistance.
"All is going according to the plan, we report to you here every day this week," Shoigu told Russian President Vladimir Putin at a televised meeting of the country's security council.
Shoigu claimed that the Russian army has received more than 16,000 applications from volunteers in the Middle East wanting to join the war in Ukraine. He also asked Putin for more weapons to arm the separatist regions of eastern Ukraine's Donbas region, including arms that Shoigu claimed the Russian army had seized from the Ukrainians.
Putin supported both suggestions.
CNN's Tim Lister reported from Kyiv, Gianluca Mezzofiore and Laura Smith-Spark from London, and Paul Murphy from New York. CNN's Celine Alkhaldi, Lindsay Isaac, Camille Knight, Joseph Ataman, Amy Cassidy, Sarah Dean, Niamh Kennedy, Matilda Kuklish, Max Foster and Jake Kwon contributed to this report.