Eileen Gu's medal hopes did not look promising after two runs of the women's freeski slopestyle event at Genting Snow Park on Tuesday.
During her second run, Gu had fallen backwards off the rail, a mistake which had plunged her to eighth position and with an outside chance at a second medal of Beijing 2022 after winning gold in the big air event.
As the poster child for a new type of Chinese athlete and one with sky-high aspirations – Gu has been candid that she hoped to win medals in all three of the events she was competing in – the pressure was mounting the 18-year-old shoulders.
So Gu did what many teenagers do in times of need – she talked to her mom.
"My mum knows me very well and she knows the way my brain works with pressure. I've done a lot of work, read a lot of psychology books, did a lot of research on my own brain to see how I deal with pressure. And now we know that I perform well under it.
"So in the first round, in the second round, I wasn't fully in the zone, if that makes sense. I wasn't in that headspace.
"And my mom could see that, so I talked to her after the first run. She was like: 'Pretend your second run is your third run, pretend you have no more chances.' I was like: 'I'm trying,' but I guess my imagination is not that good."
And as the saying goes, mother knows best – Gu produced a stunning final run to surge back into the medal hunt, eventually finishing with a silver just 0.3 points behind gold medalist Mathilde Gremaud.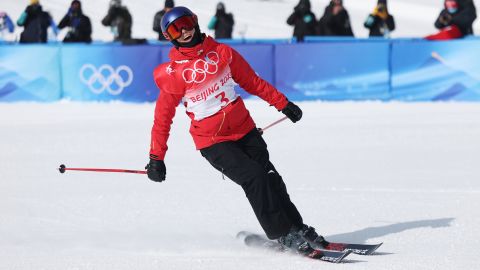 Gu admitted that after landing at the end of her final run of the event, she felt "relieved."
"I felt happy," she told the media. "I'm out here to represent myself and the sport to people.
"So just to be able to put down a run and show people what's possible when you're under pressure, is another thing that I'm proud to represent. So yeah, I'm proud of myself. And I'm happy that everybody was here to witness it.
"Of course, I'm competitive. So the 0.3 points (between herself and Gremaud), I'm going to think about that. But it's OK, I'm happy."
Breaking out
This year's Beijing Olympics have been a breakthrough moment for Gu.
The American-born skier, born to a Chinese mother and American father, chose to represent China in 2015, and has seen her star soar since the start of what is a home Winter Olympics for her.
Her face is plastered across Chinese cities on advertisement boards and magazine covers and featured in promotional videos ahead of the Olympics showing Gu performing tricks midair and running on the Great Wall.
A gold medal in the women's freeski big air event only helped strengthen the Gu legend, and she has arguably become one of the biggest stars of the Games.
On Monday, the International Olympics Committee (IOC) removed a description of Gu having dual citizenship from its website after CNN raised a question about inconsistencies of the gold medalist's citizenship status on the IOC website.
According to the archive of the IOC website, one page described Gu as having dual citizenship while her biography page said Gu had "renounced her United States citizenship for Chinese citizenship" in 2019 in order to complete for China, even though there is no public record to show that Gu has renounced her US citizenship.
In its updated webpages, the IOC removed a description of Gu having dual citizenship and changed the line saying she had "renounced her United State citizenship" to "in 2019, she made the decision to compete for China."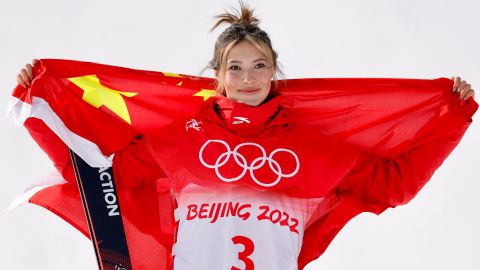 In response to CNN's inquiry about the contradictory description of Gu's citizenship, the IOC said Gu acquired her "Chinese nationality" in 2019 and had submitted a copy of her Chinese passport, thus she is "fully eligible" to represent China during the Beijing 2022 Winter Olympics.
Chinese law doesn't recognize dual nationality, and it regulates that naturalized Chinese "shall not retain foreign nationality" after Chinese citizenship is granted.
Gu has repeatedly dodged questions from journalists about her citizenship status after she won gold in the women's big air competition for China.
"When I'm in China, I'm Chinese. When I'm in the US, I'm American," she said.
Yong Xiong in Seoul contributed to this report.