The Democratic governors of Connecticut, New Jersey and Delaware as well as Oregon's health department have set timelines for the end of their states' school mask mandates in a sign of the receding wave of Covid-19 and the country's move toward a "new normal."
New Jersey Gov. Phil Murphy announced Monday the state's mask mandate in schools and child care settings will end on March 7. Citing the decline in Covid cases, increased vaccination and the lower severity of the Omicron variant, he called the move "a huge step back to normalcy for our kids."
"Masking continues to be an important tool to prevent the spread of Covid," Murphy said. Individual school district leaders will have the ability to maintain or enforce a mask policy "should community conditions require," he added.
Similarly, Delaware Gov. John Carney announced that the state's universal indoor mask mandate will end on February 11 and that school mask mandates will expire March 31.
"We're in a much better place than we were several weeks ago in the middle of the Omicron surge of Covid-19 cases and hospitalizations," Carney said.
"I want to be clear about this point – COVID is still circulating in our communities. And the virus still poses a risk of serious illness, particularly among those who are not up to date on their vaccinations," he added. "But we have the tools to keep ourselves and each other safe."
And Connecticut Gov. Ned Lamont recommended ending the statewide mask mandate in schools and child care centers there, effective February 28, saying further decisions should come from officials at the local level.
"I think now is the time for us to say, statewide mask mandate is no longer at our level, each and every mayor, each and every superintendent can make that call for themselves. I recommend the date February 28," he said.
"Every town has a certain different sense of what the vaccinations is, what the risks are there," Lamont said. "I think you now know enough after two years to be able to make an informed decision yourself."
The Oregon Health Authority on Monday said the state will do away with mask requirements in schools and all indoor public spaces no later than March 31.
"We should see COVID-19 hospitalizations drop by the end of March because so many Oregonians are wearing masks and taking other steps to protect themselves and each other, such as getting a booster shot or vaccinating their children," said Dean Sidelinger, state health officer and epidemiologist. "At that point, it will be safer to lift mask requirements.
The decisions to end school mask mandates reflect the shifting tide on mask politics, frustration with continued Covid-related restrictions two years into the pandemic, as well as high vaccination rates and fewer cases in recent weeks.
Vaccination rates in New Jersey and Delaware are above average for the US. About 73% of people in New Jersey, 74% in Connecticut and about 67% of people in Delaware are fully vaccinated, according to the Centers for the Disease Control and Prevention.
Dr. Carlos del Rio, the executive associate dean of the Emory University School of Medicine, said removing masks may be the right move for school districts in highly vaccinated communities.
"As the cases are decreasing right now with Omicron, you know, in a couple of weeks, maybe removing masks is actually the right thing to do," he told CNN on Monday. "It allows us the opportunity to actually peel off one of those restrictions that has been so controversial and, you know, things we can do in schools – we can improve ventilation, we can do so many other things that are necessary."
A shift in the politics of masking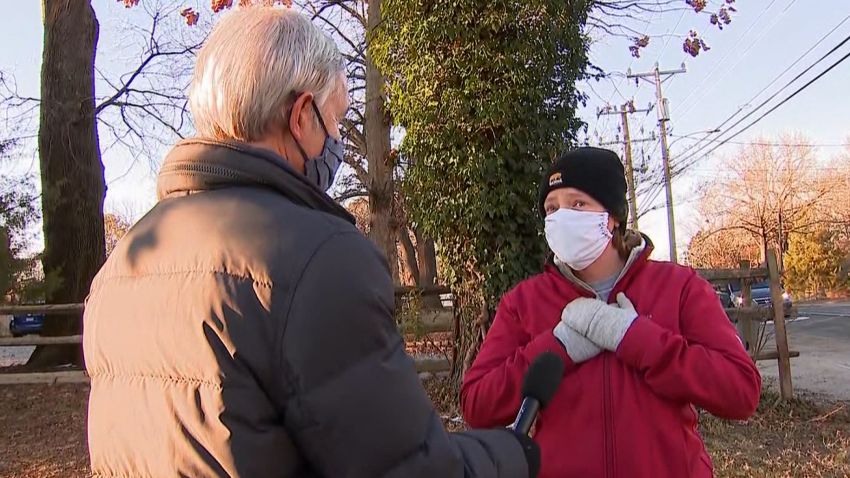 School superintendent says his district won't comply with Republican governor's executive order on masks
In November, Murphy narrowly won reelection in the blue state by winning 51% of the vote over Republican Jack Ciattarelli. The close victory came amid often fierce opposition to mask mandates, particularly in less liberal parts of the state, and represented a warning sign for his and other Democratic leaders' commitments to mask and vaccine mandates.
In Virginia, Republican Gov. Glenn Youngkin opposed school mask mandates during his successful 2021 campaign. Once he took office, he sought to impose a ban on mask mandates, but his executive order is on hold as lawsuits from schools and parents make their way through the courts.
Many states led by Republican leaders never instituted school mask mandates or have rescinded them. The rapid decline of the Omicron variant over the past few weeks has also made states more comfortable dropping mask requirements.
The Biden administration has not offered a plan or roadmap for how states should handle the transition out of the Covid-19 emergency into a greater sense of normalcy.
Masks have been shown to help prevent the spread of Covid-19 in crowded indoor spaces. Still, they can be uncomfortable when worn for long periods of time and can hinder communication. In addition, although anyone can spread the virus to others, children and young people are at much lower risk of severe illness and death from the virus than older people – particularly if they have been vaccinated.
As of now, New Jersey does not require face masks in most outdoor and indoor settings, but masks are required in high-risk areas such as schools, hospitals, public transit, child care centers, correctional facilities and homeless shelters, according to the state.
The CDC has recommended that schools remain open for in-person instruction and that all students, staff, teachers and visitors wear masks, regardless of their vaccination status.
CNN's Artemis Moshtaghian, Gregory Krieg, Carma Hassan and Jenn Selva contributed to this report.