Going to the gym definitely requires an investment of time, money and travel, but building your own at-home gym requires extra square footage that most people just don't have. Fortunately, there's a third option: It's called the Tempo Move. It's a compact personal training gym for your home, and all it requires is your phone, your TV and a few feet of space.
Tempo revolutionized the home fitness industry when it released its Tempo Studio, which uses AI-powered technology alongside 3D sensors and motion detection to analyze your form and give you fast, easy-to-follow guidance throughout your entire workout. In other words, it's like having your own personal trainer in your home — and the Tempo Move now offers similar technology for less and takes up minimal space in your living room. Thanks to the signature 3D Tempo Vision™, Tempo Move provides users with real-time feedback, making it as close to an in-person experience as possible.
Tempo Move (Introductory offer $395, $39/mo subscription; tempo.fit)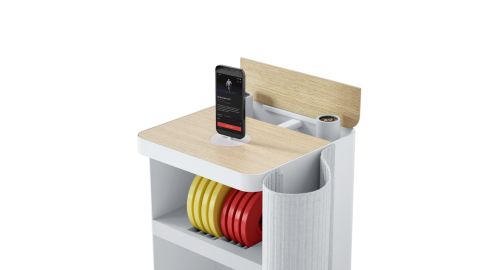 First, you can set up the sleek, modular cabinet wherever you'd like to conduct your workout. It requires less than 2 square feet of space, and it neatly stores the included competition-grade weights and dumbbells, which feature built-in smart technology that tracks your reps and your form. It also comes in both light and dark color schemes, but whichever one you choose, it's compact and actually adds to the aesthetic of your home rather than subtracting from it.
Get the technology connected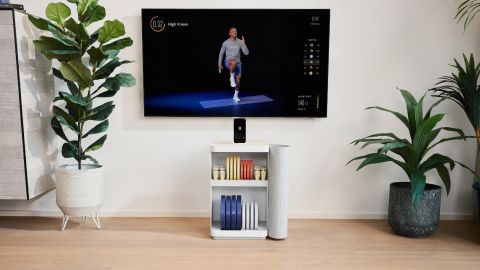 After that, simply plug your iPhone into the Core dock (which is fully portable) and the Tempo Move into your TV using an HDMI cable. Your phone's front-facing camera, combined with Tempo's proprietary 3D Tempo Vision™, will track your movements from every angle. It'll then use your TV screen to display personal guidance, real-time form corrections, intensity adjustments and rep tracking — just like a personal trainer. Most importantly, it keeps you safe, motivated and on track, all from the comfort of your own home.
Compatible with your Apple Watch
While the Tempo Move doesn't yet work alongside Android phones, most iPhones are supported, and it's compatible with the Apple Watch and the Tempo Heart Rate Monitor (sold separately), both of which help you to further keep an eye on your progress. You can also add on the 10-pound plate set or the workout mat to complete your at-home fitness setup.
Affordable, compact fitness equipment in your home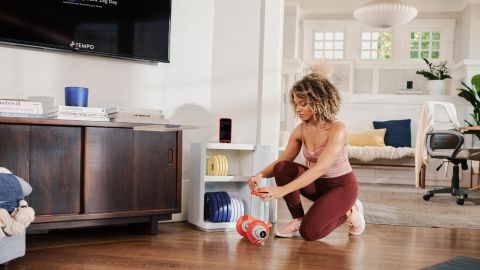 With Tempo's introductory offer, you can purchase the module for only $395 (or $16/mo for 24 months with $0 down and 0% APR). The $395 price makes it an affordable entry point into the connected home fitness space.
A monthly membership that's worth it
With Tempo's $39 monthly membership, you get access to over 1,000 programs that span from two to six weeks and include a huge range of classes: strength training, HIIT, mobility, yoga, cardio, low-impact, prenatal — you name it. These classes are both live and on demand, and new ones are added each week. That way, you can progress at your own pace and choose personalized fitness routines that'll actually hold your interest. Last but definitely not least, since you get six accounts per membership, everyone in your household can partake in one of the most personalized, futuristic fitness solutions around.