Editor's Note: Mark L. Clifford is the author of "Today Hong Kong, Tomorrow the World: What China's Crackdown Reveals About Its Plans To End Freedom Everywhere" and the president of the Committee for Freedom in Hong Kong. He is the former editor-in-chief of the South China Morning Post. The opinions expressed in this commentary are his own. Read more opinion at CNN.
From boycotts to wars and even curses, the modern Olympics has negotiated a turbulent history. Now, the Olympics movement faces its worst crisis in decades, because the International Olympics Committee (IOC) is unable to ensure that sporting ideals will be upheld when the Winter Games begin in Beijing on Friday.
China's behavior – threatening to punish athletes who speak freely and refusing to engage on issues from forced labor to human rights – has caused the future of the Games themselves to be questioned.
But China could turn all of this to its advantage by making a bold move that would give it the international respect it is seeking – and bolster the spirit of the Olympics.
It could seize control of the narrative by releasing some high profile Hong Kong political prisoners as the Games start and with it take the oxygen out of criticism of the country's human rights abuses. Indeed, releasing political prisoners in Hong Kong would pose little threat and would be an easy victory for China.
Obvious candidates for release include older prisoners such as lawyer Albert Ho, media entrepreneur Jimmy Lai and former legislator Claudia Mo, all of whom have been non-violent advocates for democratic reform for decades. Releasing those three along with younger activists and journalists such as Joshua Wong and Gwyneth Ho, and letting them leave Hong Kong if they wish, would be applauded by many Western countries and human rights campaigners worldwide.
There are precedents for this. On the eve of the 1988 Seoul Olympics, South Korea's authoritarian ruler Chun Doo Hwan bowed to pressure from the pro-democracy movement to allow the first freely contested presidential election in more than a quarter-century. The move was an important turning point to making South Korea a democratic country that today wields a disproportionate soft power.
China has also in the past released political dissidents ahead of major foreign leader visits to help smooth the way, though this was mostly before Xi took power. Indeed, ahead of former US President Bill Clinton's summit with then-Chinese leader Jiang Zemin in 1998, Beijing released high profile 1989 Tiananmen Square activist Wang Dan and allowed him to travel to the United States.
In Hong Kong, scores of people remain behind bars indefinitely, awaiting trial under a vague national security law imposed by Beijing 18 months ago. Their detention and the harsh way the new security law has been imposed violates the "one country, two systems" principle that China instituted when it took over the former British colony in 1997. That includes the right to be considered innocent until proven guilty, the right to a trial by jury, the right to free speech and the right to freedom of assembly.
Many of the most prominent of these prisoners are committed to non-violence. Their continued detention is a stain on China's reputation. It would be more difficult, but also justified, for China to do something dramatic in response to world pressure over its forced internment of Muslim minorities in the western region of Xinjiang, where the US and other governments have accused Beijing of committing genocide against the Uyghurs.
The same could be said of China's campaign to smother Tibetan culture and deny legitimacy to the Dalai Lama. Beijing regularly denies human rights abuses in Xinjiang and Tibet – and a single bold move would still leave serious unresolved issues.
But it would show a different side of General Secretary Xi Jinping, the most powerful Chinese leader since Mao Zedong, the founder of the People's Republic of China. So far, he has been attracting mostly negative attention.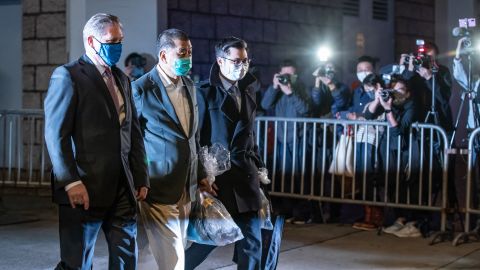 In addition to its human rights abuses, China has been wielding its economic power in a repressive way meant to squash dissent not only at home but around the world. It has boycotted Australian goods for nearly two years since Canberra called for an independent investigation of the origins of Covid-19 – something that China itself says it supports. More recently, it has shut down supplies from Lithuania – even demanding that German automakers rewire their supply chains to cut out Lithuanian suppliers – after the tiny Baltic nation allowed the opening of a Taiwan representative office.
Giving amnesty to some of Hong Kong's political prisoners would be an easy win for China. Along with the Nobel Prize nominees already mentioned, architects of the pro-democracy movement such as Benny Tai have long preached non-violence. In many democratic countries, these prisoners would be applauded as committed citizens. Such a move wouldn't signal that China's leadership had a newfound commitment to human rights; it would show a magnanimity and leadership befitting a powerful nation. Xi has a chance to show an anxious world that he can pursue more supple policies than Mao did.
The IOC has been badly stung in its handling of Chinese tennis star Peng Shuai's allegations of sexual abuse at the hands of a one of China's top Communist officials – who also happened to oversee Beijing's bidding for the 2022 Games – and its unwillingness to engage human rights advocates. The IOC has been good to China. China could repay the favor, showing the Olympic spirit has tangible benefits for individuals.
Absent a bold move, coverage of the 2022 Winter Olympics is likely to focus on a series of human rights violations that advocates have argued amounts to genocide of Uyghurs, the continuing crackdown in Hong Kong and a myriad of other abuses that put China near the bottom of global lists of free countries.
Get our free weekly newsletter
Sign up for CNN Opinion's newsletter.
The 1936 Berlin Olympics will be forever remembered as the Nazi Olympics. Will 2022 Beijing be remembered as the Genocide Olympics or as something else? The choice is Mr. Xi's.