It's year two of the pandemic and we all want to escape.
Unfortunately, with Covid still making the rounds, trip options may be limited again this year. But the good news is we still have camping and recreational vehicles! They're a self-contained and safe way to travel, and a great way to enjoy the outdoors or stay nearby your favorite events and festivals. If hitting the open road this spring or summer sounds appealing, perhaps you've thought about traveling or vacationing in an RV. You may already be thinking about it; according to RVshare's 2022 Travel Trend Report, 70% of millennials are planning on taking a road trip or vacation in an RV in the next 12 months.
Luckily, you no longer need to shell out scads of cash to purchase your own motorhome; you can simply rent someone else's! That's where peer-to-peer RV rental marketplace RVshare comes in. RVshare is an RV rental website with an incredible selection of vehicles. In fact, it's the first and largest peer-to-peer RV rental marketplace. Whether you're planning a cross-country trek or just a weekend jaunt, you can find the right RV for the job.
There are more than 100,000 vehicles available on RVshare, with varying price points, starting at about $100 per day. Chances are you'll find an RV to suit your trip, whether it's an affordable travel trailer for a camping weekend or a luxury motorhome for an extensive national park tour. If you don't want to drive, you can even have an RV delivered to your vacation spot. If you're into the idea of renting an RV, you'll need to choose between the two key kinds: towable and drivable.
Travel Trailers: If you want to tow your RV
If you have a tow-capable car, you might want to tow a trailer. The benefit of a travel trailer is more living space for a lower price, since they don't need to make room for an engine or chassis. You also have the benefit of potentially using your car once you place the travel trailer at your destination. Some types of towable travel trailers are:
Pop-Up Camper ($-$$; rvshare.com)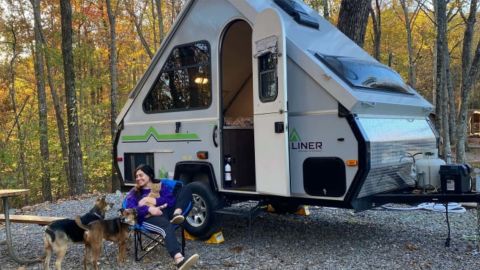 Pop-ups tend to be light, making them easy to pull. Most full-size SUVs can do the job, and even some sedans. Pop-up campers are a great upgrade from tent camping, and mini camper trailers can easily fit in smaller campsites. Pop-ups are an affordable option and generally sleep two to five adults, making them a great family choice.
Fifth Wheel ($-$$$; rvshare.com)
Four to eight or more passengers can comfortably fit in a fifth wheel trailer, and you need a full-size pickup truck and a special hitch to tow one. These bad boys have the biggest RV footprint, and some can extend out into what amounts to an RV mansion.
Motorhomes: If you want to drive your RV
If the simplicity of hopping in and driving off appeals to you, consider a drivable RV. If you're not used to driving large vehicles, that can be a hesitation, but most folks get the hang of it pretty quickly. The biggest benefit to motorhomes is their ease of use — no need for hitching or unhitching. Popular drivable RVs include:
Class-C Motorhome ($$-$$$$; rvshare.com)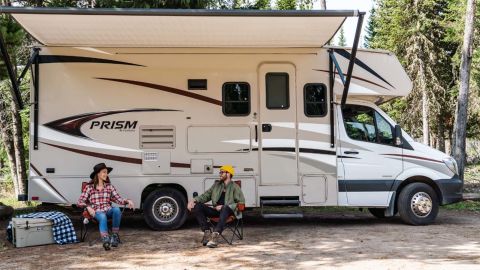 A Class-C motorhome is a great middle-ground option. They're on a regular truck chassis, which means they're not intimidating to drive. But they have amenities like kitchens and bedrooms. Easily accommodating four to eight passengers, you'll often find clever sleeping arrangements here, like tables that fold into beds, and loft spaces.
Class-B Motorhome ($$-$$$; rvshare.com)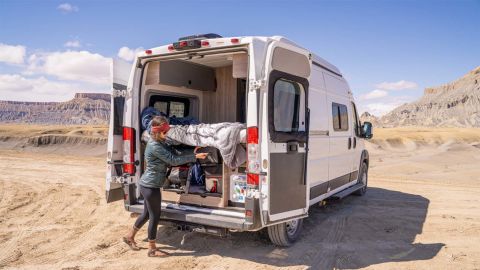 This is the motorhome that seems to be everywhere these days. In 2021 it became an extremely popular mode of transportation for cross-country trips, particularly with a younger demographic of drivers. It's great for one or two passengers, it's affordable and it's pretty straightforward to drive since it's generally just an oversized van.
Class-A Motorhome ($$$-$$$$; rvshare.com)
The highest-end option is a Class-A RV. Be warned: These do not get good gas mileage. On average you can expect six to eight miles per gallon. But you'll get luxurious amenities like dining rooms, bathtubs and sometimes even washing machines. If you want to camp in true comfort, the Class-A is for you.
There are thousands of options available on RVshare across the country. Check out the site, set your search filters (there's even a pet filter to bring your furry friends along!) and plan your 2022 escape.