Editor's Note: This story was identified by Call to Earth guest editor Erika Cuéllar. She is a biologist and conservationist, and a Rolex Award Laureate.
High up in the Jabal Samhan Nature Reserve, the world's smallest big cat stands at a precipice.
The mountainous reserve in Dhofar, southern Oman, is a world away from the nearby city of Salalah, which looks out over the Arabian Sea. Every year, far below, the coastal desert goes through a spectacular transformation, turning green in the summer monsoon and filling with temporary lakes, rivers and waterfalls. But the phenomenon doesn't touch these elevations. Up on Jabal Samhan it's arid and hostile, and it's here the Arabian leopard calls home.
Of the world's eight leopard subspecies, the Arabian leopard is among the rarest, and it's thought fewer than 200 adults live in the wild, says Urs Breitenmoser, co-chair of the Cat Specialist Group at the International Union for Conservation of Nature (IUCN). However, that figure is uncertain – data is hard to come by for this elusive creature, more often viewed through a camera trap than with the naked eye.
The leopard once lived across the Arabian Peninsula, but today the IUCN lists only Oman, Yemen, Saudi Arabia and possibly Israel as its range – and there have been no recent sightings in either Saudi Arabia or Israel. Human-wildlife conflict, the hunting of its prey species and habitat loss are all factors in the Arabian leopard's precipitous decline.
The big cat is vulnerable to extinction, but dedicated conservationists are working to ensure it doesn't share the fate of the lion and the cheetah in the region, and continues to have a future.
The Arabian leopard's last stronghold
Oman is thought to have the largest population of Arabian leopards and Dhofar is home to around 50 adults living in the mountain ranges of Jabal Samhan, Jabal Qara and Jabal Qamar, according to Hadi Al Hikmani, manager of environmental affairs at the Office for the Conservation of the Environment in Salalah, part of the Environment Authority. The largest single population comprises 20 to 30 adults inside the 4,500 square kilometer (1,737 square mile) Jabal Samhan Nature Reserve, he says.
"It's very shy," says Al Hikmani, who last saw a leopard in the flesh two years ago. A leopard can roam over 150 square kilometers (58 square miles), and with only 20 community rangers monitoring the species in the reserve, sightings are rare. "The only way to study these animals is by technology, whether it's camera trapping or genetic sampling (often via scats)," he says.
Historically, pastoralists poisoned, shot and trapped leopards to protect their livestock. However killing a leopard or its prey, such as the Arabian oryx or Arabian gazelle, has been illegal in Oman since 1976.
Today Oman is at the forefront of Arabian leopard protection. In 2014, the government launched a program to compensate farmers for lost livestock. It has proved effective, says Al Hikmani. But perhaps more so has been the education program that was rolled out to change attitudes towards the leopard.
"We don't want to punish people," he says. "We want to work together with these people to protect this animal."
Al Hikmani is a walking example of a generational shift towards conservation. His father is one of the few people still herding camels around Jabal Samhan. "Forty years ago, he wouldn't have hesitated to shoot a leopard. Now his son is leading their only leopard initiative on the ground," explains Andrew Spalton.
Spalton, a retired conservationist and former advisor of environmental affairs in Oman, first met a young Al Hikmani during fieldwork in the 1990s. The scientist needed a camel to carry his equipment, and the Omani guided beast and burden up Jabal Samhan. After finishing school, Al Hikmani went on to volunteer for Spalton's Arabian Leopard Survey and later work for the government in conservation, gain a PhD, and co-author books on the leopard and Oman's wildlife. "He's a great success story," Spalton says.
Success is also a word tentatively used in relation to the Arabian leopard in Oman. The population, though small, is relatively stable and shows signs of expanding its range. Prey like the ibex and gazelle are bouncing back in Dhofar. However, Al Hikmani cautions that "there is still a lot of work to be done" to secure the species' future.
The situation outside of Oman
Elsewhere, the Arabian leopard's prospects in the wild are more uncertain.
In Saudi Arabia, where the last recorded sighting of a leopard in the wild was one poisoned in 2014, it's "quite certain by now that there is no reproducing population left," according to Breitenmoser of the IUCN. But efforts are underway to bring the leopard back. The Royal Commission for AlUla (RCU) has committed $25 million to revitalize the kingdom's indigenous leopard population and established the Arabian Leopard Fund to support conservation region-wide. Spalton is assisting big cat charity and RCU partner Panthera in surveying Saudi Arabia for wild leopards (none have been spotted so far), while a captive breeding program is building a population that could one day be reintroduced into the wild. The latest of 16 cubs was born last April.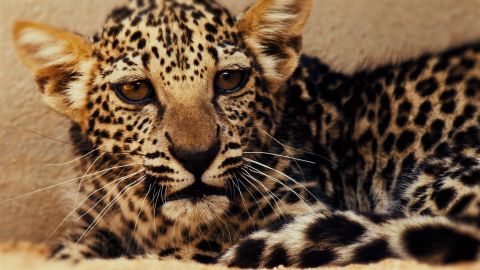 In Yemen, the ongoing war has thwarted scientific fieldwork. The only recent evidence of Arabian leopards is via harrowing images and videos of dead leopards shared on social media, and in one case, footage of a leopard captured alive. "We simply don't know whether there are a good number of leopards left (in Yemen)," says Spalton.
In 2015, the IUCN listed only a small pocket of Israel as "possibly" part of the Arabian leopard's range. A 2006 study found evidence of just eight leopards and there have been no reports of recent sightings, though it has not been declared extinct in the country to date.
A regionwide reassessment of the Arabian leopard by the IUCN is underway, which aims to redefine the subspecies' range and provide new insights as to just how rare this critically endangered animal has become.
"We need skilled personnel on the ground"
In the meantime, Al Hikmani is looking to shore up the leopard's future in Oman. In 2021, the country announced a second protected area in Dhofar, close to the Yemen border, providing further sanctuary for the leopard.
Al Hikmani also has his sights set on training up more homegrown conservationists. "We need skilled personnel on the ground," he says, adding that community rangers have excellent local knowledge but lack scientific know-how. He's drawing up plans to offer scholarships for professional training to empower Omanis living alongside leopards to contribute to scientific fieldwork.
Meanwhile, boosting ecotourism could bring jobs and generate incomes for local communities, says Spalton (even if, he adds, the closest encounter a tourist might get with a leopard is hearing its call – if they're lucky).
The end goal is creating a framework – both scientific and economic – in which the mistakes of the past cannot be repeated.
"(We've) already lost some of our endemic and iconic species," says Al Hikmani. "We don't want to lose the leopard."