On Jan. 14, Mercury will go retrograde for the first time in 2022. During this period of Mercury retrograde, which ends on Feb. 3, you'll probably hear a lot of blame being placed on Mercury when things go awry.
But what exactly is Mercury retrograde, why do people make such a big deal about it and is there anything that can be done to avoid its pitfalls and blunders?
Claire Comstock-Gay, astrologer for The Cut and author of "Madame Clairevoyant's Guide to the Stars," says, "In astrology, Mercury is the planet that rules thought, communication and connection." If that sounds like a lot, well, it is! "This covers a huge range of our everyday activities," Comstock-Gay explains, "including practically everything you do on your phone or the internet — texts and DMs, Zoom, map and calendar apps… The list goes on!"
What is Mercury retrograde?
In the broadest sense, you can view Mercury retrograde as the time period in which things go wrong. "During Mercury retrograde, which is when Mercury appears to move backward through the sky," Comstock-Gay says, "both your gadgets and your thought processes are likely to go a little haywire."
Effects of Mercury retrograde
You've probably heard that you shouldn't buy new electronics like computers and cell phones during Mercury retrograde, or horror stories about accidentally replying all to a company-wide email; electronics gone haywire are typically associated with Mercury retrograde because they're items we use to facilitate communication.
Unfortunately, messing with our communication technologies isn't the only way Mercury retrograde can wreak havoc in our lives. "During Mercury retrograde, travel is often delayed, and technology becomes more likely to glitch," Comstock-Gay says, "so be careful to back up important files, make sure you've got your dates and times right, double-check that you're actually sending that message to the right person."
Technical difficulties are commonly associated with Mercury's retrograde period, but it can also make a mess of your personal life — after all, communication is one of the foundations of healthy relationships, so when communication goes awry, so do our relationships. "Interpersonal misunderstandings are common too," Comstock-Gay says, "so it's worth putting a bit of extra time and effort into communicating clearly."
So what's to be done about this difficult time? While it may be tempting to go inside and lock the door for the duration, that's not an especially realistic way to cope with Mercury retrograde's disruptions — try these ideas instead.
Birthdate Co. The Survive Mercury Retrograde Candle ($42, originally $48; birthdate.co)
Birthdate Co., the company that makes those customized birthday pillar candles you've definitely seen all over Instagram, is offering a limited-edition candle designed for the first Mercury retrograde of 2022. The 8.5-ounce single-wick candle is lavender vetiver scented and contains an amazonite crystal to provide grounding.
The Republic of Tea Get Relaxed Tea ($11.79; amazon.com)
"The No. 1 best thing you can do for yourself during Mercury retrograde is slow down," Comstock-Gay says, "so anything that helps you to stay calm and collected can help this period go by more smoothly. Stock up on teas with relaxing herbs like lavender or mint, or invest in a weighted blanket."
Bearaby Cotton Napper (starting at $199; bearaby.com)
Anxiety often takes root at night, making sleep impossible and causing even more stress. A weighted blanket can help by mimicking the feeling of being held, which signals the brain that it is safe to release tension. The Bearaby Napper's woven design allows for airflow, making it a perfect choice for people who find standard weighted blankets too hot; our reviewer calls it "among the best weighed blankets we've ever tried."
Kneipp Mineral Bath Salt, Deep Breathe ($20; amazon.com)
Relaxing baths are a great way to unwind and, well, relax during periods of high stress. Kneipp makes bath salts that are designed to soothe the body and the mind, including pine and fir-scented "Deep Breathe" salts that both relax and invigorate.
SweetOrganicsVT Mercury in Retrograde Set ($30; etsy.com)
If you're looking for a Mercury in retrograde gift idea, this spa-themed gift set fits the bill. The set features bath salts, a spray and a body oil, all of which are made with essential oils and crystals — everything you'd need to keep calm during Mercury's turbulent retrograde period.
OdysseyCollectiv Mercury Retrograde Ritual Kit ($55; etsy.com)
Another take on the Mercury retrograde kit is a ritual kit. This kit contains everything you need to navigate the turbulent Mercury retrograde period, including Palo Santo, crystals, materials for a Protection Jar Ritual and an instruction guide.
DantesLuxuryAU Mercury Retrograde Crystal Bundle ($22.59; etsy.com)
This bundle of five crystals is curated to counteract the chaotic energy of Mercury's retrograde period. The set includes hematite for protecting against negative energy, amethyst for stress relief, rose quartz for heart healing, clear quartz for guidance and harmony, and selenite for cleansing negative energy. It makes a great gift for a loved one, or for yourself to bolster your crystal collection.
Alchemy7Creations Mercury Retrograde Manifestation Candle (starting at $20, originally starting at $25; etsy.com)
Manifestation candles are a nice way to incorporate a ritual that can bring clarity and calmness to an unstable time. This beautiful royal blue manifestation candle is infused with scents of bergamot, frankincense, lemongrass and calamus root and topped with crystals, purple gomphrena flowers and gold foil.
Modocreative Mini Mindful Moments Candle Set ($26.38; etsy.com)
This set of short burn time candles is another way to use candles for meditation or relaxation during Mercury retrograde. The set includes 10 non-drip honey-scented candles, a brass stand and a presentation box, and each candle has a 20-minute burn time.
Oracle and advice cards are a great entry point into cartomancy, because they're more straightforward than tarot cards. There are oracle decks for just about every mood and theme you can imagine, but this deck, which is a favorite of professional readers, is a good starting point for those looking to dabble in card divination.
Nurse Jamie Healthy Skin Solutions Uplift Massaging Beauty Roller ($69; amazon.com)
Celebrity skin care expert Nurse Jamie's products have a cultlike following, and this massaging beauty roller is one of the most popular items she offers. The facial roller allows users to massage the face and body, helping to improve the appearance of skin, leaving you looking refreshed and youthful.
Snailax Shiatsu Foot & Back Massager ($49.99; amazon.com)
We hold so much of our stress in our feet, and don't stop often enough to show them some love. This heated shiatsu foot massager is the perfect way to make up for lost time, and to build some instant stress relief into the Mercury retrograde period.
Muse 2: The Brain Sensing Headband ($192.53, originally $249.99; amazon.com)
Guided meditation tools come in many forms, but for technophiles, the Muse Brain Sensing Headband combines modern technology with ancient meditation practices. The headband uses sound to respond in real time to brain activity, heart rate, body movements and breathing to help you master your own mind-body connection. The guided meditation helps to keep your mind in a focused and calm state, improving the overall experience.
3M High Clarity Privacy Filter (starting at $37.99; amazon.com)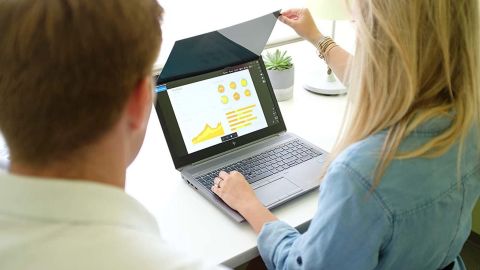 Keep prying eyes from reading your emails, texts, documents and more with a privacy filter for your laptop screen. Because technology mishaps are so prevalent when Mercury is in retrograde, it's smart to plan ahead and invest in products designed to protect your electronics.
Otofly Silicone Shockproof Protective Phone Case ($15.97; amazon.com)
Another smart way to protect your technology from a case of the dropsies is upgrading your phone case. This slim silicone phone case offers a lot of protection without the bulkiness of similar models, and it comes in 26 color options.
Anker PowerCore 13000 ($49.99; amazon.com)
Comstock-Gay shared some tips for planning for the messy Mercury retrograde period. Among her suggestions, if you haven't already, is to invest in a portable phone charger. But she notes this crucial point: "This only helps if you actually carry it with you!" The Anker charger was our pick for best portable charger.
WD My Passport SSD ($127.49, originally $199.99; amazon.com)
Because technology mishaps are so common during Mercury retrograde, Comstock-Gay urges people to invest in — and use! — an external hard drive. "I really can't repeat it enough: Back up your important documents!" Our reviewer gave My Passport high marks for storage space and its "stylish yet rugged package."
Enlightenment Planner ($30; amazon.com)
Even in our modern era, many people still use paper planners rather than electronic calendars and notes apps to keep appointments, to-do lists, social plans and work obligations organized. And there are good reasons to do so! "Physically jotting down deadlines, ideas or to-do lists can help keep your thoughts clear and grounded," Comstock-Gay says.
AShopofThings Mercury in Retrograde Keychain ($8, originally $10; etsy.com)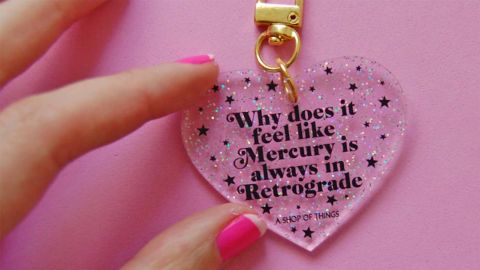 If you're a person who frequently misplaces the house or car keys, install a hook in your entryway and make a habit of hanging your keys on it when you walk in the door. And when you've made it a habit, and losing your keys is a thing of the past, buy yourself this cheeky keychain as a reward.
EarthsEssenceNC Light Me When Mercury Is in Gatorade Candle ($14.99; etsy.com)
Self-care and meditation have important places in any stress relief routine, but so does laughter — which is why we love this cheeky "Light Me When Mercury Is in Gatorade" candle. The soy candle is available in a ton of scents, so you can pick your favorite, but for Mercury's stormy retrograde, we'd suggest the "relaxation" scent.