If you're like most people, you can pick an article of clothing out of your closet and put it into one of the following categories: cozy enough for lounging, breathable enough for working out, low-maintenance enough for travel or professional enough for work. Those who understand minimalist fashion, however, know that a great article of clothing can check every single box at once. Cue ADAY's recycled scuba sweatshirts, which are designed to be worn anywhere and for any activity. Keep scrolling to check out three of ADAY's top-selling "scuba" designs and better yet, starting on Jan. 16, you can use code CNN30 to take $30 off any order of $150 or more.
Like A Boss Sweatshirt ($150; thisisaday.com)
"I really do feel like a boss when I wear it!" one reviewer writes. The Like A Boss sweatshirt has a mock turtleneck and an effortless fit that elevate your look — but the recycled fabric is soft, stretchy and treated with a plant-based finish that helps it to dry especially fast. Get it in six different colors and wear it for limitless activities: "Polished enough for the office and/or work-from-home Zoom calls, breathable enough to step out midday for a light jog/walk, comfortable enough to lounge in after the workday," another reviewer raves.
Home Stretch Pullover ($155; thisisaday.com)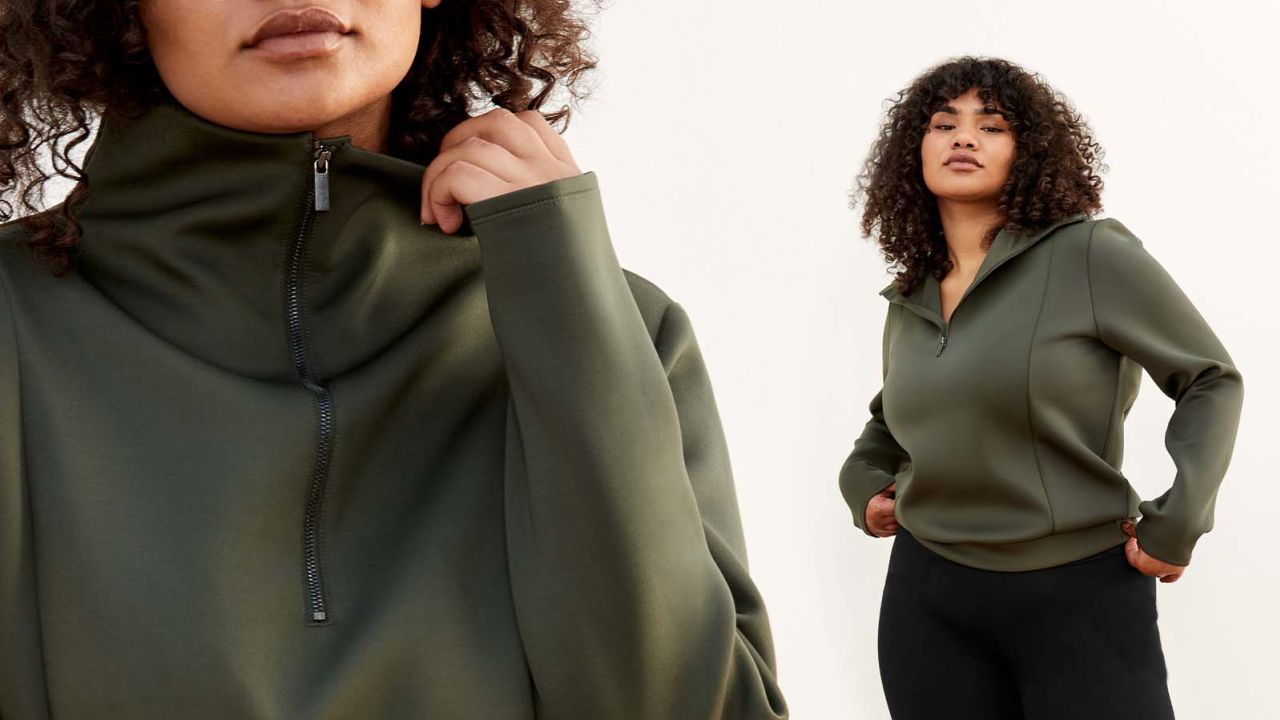 When zipped up all the way, this Home Stretch Pullover has a sporty look for relaxing or yoga classes — but pull the zipper down, and the turtleneck turns into a collar that's modern and sleek. It even has thumbholes for additional comfort, and since it's pill-resistant, quick-drying and wrinkle-free, it's great for those who are always on the go.
Up In The Air Jacket ($170; thisisaday.com)
With its fold-over collar and asymmetrical zipper, the Up In The Air jacket is so elegant, it looks almost like a blazer. That said, it has pockets for convenience and a buttery-soft, breathable material for comfort. When zipped up all the way, the collar turns into a cowl neck, which keeps you cozy and stylish simultaneously. "Perfect for video calls, cold offices and Sunday brunches," one reviewer writes.
All three pieces are made from ADAY's recycled scuba fabric that feels like undercover pajamas and wicks sweat like your favorite workout clothing. That said, it's also structured, smooth and polished — so when combined with the sleek color options and stylish designs, you could easily get away with wearing it to work or date night. Last but definitely not least, since it's stretchy, quick-drying and wrinkle-free, it's a no-brainer for travel. (No wonder why ADAY's customers range from forensic anthropologists and CEOs to busy moms and athletes.)
While these capsule-wardrobe pieces are designed with your lifestyle in mind, they also prioritize the environment. As opposed to filling the earth with more plastic, ADAY takes plastic water bottles from landfills and turns them into this buttery-soft, structured fabric. (The company couldn't find a fabric that was both soft and sculptural, so it created its own proprietary blend that reuses up to 58 bottles per garment.) ADAY even partnered with a hydroelectricity-powered factory to reduce its footprint even further, and the 10% elastane ensures that your sweatshirt moves with you but can still be broken down and reused again at the end of its life.