Over the weekend, at least five metro Atlanta school districts announced they would shift to remote learning for the first week of the new year as students return to school after a holiday break that saw the Omicron variant spread even further out of control.
The announcements came days after six major hospital systems in the area reported 100% to 200% increases in Covid-19 hospitalizations. Elsewhere, positive Covid-19 tests forced some restaurants to close at what could be one of their busiest times of year.
These were the impacts Covid-19 and the Omicron variant had in just one American city as the country grapples with another surge as the pandemic marches towards its third year.
The United States broke its average daily Covid-19 case record again Sunday, with 404,743 infections, according to a CNN analysis of Johns Hopkins University data. Hospitalizations were also climbing, with 78% of ICU beds in the US full as of late last week, according to data from the US Department of Health and Human Services.
These figures have real-world consequences, and communities across the country are again dealing with the fallout. Here's a look at how the Omicron surge is upending local communities.
Omicron complicates return to school …
Top of mind for many families is students' return to the classroom after a holiday break that saw the Omicron variant become dominant and a record number of pediatric hospital admissions. 
An average of 378 children were admitted to the hospital with Covid-19 each day over the week that ended December 28, per HHS data from the US Centers for Disease Control and Prevention – a 66% increase from the previous week. That topped the previous record average of 342 admitted to the hospital each day at the end of August and early September.
Local officials have been trying to decide how to safely start the new semester, in some cases with more robust testing.
Washington, DC, public school students and staff need to show proof of a negative test to return Wednesday, a policy aimed at keeping schools open for in-person learning, Mayor Muriel Bowser told CNN. The return has been delayed by two days to allow for this, and the district will provide tests to families early this week.
Everyone values in-person learning, Bowser said. "And a safer way to do that, given the winter surge that we are experiencing, is to make sure that every student entering our buildings has had an antigen rapid test or PCR test and can upload that result to us within 24 hours of coming back to school on the 5th." 
Others have opted to keep students out of the classroom for now. In metro Atlanta, Atlanta Public Schools as well as those in Fulton, Dekalb, Clayton and Rockdale counties will conduct remote learning for the first week of the new year. All hope to resume in-person learning Monday, January 10.
But some districts plan to start in-person as normal on Monday, including Chicago Public Schools. The district strongly encourages testing, per a Q&A on its website, but it is not mandatory except for certain unvaccinated students who have traveled to certain states or who were close contacts of a confirmed case. 
The teacher's union has called for additional mitigation measures, including a negative test for all students. Without the proposed measures, the Chicago Teachers Union wants to pause in-person learning, it said in a news release.
Even with testing, Omicron can't be kept out of schools, Dr. James Phillips, chief of disaster medicine at George Washington University Hospital, told CNN on Saturday. The antigen tests many are using at home aren't sensitive enough, "even if they're picking up 80%, 85% of cases – and that's with parents doing their absolute best to test correctly."
"Even if it's not students getting sick enough to cancel the classes, their teachers … they're at risk of getting sick," he said, "and I think that's why schools are going to close in the places most affected by the virus." 
The challenges aren't limited to grade schools. More than 30 colleges and universities have altered plans for the start of the next semester, including Princeton University, which is delaying undergraduates' return by a week until January 14 and will prohibit undergraduates' travel outside Mercer County or Plainsboro Township, New Jersey, "except in extraordinary circumstances," until at least February 14.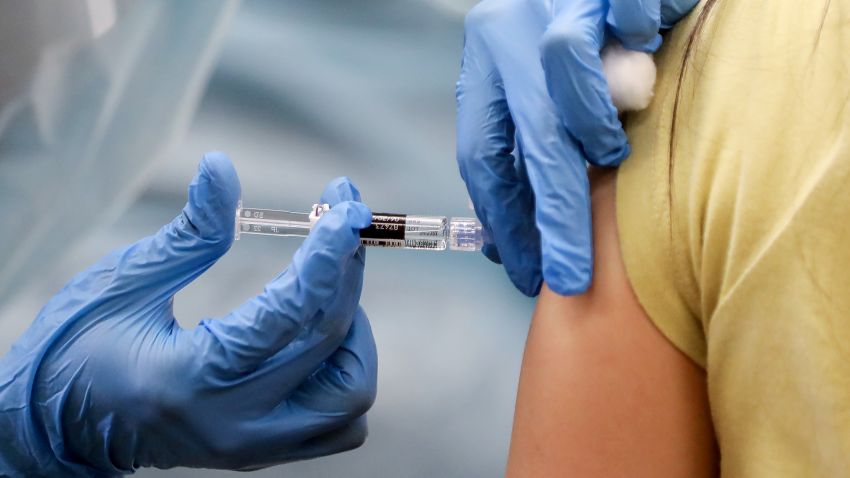 ICU doctor warns of 'compassion fatigue' toward unvaccinated patients
… as local governments are hobbled by staff shortages
Other parts of communities' critical infrastructure are being affected by the surge and the staffing setbacks that come with it.
"You are certainly going to see stresses on the system," Dr. Anthony Fauci said Sunday on CNN's "State of the Union," referring to the "critical jobs to keep society functioning normally."
"We already know that there are reports from fire departments, from police departments in different cities that they're 10, 20, 25 and sometimes 30% of the people are ill," he said. "That's something that we're going to nee