A version of this story appeared in CNN's Race Deconstructed newsletter. To get it in your inbox every week, sign up for free here.
This year was rife with anguish and cruelty.
And yet, despite all the pain – or maybe because of it – writers and editors who cover race and equality found ways to inject joy into a sobering past 12 months.
Here are some of the things that nourished us, from a touching memoir to the return of flipping out at concerts to a TV series that's equal parts humorous and heartfelt.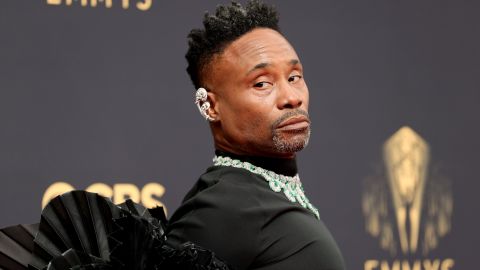 Joy is healing
Dalila-Johari Paul, the senior editor for CNN's Race and Equality team, derived joy from Billy Porter's mesmerizing resilience. Every time she observed Porter, who as a child was mercilessly tormented for being gay, bless the red carpet with his head-turning style, she couldn't help but smile, because she could feel the transformative energy of someone who had been through it.
"We survivors of abuse and sexual assault don't always escape the terrain that is trauma, but when we come out alive on the other side, the world can seem almost magical and miraculous at times," Dalila told me.
The "Pose" star serves as an example of what it can look like when people embrace their truest selves, and decide that ugliness and hate don't have any real power over them.
Or as Dalila put it, "I don't do church at all, but I could only smile, nod my head in agreement and talk back to the TV and say, 'Amen, Mr. Porter! Thank you for consistently showing up and being you!'"
Delano Massey, who leads CNN's Race and Equality team, understands the sentiment. He found a similar kind of joy in the raw authenticity of "Will," the new memoir from the pop-culture institution Will Smith.
The book does more than just chart the professional success of the West Philadelphia kid-turned-rapper-turned Hollywood icon. It also explores how Smith navigated the darker currents of his life. Smith is known for his side-splitting comedy, but through the book, readers also learn about his mental health struggles and battles with suicidal ideation, among other things.
"In the book, Smith is vulnerable in a way that Black men often aren't allowed to be," Delano said. "I hope that his story empowers other Black men to be vulnerable, too."
Joy is community
At the height of the pandemic, Priya Krishnakumar, an editor on CNN's visual news desk covering race, equality and policing, sought solace in the music of the queer icon and indie rocker Phoebe Bridgers. Priya devoured concerts on YouTube, hoping that she'd be able to see Bridgers perform live one day. That moment finally arrived a couple months ago, when Bridgers went on tour. (Notably, the tour was limited to venues that required proof of vaccination.)
The music was incredible, Priya said, but that seemed almost beside the point. Singing along to the tracks that had helped her cope with the pandemic, she felt herself getting emotional.
"One of the unintended side effects of quarantining and lockdowns was the loss of little things that enrich our lives and bring us joy, like stopping by to visit a family member, strolling through a museum – or going to a concert," Priya said. "As I stood alongside 5,000 other concertgoers that chilly night in October, I was just thrilled that we were all there together."
I was just thrilled that we were all there together. Nicole Chavez, a breaking and trends writer on CNN's Race and Equality team, can relate, and not just because she relished the glorious spectacle of the 2021 Latin Grammys.
After almost two years of isolation, Nicole found joy in going to the movies to see Jon M. Chu's musical drama "In the Heights" and Disney's animated movie "Encanto" – two films that give Latinos the kind of dimension not often seen on screen.
"Going to the theater to watch 'In the Heights' and 'Encanto' was so inspiring," Nicole recalled. "Not only because Latinos are the sole focus of the stories but also because I was able to sit in a theater surrounded by Latinos of all ages. We all came together to have a good time, and we saw rich, authentic representations of Latin American cultures."
Joy is being seen
One of the most moving events this year occurred way back in January, when Amanda Gorman, the first National Youth Poet Laureate, recited her poem, "The Hill We Climb," at Joe Biden and Kamala Harris' inauguration. Gorman swiftly became a national sensation. She sat down to chat with Oprah Winfrey, and became the first poet to be featured on a Vogue cover. Hillary Clinton and Michelle Obama sang the then-22-year-old's praises. She co-chaired the Met Gala.
These were joyous moments for Dalila because what she observed in each was the US's embrace of a Black female thinker as a cultural icon. The country was seeing a Black woman in a way that it rarely does.
Nikole Hannah-Jones, the New York Times Magazine investigative reporter behind The 1619 Project, also was showered with plaudits this year. The November/December issue of Essence magazine featured Hannah-Jones on one of its three covers. (The pop singer Lizzo and the Olympic gold medalist Simone Biles were on the other two.)
Marginalized people were seen in other ways this year, too. Recall "Single All the Way," Netflix's first gay holiday-themed romantic comedy. As I wrote earlier this month, the charming movie is a necessary queer fantasy; the screenwriter Chad Hodge sketches portraits of queer experiences that aren't saddled with sadness. (The film also has peerless durag representation.)
"I wanted the movie to be uniquely about our (queer people's) friendships and relationships. At the same time, I didn't want to write a story with a plotline that revolves around homophobia or the pain of coming out or a relative who won't accept someone," Hodge told me when I called him up. "Those are real, true things, and there's a reason so many movies do revolve around those issues, but I wanted to tell a story about a different experience and a different reality."
Similarly, "The Sex Lives of College Girls," Mindy Kaling's excellent new TV series, brought me joy because of the refreshing manner in which it portrays its diverse characters and their experiences.
The show explores class, race, sexuality and gender on a fictional college campus, but it does so in a way that doesn't make viewers feel like they're watching a string of "very special episodes." I particularly adore the sophistication with which the writers approach the relationship between two women. One is in the closet; the other is out, living her fullest lesbian life. Rather than play favorites, though, the series grants complexity to both characters. "The Sex Lives of College Girls" illuminates not only the challenges of being in the closet – but also the frustration of loving someone who isn't ready to come out.
Destin Daniel Cretton's "Shang-Chi and the Legend of the Ten Rings," Apple TV+'s "Acapulco," FX's "Reservation Dogs": 2021 was a great year for being seen. Here's hoping that 2022 will be, too.