Editor's Note: Elliot Williams is a CNN legal analyst. He is a former deputy assistant attorney general at the Justice Department and a principal at The Raben Group, a national public affairs and strategic communications firm. Follow him on Twitter @elliotcwilliams. View more opinion on CNN.
Below are the recipes made in each episode of "Elliot Williams Kneads to Know," where I try to get the internet to pay attention to important issues by discussing them while baking.
Non-bakers, fear not: None of the recipes are all that complicated. We'll save making German zauber torte encased in a gold dust caramel cage decorated with crystallized flowers for another day.
Rainbow layer cake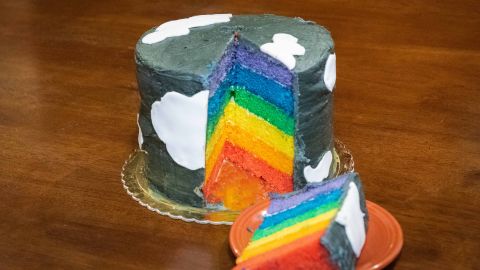 While the insides of this cake might astound your guests – particularly if they are four years old and obsessed with rainbows – it's not all that hard to make. Once you break it down, it's just two triple-layer cakes, stacked on top of each other. Each layer is a vanilla cake, dyed with food coloring.
Below are some instructions for how to cut and frost a cake so it's geometrically smooth, but just do your best. There's a big overlap in the communities of "people who are obsessed with rainbows" and "people who will forgive you if the layer cake you prepare for them isn't a geometrically flawless cylinder."
Some pointers on making a six-layer cake:
Just about any yellow or vanilla cake will work here as the base for your layers. I like one with buttermilk in it, since it adds tanginess and helps give the cake some rise (which is good if you're trying to build a multi-layer cake that stacks up to the heavens).

For coloring the layers here – or pretty much any decorative baking – you're going to want to use gel food coloring, not the traditional food coloring you are probably used to. Gel food coloring, made with a corn syrup or glycerin base, is more concentrated and will give you the bold, contrasting colors you're looking for. After all, you're making an explosive rainbow, not a sad sidewalk chalk drawing.

A dome usually forms on the top of a cake while it bakes. To really polish your finished cake, level your layers off so they form a nice tight cylinder when stacked. If you don't have a cake leveler, a long serrated bread knife will work. Another trick is to stack the top layer of the cake upside-down. It will naturally have a very straight edge from the bottom of the pan it was cooked in and will ensure the top of the cake appears flat. A turntable will really help with your ability to frost the cake evenly.

In the "decorating" section below, when you refrigerate the cake, you are creating a "crumb layer" on its surface. That light initial coating of frosting will harden in the fridge and form a base layer that effectively locks the crumbs onto the cake, preventing them from poking out of your final coat of frosting. That's particularly important with this cake, where you have very bold colors underneath. It's the same principle as laying down a coat of primer before painting a wall – except more delicious.
Adapted from the recipe for vanilla buttermilk cake from "Sky High: Irresistible Triple-Layer Cakes," by Alisa Huntsman and Peter Wynne.
Makes one six-layer, eight-inch diameter cake. Serves 24 to 32 people.
Ingredients:
4 eggs
2 egg yolks
2 teaspoons vanilla extract
1 ¼ cups buttermilk
3 cups cake flour
2 cups sugar
4 ½ teaspoons baking powder
½ teaspoon salt
2 sticks unsalted butter, at room temperature
Red, orange, yellow, green, blue and purple gel food coloring
Buttercream frosting (see recipe below)
Note: The recipe herein will make three 8-inch layers. Make one batch using red, yellow and orange food coloring at step six. Start over and make a second batch using green, blue and purple food coloring at step six.
Cake instructions:
1. Preheat the oven to 350 degrees F.
2. Grease the bottoms and sides of three 8-inch round cake pans (you can use unsalted butter or nonstick spray here). Line the bottom of each pan with a round of parchment paper and grease it.
3. Put eggs and yolks into a medium bowl. Add vanilla and ¼ cup buttermilk. Whisk until they are blended well.
4. Combine the flour, sugar, baking powder and salt in the bowl of a stand mixer. Whisk to blend. Add the butter and remaining cup of buttermilk to the dry ingredients. With the mixer on low, mix the ingredients. Turn up the mixer to medium and beat until light and fluffy – approximately two minutes.
5. Add the wet mixture in three batches, scraping down the sides of the bowl as you go along. Mix only until thoroughly combined. Divide the batter among the three pans.
6. [See note above] Put a few drops of a different color of food coloring into each of the three pans. Swirl it with a fork until well incorporated. Be sure to use a clean fork with each color.
7. Bake for about 30 minutes, or until a toothpick or cake tester comes out clean from the middle of the cake, and the cake starts to pull away from the sides of the pan. Let the layers cool in the pan for 15 minutes. Then slowly flip the cakes onto wire racks, take off the paper liners and cool to room temperature.
Decorating instructions:
1. To assemble the cake, put a dollop of frosting onto a cake stand, cake board or serving plate to hold the cake in place. Put the bottom layer in place and spread about ¼ to ½ inch layer of frosting over the top surface of the cake up to the edge. Repeat with the remaining five layers.
2. Put a thin layer of frosting over the entire surface of the cake. Don't worry if it looks messy or if the colors underneath poke through. Refrigerate the cake for 30 minutes.
3. Remove the cake from the fridge and frost it on all sides again.
'Chocolate City' cake with chocolatey-chocolate filling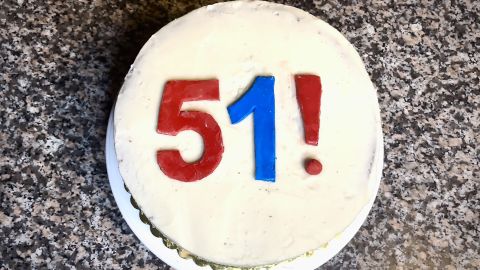 A serious baker friend first told me about this cake a few years back, and it's now my go-to whenever I need a chocolate layer cake – which, given that I've got two little kids, seems to be quite regularly.
My favorite thing about this one is that it's got an actual secret ingredient. Some may be mystified – or sickened – to discover the fat that gives this cake its richness is… mayonnaise!
Yes, it's true. Mayo is mostly just oil and eggs – two ingredients that play a huge role in most cakes. There's some hard science in how heat affects the fat in oil vs. butter in a cake, but in plain terms, the end result here is a cake that's as moist as any you'll make.
Whether you thereby choose to slather this cake onto a turkey sandwich or mix it into your potato salad is entirely up to you.
Cake adapted from recipe for triple chocolate fudge cake from "Sky High: Irresistible Triple-Layer Cakes," by Alisa Huntsman and Peter Wynne.
Filling adapted from recipe for chocolate-chocolate birthday cake from the New York Times.
Makes one three-layer, nine-inch cake. Serves 16 to 20 people.
Cake ingredients:
2 ¼ cups all-purpose flour
1 cup unsweetened cocoa powder
2 ¼ teaspoons baking soda
1 ¼ teaspoons baking powder
1 teaspoon salt
½ teaspoon ground cinnamon
2 ½ ounces unsweetened chocolate, coarsely chopped
1 cup milk
1 ¼ cups hot coffee
2 large eggs
1 cup mayonnaise (do not use low fat, fat free, or salad dressing)
1 ½ teaspoons vanilla extract
2 ¼ cups sugar
Chocolatey-chocolate ingredients:
3 ⅓ cups confectioners' sugar
4 ½ tablespoons unsweetened cocoa powder
½ teaspoon fine sea salt
3 sticks unsalted butter, at room temperature
6 ounces bittersweet chocolate, melted and cooled
4 ½ tablespoons buttermilk
4 cups buttercream frosting (see recipe below)
Instructions:
1. Preheat the oven to 350 degrees. Grease the sides and bottom of three nine-inch cake pans with unsalted butter or nonstick cooking spray. Line each pan with parchment paper and grease the paper with melted unsalted butter or nonstick cooking spray.
2. Sift together the flour, cocoa powder, baking soda, baking powder, salt and cinnamon.
3. Put the chocolate in a big heatproof bowl. Slowly bring the milk to a gentle simmer; be careful not to scald it. Pour the coffee and milk over the chocolate. Let the mixture stand for a minute or two, then whisk it until smooth. Let it cool for 10 minutes.
4. In a stand mixer bowl fitted with a whisk attachment, beat together the eggs, mayonnaise and vanilla until well combined. Slowly beat in the sugar. Add the dry ingredients and coffee-milk-chocolate mixture alternately in three additions – starting and ending on the dry ingredients, and beating until well combined. Divide the batter evenly across the three pans.
5. Bake for 25 to 28 minutes, or until a toothpick or wooden tester put into the middle of the cake comes out almost clean. Let the cakes cool in their pans on wire racks for 15 minutes. Gently flip the cakes onto the wire racks, and peel off and discard the parchment. Let the cakes cool completely to room temperature.
6. To make the filling, sift together the confectioners' sugar and cocoa powder. Using a stand mixer with paddle attachment, beat the sugar, cocoa, salt and butter on high speed until fluffy. Turn the mixer down to low and slowly add the chocolate. Once everything is just about combined, add in the buttermilk and beat until it is all fully combined.
7. For pointers on how to frost a layer cake, see the recipe for the critical bake theory rainbow layer cake. Frost the inside of the cake with chocolatey-chocolate filling and the outside of the cake with vanilla buttercream. Or, go all in, make a second batch of chocolatey-chocolate filling, and frost the inside and outside of the cake with it. You deserve it. It's been a tough year.
Basic vanilla buttercream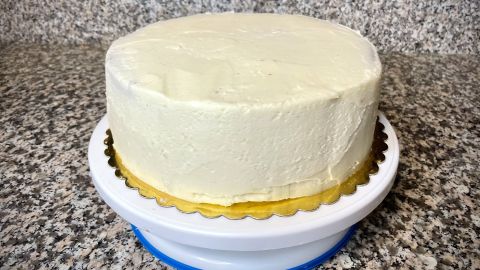 Learn this essential recipe and commit it to memory. You can put it plain on cakes, mix any colors into it, or throw it into a pastry bag and use it to pipe designs onto a cake. If you're piping, you may want to add some extra confectioner's sugar to keep the buttercream more stiff. (This is just something you have to eyeball and will learn with experience.)
Notes: I like the palpable hit of salt in this. Play with it; you can probably get away with adding another quarter teaspoon of salt to the recipe if you like the kick of some extra saltiness in your desserts.
Don't skip the sifting; it will keep the sugar from clumping and will make the finished buttercream smoother.
And, seriously, when you first add the confectioner's sugar, unless you want a mushroom cloud of powdered sugar to envelop your entire house and consume all in its path, make sure your mixer is set to its lowest speed possible. Doing this step wrong will be a mistake you make only once in your life.
Makes approximately two and a half cups of buttercream. About four or five cups of buttercream will frost an eight- or nine-inch diameter three-layer cake, depending on how heavily you frost it.
Ingredients:
2 sticks unsalted butter, at room temperature
4 cups confectioners sugar, sifted
½ teaspoon salt
1 tablespoon vanilla extract
Up to 4 tablespoons heavy cream
Instructions:
1. Using a stand mixer fitted with paddle attachment, beat the butter for one minute on medium speed.
2. Turn off the mixer and add the powdered sugar. Turn the mixer on its lowest speed possible and mix until the sugar and butter are incorporated and clumpy.
3. Increase the mixer to medium and add the vanilla extract, salt and two tablespoons of cream. Beat until the buttercream is whipped and fluffy, about two to three minutes.
4. Eyeball the buttercream and adjust it to achieve the consistency you want. Add more sifted sugar to make the buttercream stiffer. Add more cream, one tablespoon at a time, to thin it out.
Frosted brownies
Chocolate brownies are good. Slapping a firmed-up layer of dark chocolate glaze on them will only make them better.
Probably the best thing about these brownies is for something so good, they're really not all that hard to bake. Serve these to someone, and the conversation will probably go as follows:
SOMEONE: [eating brownie] "So which brownie mix did you use?"
YOU: [clutching chest] "Oh… for these? No, these were homemade."
SOMEONE: [stuffing third brownie into mouth in one bite] "Lies. I don't believe such sophistry."
YOU: [releasing an anguished sigh] "No, no, it's true. It was hard, but producing these was a labor of love. I now have nothing left inside."
SOMEONE: [furiously picking crumbs out of empty brownie pan] "Wow, thanks for your sacrifice."
In reality, the most labor-intensive aspect of these is gathering and measuring the ingredients. After that, it's really not much more complicated than brownies out of a box. They're quite good as it is, and the glaze on top takes them to another level.
To be sure, the fact that you will appear to have toiled for days over these will get you, well, brownie points.
Adapted from recipe for frosted brownies from Cook's Country.
Serves: 16 brownies
Brownie ingredients:
3 ounces unsweetened chocolate, chopped
1 stick unsalted butter, cut into chunks
1 cup sugar
½ teaspoon baking powder
¼ teaspoon table salt
2 large eggs
1 teaspoon vanilla extract
⅔ cup all-purpose flour
Frosting ingredients:
4 ounces semisweet or bittersweet chocolate, chopped
1 tablespoon vegetable oil
Notes: In step one, a good trick is to line the inside of the pan with two perpendicular sheets of foil that hang over the edges of the pan (essentially making a very simple tray for the brownies). You can then easily lift this makeshift tray out of the baking pan when you're done simply by grasping the overhang and lifting it out.
If you're melting your chocolate in the microwave, it's important both that you not have the microwave set to "high" (I usually set it to about 70% or 80% power) and that you make sure to stir it periodically. Failing to do that might scald your chocolate, leaving you with something unusable that looks like barren topsoil and not glistening melted chocolatey ambrosia.
Brownie instructions:
1. Place the oven rack in the middle position and heat the oven to 350 degrees. Line an eight-inch baking dish with aluminum foil and grease it with nonstick cooking spray or melted unsalted butter.
2. Melt chocolate and butter in a small bowl in the microwave or in a heatproof bowl set on top of a bowl of simmering water. Stir periodically. Cool for 10 minutes.
3. Combine sugar, baking powder, salt, eggs and vanilla together until blended. Whisk in chocolate mixture until smooth. Stir in flour completely. Scrape batter as evenly as possible into the pan.
4. Bake 22 to 27 minutes, until a tester inserted midway between the edge and the center of the pan comes out clean. Let brownies cool on a wire rack for one hour.
Frosting instructions:
1. Heat chocolate and oil in a small bowl in the microwave or in a heatproof bowl set on top of a bowl of simmering water, stirring occasionally until chocolate has melted and mixture is smooth.
2. Remove from heat for about five minutes. Pour chocolate mixture over brownies and spread evenly with spatula. Continue cooling brownies until glaze sets – probably a few hours. Be patient here; they'll look done (and will still be delicious), but the frosting will eventually harden into a firm, almost brittle, glaze. If you're overcome with excitement and have no impulse control (can't say I blame you), just put them in the fridge to harden faster.
3. Lift the brownies from the pan and onto a cutting board. Remove the foil from under the brownies and cut into two-inch squares.
4. Try not to eat them all in one sitting.
Almond Christmas cookies worth declaring a war over
I'll confess I don't really like almond flavor. But my wife and kids do, and I'm in the business of making people happy here. In addition to being fun to make, these cookies look quite cool when finished and make perfect gifts for the holidays.
And, more importantly, these cookies involve orange zest, coffee, cinnamon, almond extract, cardamom and ginger. It's worth baking these for the aroma alone. The only thing that would make your house smell more like Christmas would be having a herd of reindeer in your living room.
Adapted from recipe for almond-spice Christmas wreath cookies from Cook's Country.
Serves: 40 cookies
Cookie ingredients:
4 cups almond flour
2 tablespoons grated orange zest (from about 2 oranges)
1 tablespoon ground coffee
1 teaspoon ground cinnamon
1 teaspoon ground ginger
½ teaspoon ground cardamom
¼ teaspoon salt
3 large egg whites
1 ½ cups granulated sugar
2 teaspoons almond extract
1 teaspoon vanilla extract
3 tablespoons orange marmalade
Decoration ingredients:
2 large egg whites
2 cups sliced almonds
40 maraschino or candied cherries (combination of red and green), quartered
Confectioners' sugar
Note: Maraschino cherries, though sometimes hard to find, are ideal here. Candied cherries will give your cake more of a fruitcake-y flavor.
Cookie instructions:
1. Combine almond flour, orange zest, coffee, cinnamon, ginger, cardamom and salt together.
2. Set up a stand mixer (with a whisk), whip egg whites on medium-low until foamy – about a minute or two. Increase speed to medium-high and whip whites for about another minute. Slowly add sugar and whip until soft peaks form for two to three minutes. Mix in almond and vanilla extracts.
3. Fold almond flour mixture into whipped egg whites in two parts – until mostly incorporated. Fold in marmalade until fully incorporated and no white streaks remain.
4. Split dough in half and wrap each half in plastic wrap. Refrigerate until dough hardens, a minimum of one hour or up to 24 hours.
Decoration instructions:
1. Heat oven to 300 degrees and place the oven racks on the upper-middle and lower-middle positions. Line two baking sheets with parchment paper.
2. Whisk egg whites in a dish until frothy. Put almonds in a second shallow dish. Split one dough half into 20 pieces.
3. Lightly flour your workspace and roll each piece of dough into a five-inch rope, shape into a circle and push ends together to seal. (Be delicate here; this step can be a pain to get right.) Dip one side of each wreath into egg whites, letting excess liquid drip off, then gently push almonds into dough.
4. Place 10 wreaths, almond side up, on each of the two cookie sheets. Add four cherry pieces to each wreath.
5. Bake for 20 to 25 minutes, until cookies are firm and golden brown. Be sure to switch the baking sheets and then rotate them halfway through baking. Let the cookies cool on the baking sheets for five minutes, before transferring them to a wire rack to cool completely.
6. Repeat steps three and four for the second batch of cookies. Dust with confectioners' sugar just prior to serving.