Editor's Note: In this series, CNN anchors invite viewers into their kitchen, where they share family recipes and traditions with tutorials, tips and personal stories.
CNN anchor Poppy Harlow has got an apple crisp that will make your kitchen smell so good you'll want to eat the crisp and the kitchen.
"It's one of those scents that when you walk by, it stops you in your tracks," said the CNN Newsroom anchor.
The recipe came from a family friend in northern Minnesota. Harlow grew up making the crisp with her mother, Mary Harlow, eventually graduating from apple-peeling duties to baking it on her own. Now, her 3- and 5-year-old children, Luca and Sienna, are the assistants in the kitchen.
"It was nostalgic because my mom taught me and I taught them," Harlow said.
Luca and Sienna's duties include dumping the brown sugar, and occasionally, Harlow said Luca will grab a stick of butter and eat a huge chunk.
This apple crisp is indulgent, especially with the recommended vanilla ice cream on top, so Harlow said this is a Thanksgiving and fall weather must-have. The crunchy butter and brown sugar mixture that makes up the top layer melds with the gooey, cinnamon-laced inside for a blend of textures and warm flavors.
"It's really, really the best when it's warm right out of the oven, with the vanilla ice cream," Harlow said. "You can't make that enough." (Warm means waiting at least 15 minutes to ensure the apples don't burn the roof of your mouth.)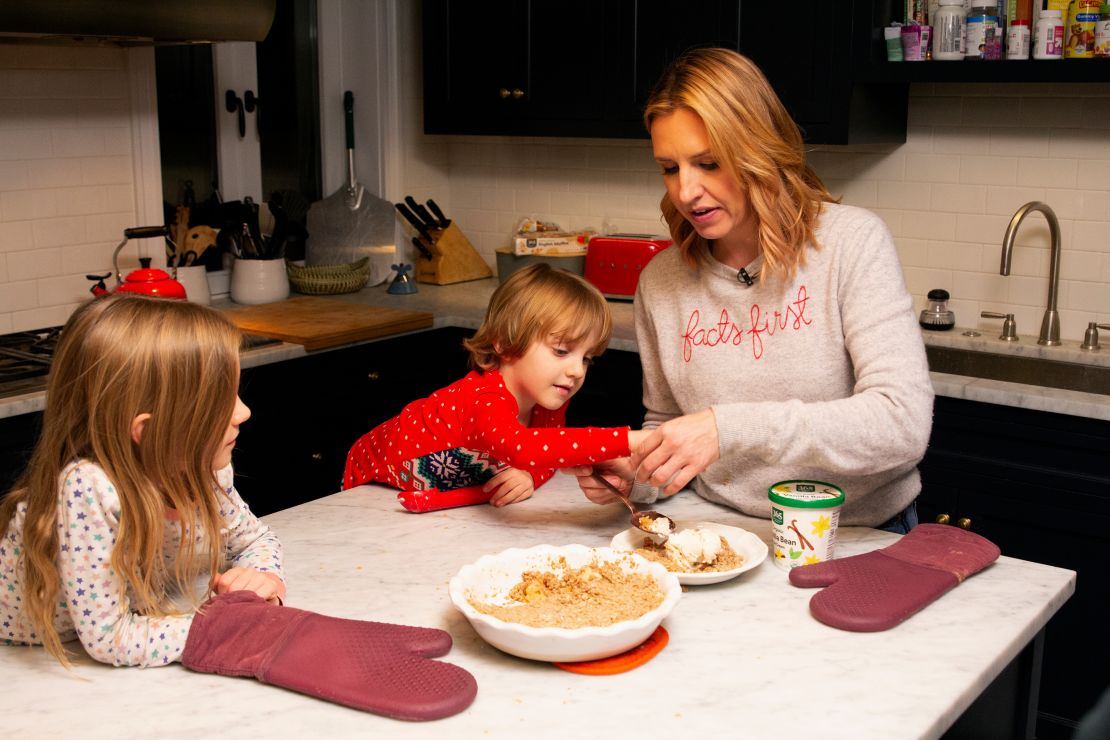 The recipe is forgiving, Harlow said. She does "measure it-ish," but usually plays it by ear. Double the measurements in a bigger dish if you can't get enough. The recipe doesn't call for a specific type of apple, but Harlow's favorite is Honeycrisp (for a Honeycrisp apple crisp). Harlow said you can add more apples as you please, and make sure to butter the baking dish.
The recipe serves around eight people at her house, and still tastes good reheated as leftovers. With only a few ingredients and six steps, this recipe is too easy not to make – just for the aroma alone.
Apple Crisp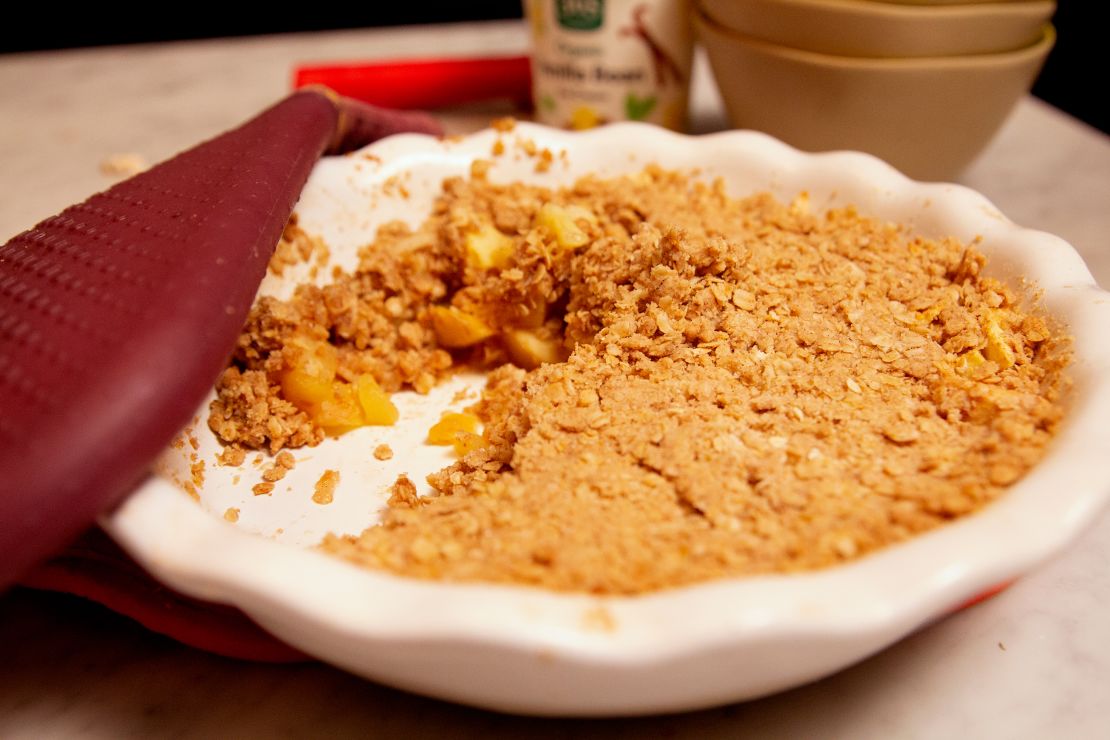 This apple crisp is at its best when served warm and topped with vanilla ice cream. If the apples are tart, use 1/3 cup of each type of sugar instead of ¼ cup each. To serve a crowd, double the recipe and bake in a 9x13-inch pan.
Makes 8 servings
Ingredients
5 apples, preferably Honeycrisp

1/3 cup softened unsalted butter, plus more for baking dish

1 teaspoon cinnamon

¼ cup brown sugar

¼ cup white sugar

½ cup all-purpose flour

¼ teaspoon salt

1 cup rolled oats

Vanilla ice cream for serving (optional, but highly recommended)
Instructions
1. Preheat the oven to 350 degrees Fahrenheit (177 degrees Celsius). If using a glass dish, preheat to 375 F (191 C).
2. Peel and thinly slice apples, and place in 8x8-inch buttered baking dish.
3. To make the oatmeal mixture, combine in a bowl: cinnamon, brown and white sugars, flour, salt and oats.
4. Mix 1/3 cup softened butter into the oatmeal mixture with your fingers.
5. Spread the oatmeal mixture on top of apples and press down slightly.
6. Bake until the top is a little brown and the apples are tender, about 30 minutes. Let cool for 15 minutes and serve warm. Top with vanilla ice cream, if desired.
Stay tuned for the next edition of this series, in which CNN anchors reveal cooking tips and personal stories from the kitchen.