At the end of every year, you probably find yourself exhausted — after all, it's often a nonstop party of eating, drinking, socializing and shopping from Thanksgiving till New Year's. But though, come Jan. 2, you've shelled out a ton on thoughtful gifts and gestures for family, friends and co-workers, you've probably deprived yourself of the most precious gift of all: good sleep.
Mattress Firm is here to make sure you make it through the holiday season well rested and ready for the new year, both with great end-of-year sales and an exciting (but not the kind of exciting that'll keep you up at night) new app that'll ensure excellent zzz's.
To start, Mattress Firm's Year End Sale is in full swing and runs until Jan. 1. Now is your chance to take advantage of unbeatable deals on some of their most popular mattresses. During the sale you could save up to $500 on select mattresses as well as get a free adjustable base valued at up to $499 (with qualifying purchase). King mattresses will be priced as queens and queens as twins, and members of the military, students, teachers, nurses, doctors and first responders are eligible for up to an additional 20% off.
Here are some highlights of the huge savings opportunities currently live (prices reflect twin sizing):
Sleep's Snug 8-Inch Memory Foam ($249.99, originally $499.99; mattressfirm.com)
For those who prefer more supportive, breathable mattresses, this comes with a contour-hugging memory foam that'll match itself to your body.
Sleepy's Doze 10-Inch Memory Foam ($399.99, originally $799.99; mattressfirm.com)
With 2 inches of more support, the Doze also features that essential memory foam and, like the Snug, includes moisture-wicking charcoal so you that you're ensured a cool, comfortable sleep.
Sleepy's Curve 12-Inch Memory Foam ($549.99, originally $1,099.99; mattressfirm.com)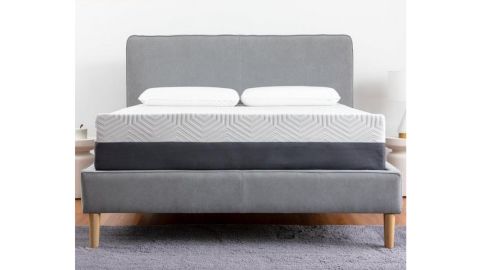 With even more support, the Curve is the ultimate in supportive memory foam technology, and has all the bells and whistles of the Snug and Doze.
Serta Perfect Sleeper Charlotte ($349.99, originally $699.99; mattressfirm.com)
Exclusive to Mattress Firm, the popular Charlotte features a custom coil system, cooling gel foam and pressure-point relief, making for one of the most luxurious sleeps around.
Sealy Sudley ($224.99 originally $449.99; mattressfirm.com)
The Sealy Sudley is a great option for back sleepers, as its coil system provides a supportive, firm feel combined with a gel foam layer for a hint of plushness and added comfort.
And not only will you be able to sleep well thanks to the comfort of a brand new, affordable mattress, but you'll also be armed with the knowledge of how to improve your sleep thanks to the brand new Sleep.com app. Recently launched Dec. 8 for iOS and Android devices, the new sleep app monitors your sleep, explains what you're doing right and wrong, and will tell you how you can improve your sleep habits to finally get a solid eight hours in. Powered by technology and research from SleepScore Labs, the new app, from Sleep.com, is the answer to junk sleep. And what is junk sleep? It's when you're robbed of quality sleep by various factors, like noisy environments, too much ambient blue light and lumpy, unsupportive mattresses that are completely wrong for your body type and usual sleep posture. By assessing your unique sleep data, the app will be able to give you personalized insights into your nighttime patterns — and give you your own path to getting rid of the junk sleep and turning it into the best sleep you've ever had.
Usher in the new year with a helpful new app, a great new mattress and a good night's sleep, courtesy of Mattress Firm, as we close out 2021.