The destruction was instantaneous as many homes and businesses were tossed in the air in last weekend's tornado outbreak across eight states – but those who survived, many of whom are left with only the clothes on their backs, now face a daunting path toward recovery.
About 75% of one town, Dawson Springs in western Kentucky, was wiped out by the tornado, Mayor Chris Smiley said.
"Right now, our spirits are crushed, but we'll come back," said Hopkins County Coroner Dennis Mayfield, who reported a death toll of 13 in Dawson Springs alone.
About a third of the town's population of 2,500 lives below the poverty line and many don't have insurance.
Those whose homes are still standing probably won't have power for up to a month, said Nick Bailey, the county's emergency management director.
Overall, at least 88 people were killed in the violent storms that rolled through the parts of the Midwest and South late Friday into Saturday, including at least 74 in Kentucky, according to Gov. Andy Beshear. An estimated 50 tornado reports were made across eight states.
"When this tornado hit, it didn't just take a roof off, which is what we've seen in the past," Beshear said. "It exploded the whole house. People, animals, the rest – just gone."
Of the 74 killed in Kentucky, 12 were children, Beshear said. More than 100 people still were unaccounted for as of Tuesday morning, he said.
Beshear said 568 National Guardsmen are helping with post-tornado efforts in the state.
The Red Cross has opened shelters for those who lost their homes and several state parks were opened to help house families.
The Team Western Kentucky Tornado Relief Fund is raising funds to help with recovery. As of Tuesday, more than $9.89 million has been donated, Beshear said.
The damage wasn't restricted to life and buildings. Several large transmission towers were destroyed, and it will take weeks to months to replace them, Kentucky Emergency Management Director Michael Dossett told CNN's Wolf Blitzer.
There are still 18,500 power outages – not including Mayfield Electric – which will take weeks and months to rebuild, Dossett said.
The destruction was indiscriminate. The long-term impact is hard to measure.
"For some folks, I don't know that they'll ever recover from this completely, certainly not emotionally or psychologically," state Sen. Whitney Westerfield said. "Homes and buildings can be rebuilt in time, but this is the kind of thing that lasts with the community and with the family for a long time," he told CNN on Monday.
8 killed at Kentucky candle factory, officials say
Eight of those killed in Mayfield – about a 70 mile drive southwest of Dawson Springs – were working at the Mayfield Consumer Products candle factory, according to Indianapolis fire Division Chief Tom Neal, who is leading a search and rescue team deployed to the facility.
The factory had been "going 24/7" in part to meet Christmastime candle demand, US Rep. James Comer, who represents the area, told CNN.
A tornado leveled the building Friday night, trapping many employees under several feet of debris, but authorities are now confident no one remains in the rubble.
Factory worker Jim Douglas was in so much pain as he lay crushed beneath what he believes was 15 feet of debris that he was "praying that God would take me." Then rescue workers reached him.
"They're heroes. And not because they saved me, it's because they saved a lot of people," Douglas told CNN from his hospital bed.
Douglas is recovering from nerve damage and slowly gaining back the use of his arms and legs, The worker described how an interior wall fell on top of him – hitting him in the head and throwing him to the ground.
"It was so quick. It was like different layers would come down and I could feel my body would like compact more," he said. "I was definitely being crushed."
Mayfield residents rushed to the factory as word spread of the destruction there, including Navy veteran Adam Slack. First, he helped people remove debris from roads so paramedics and firefighters could better access the site, he said.
Eventually, Slack helped a survivor from the site.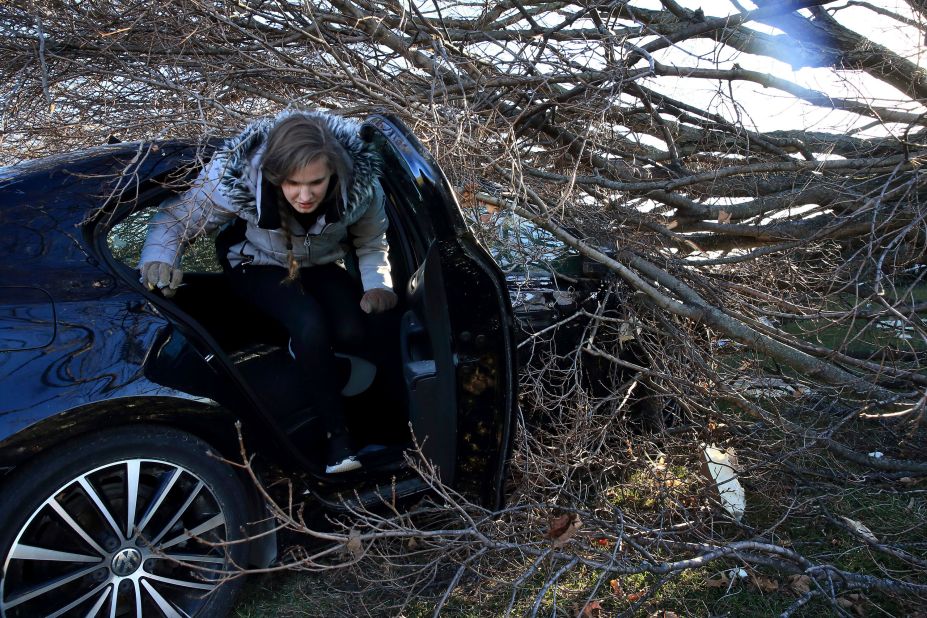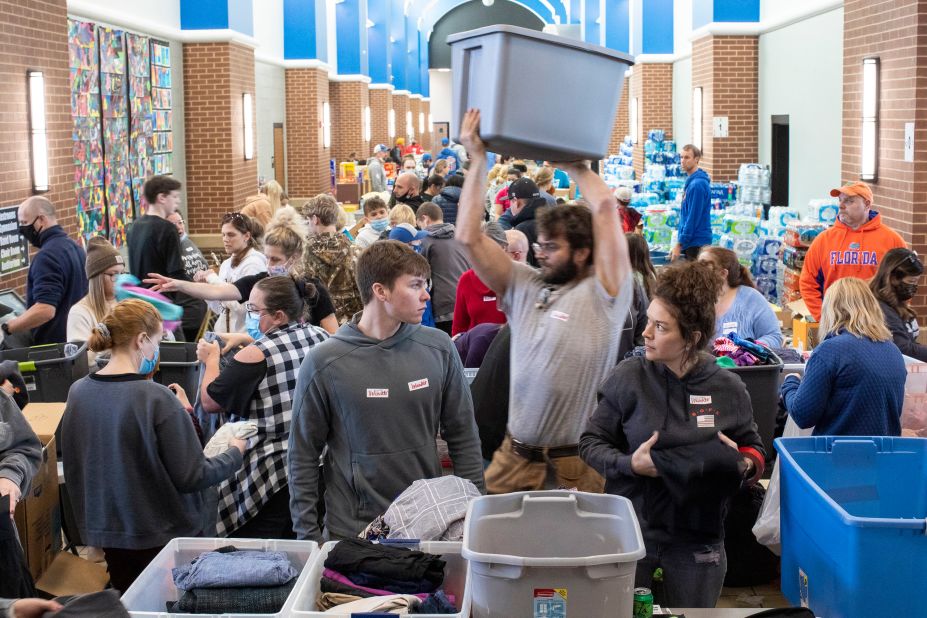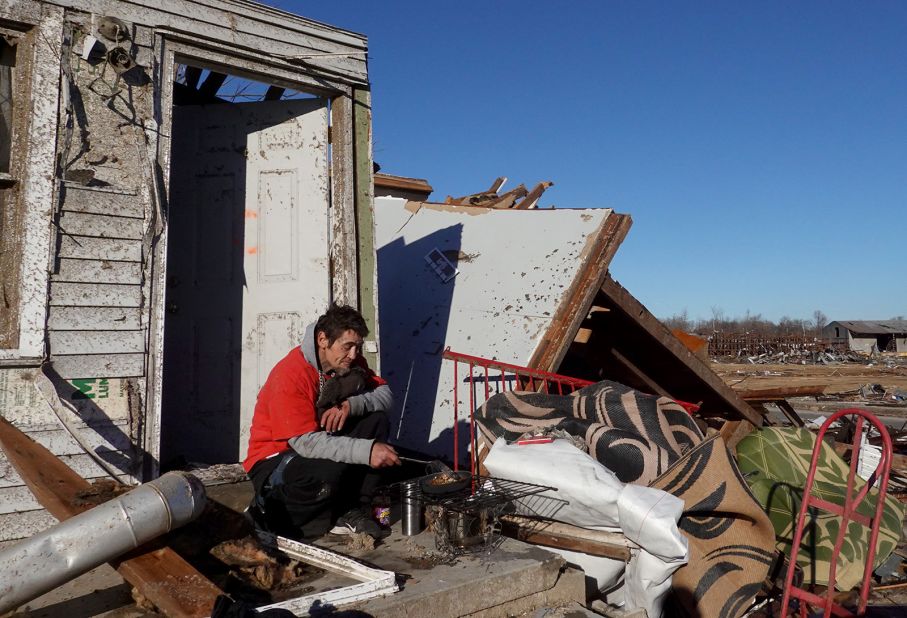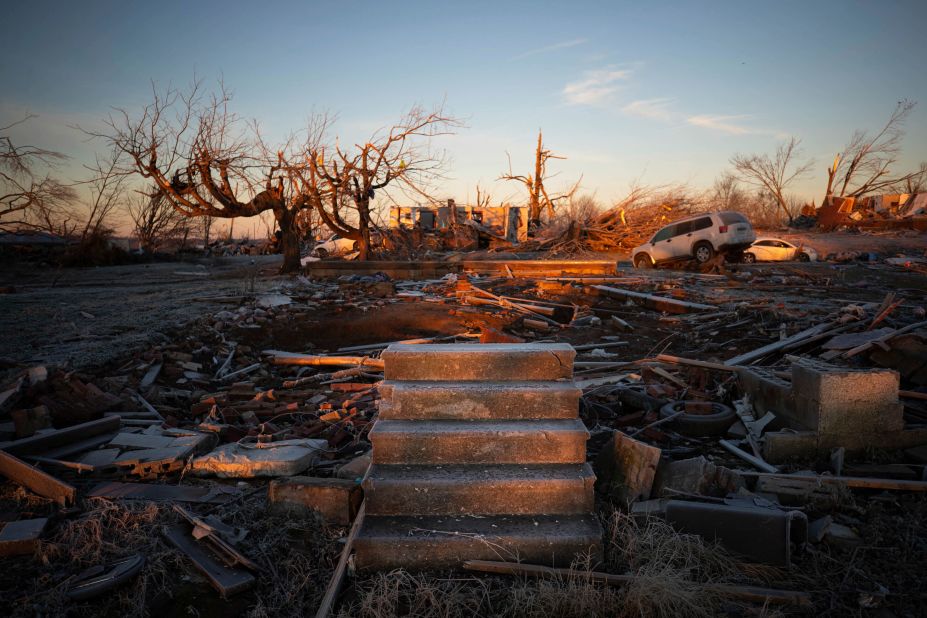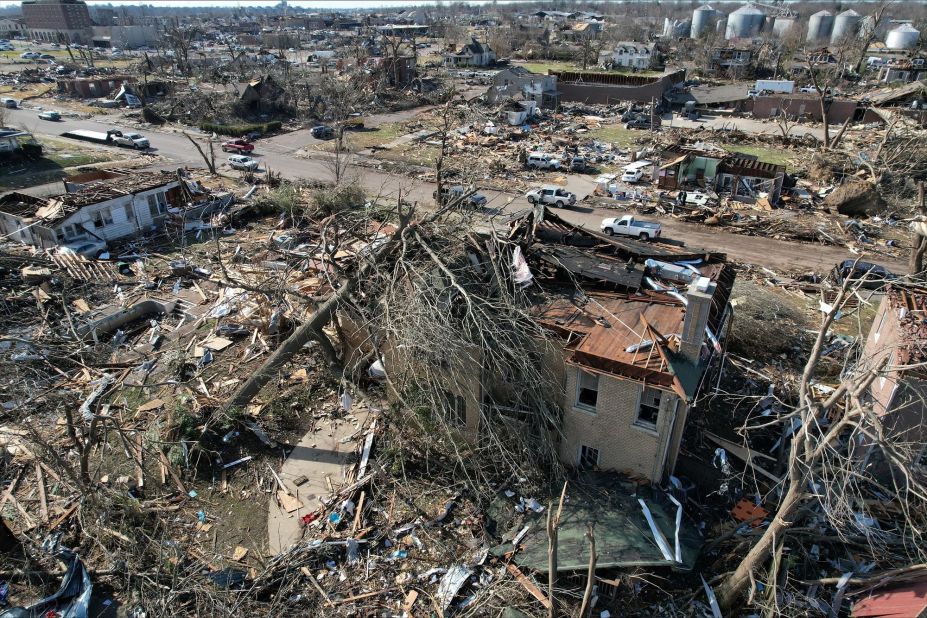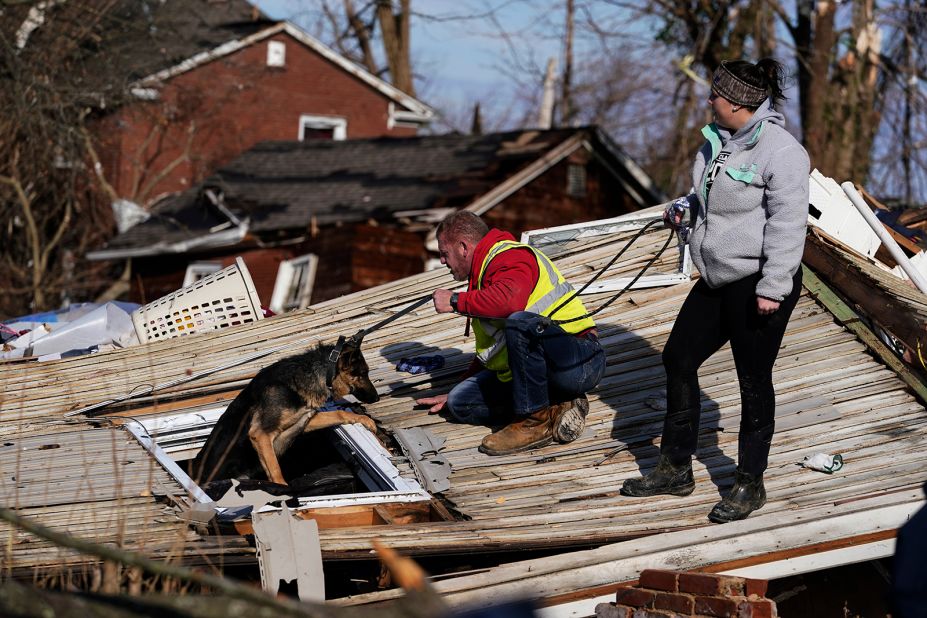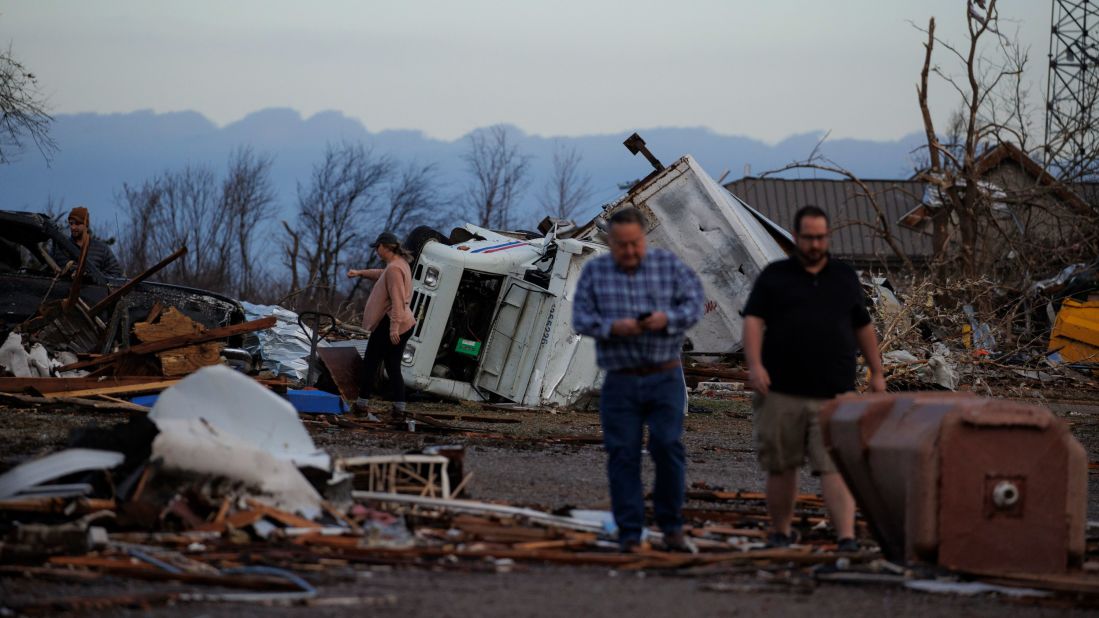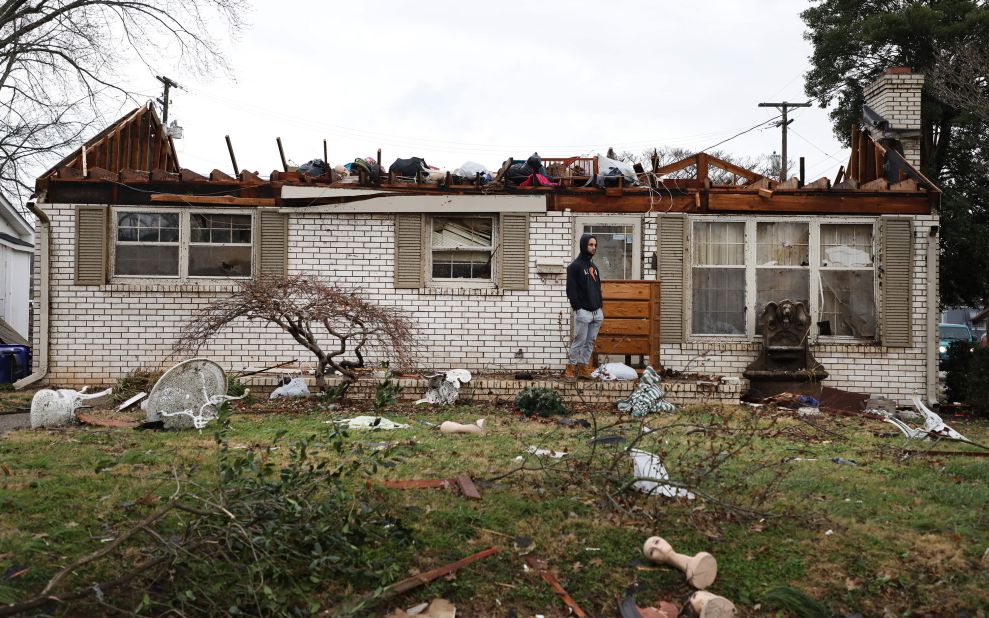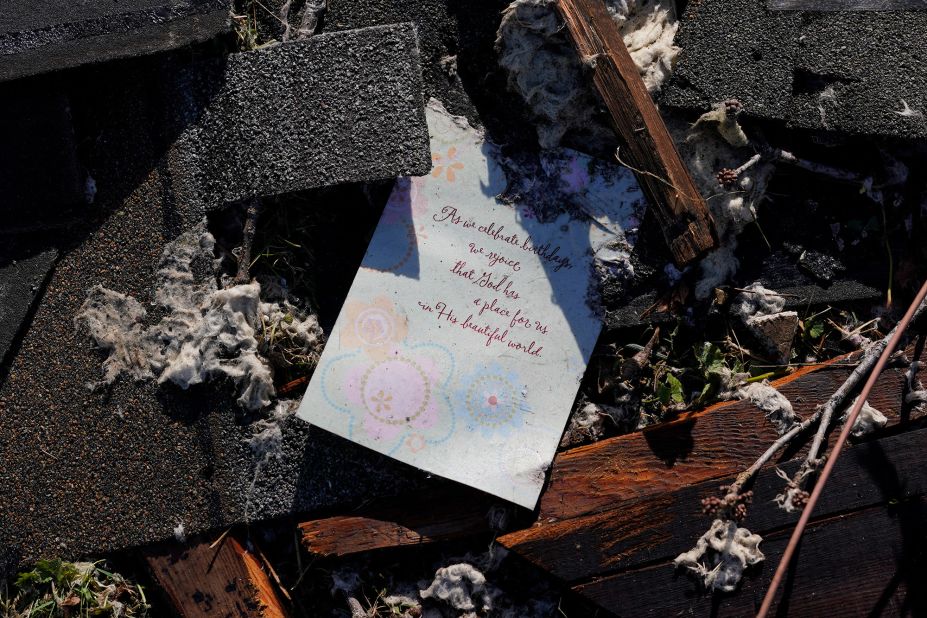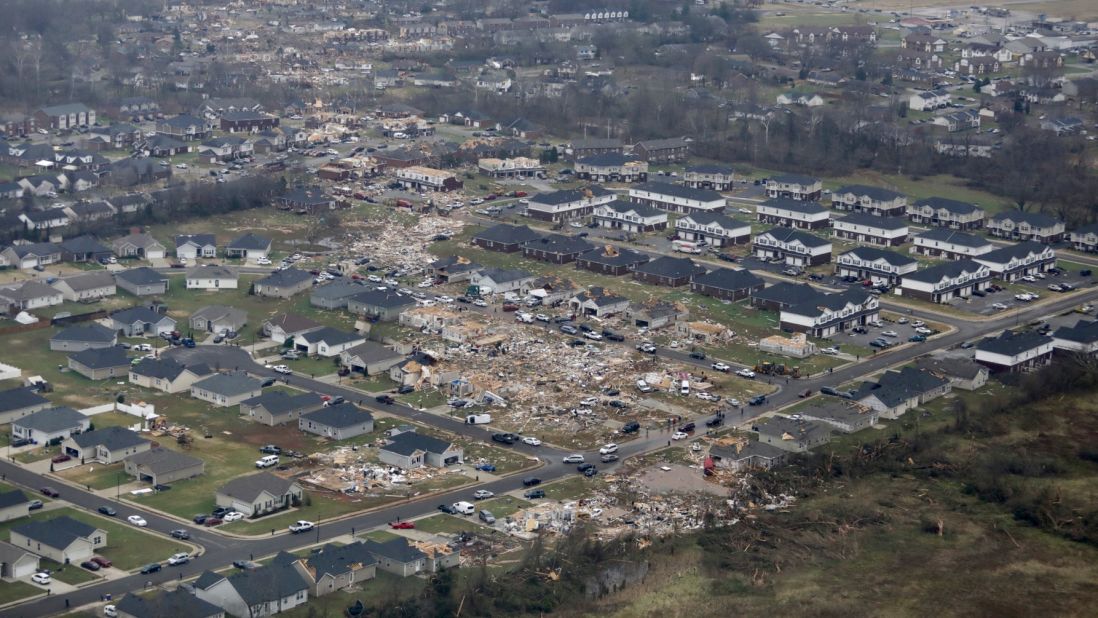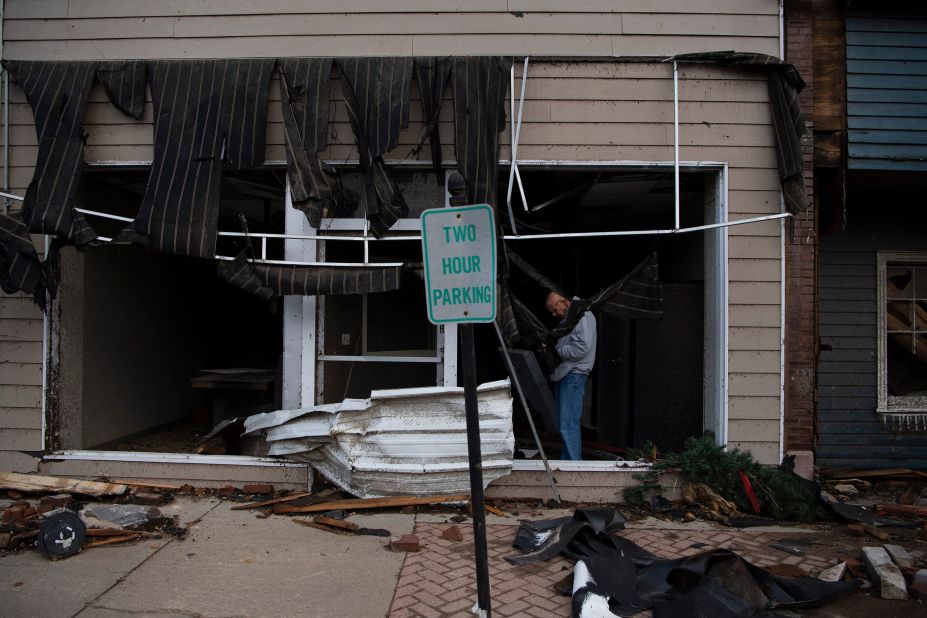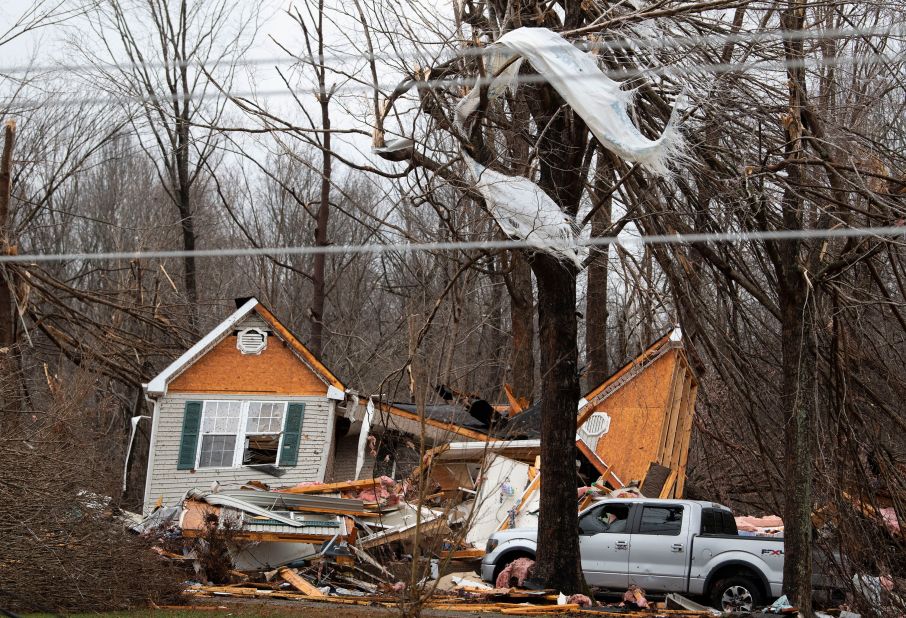 In pictures: Deadly tornadoes hit central and southern US
"The poor woman, she would not let go of my hand. I asked her multiple times if she was OK physically. She says, 'Yeah … I just want my dad,'" Slack told CNN's "New Day" on Tuesday.
"Got her back to my vehicle, gave her some shelter, blankets, kept her warm … . She kept telling me to go back and help somebody else. I said, 'Well, I want to make sure you're OK first,' " Slack recalled.
Slack lent her a cell phone, and she called her father, who arrived to pick her up, Slack said.
The factory site was "horrific," he said.
"If I talk about it a little bit too long, it'll bring tears to your eyes. … The wind was still going. Power lines, there was a couple gas leaks. People everywhere. It looked like a mound of ants when you kick it over. Everybody is trying to help, try to get in and get people out safely," Slack said.
About 130 miles to the east of Mayfield, in Bowling Green, Kentucky, officials said they have investigated 136 missing persons reports following the tornadoes and as of Monday, 13 people were still missing, according to police Chief Michael Delaney. The death toll in Warren County, where Bowling Green is located, is 15, according to the coroner's office.
Six killed at Amazon warehouse in Illinois
In Illinois, at least six people died when an Amazon warehouse collapsed in Edwardsville after being hit by a tornado, Fire Chief James Whiteford said.
Those six victims ranged in age from 26 to 62, the Edwardsville Police Department said.
Forty-five people made it out of the building, with one person airlifted to a regional hospital for treatment, Edwardsville Fire Chief James Whiteford said Saturday evening.
Amazon Worldwide Consumer CEO Dave Clark said the company's staff was saddened at the loss of life at the facility and beyond.
"Our thoughts and prayers are with the victims, their loved ones, and everyone who has been impacted by the storm's path across the US. We're continuing to provide support to our employees and partners in the area and across the communities affected by the storms. We also want to thank all of the first responders for their ongoing efforts on the scene," Clark said in a tweet.
The Occupational Safety and Health Administration is investigating the collapse, a spokesperson told CNN.