Ten years ago, a user posted a question on Reddit: "When Ray Allen finally retires, is Steph Curry the greatest threat to his 3P made records?"
In the replies, many are skeptical. One says they don't think Curry will reach 2,000, while another believed: "No one can even catch up to Jason Kidd …. let alone Ray Allen."
When Allen retired, he had made a remarkable 2,973 three-pointers in 1,300 games.
During the Golden State Warriors' Tuesday night game against the New York Knicks, Curry made two three-pointers in the first quarter to break Allen's record. And with three more in the Warriors' victory, Curry has poured in 2,977 in 789 games.
"The bar that was set by Ray and the fact that I could get there in the amount of games that I did, and shoot the percentage that I did, that's something I'm really proud of," Curry said at a postgame news conference.
"I never wanted to call myself the greatest shooter until I got this record, so I'm comfortable saying that now."
So with Curry having etched his name into the NBA history books, a new question is worth asking: has "Chef" Curry, all by himself, changed the way basketball will be played in years to come?
Development
When Curry entered the league in 2009 as the No. 9 overall pick by the Warriors, it was just a year removed from Allen helping the Boston Celtics to an NBA Championship, shooting almost 40% from three-point range and over 90% from the free throw line.
In his rookie year, Curry – a skinny point guard fresh out of Davidson College – was a strong contender for the Rookie of the Year award, averaging 17.5 points, 4.5 rebounds, 5.9 assists and 1.90 steals while shooting 43.7% from beyond the arc.
During his first few seasons, he showed his potential for being a scoring threat while suffering from some injuries, while also developing a rapport with teammate Klay Thompson, earning the pair the catchy nickname, the "Splash Brothers."
He averaged over 20 points per game from 2012 onwards, but it was the hiring of Steve Kerr in 2014 that transformed Curry into a superstar.
Through a combination of Kerr's tactical changes to the Warriors' style of play and Curry's excellence, Golden State catapulted into title contention and Curry evolved into one of the league's best players.
He was voted the NBA's Most Valuable Player (MVP) on the way to the Warriors' first NBA title in 40 years, but the best was yet to come.
In the 2015-16 season, Curry entered another stratosphere.
He became the seventh player in NBA history to join the 50-40-90 club – where players average over 50% shooting from the field, 40% from threes and 90% from the free-throw line.
While he set the NBA record for most three-pointers in a season with 272 in 2012-13, he broke that just two years later getting 286. However in 2016, he went to a different level, scoring an extraordinary 402 threes to smash his own record.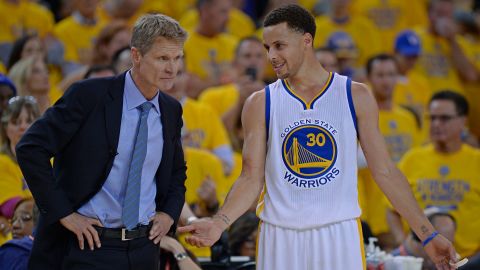 As well as helping the Warriors to an all-time NBA record of 73 wins and nine losses, Curry himself had his own moment of history, being named as the league's first ever unanimous MVP in recognition for his dominant season.
Although the Warriors suffered a heartbreaking loss to LeBron James and the Cleveland Cavaliers in the NBA Finals that year, Curry and Golden State bounced back to win consecutive titles in 2017 and 2018 as he established himself as one of the most dynamic and destructive players in the league.
Despite entering his 30s, Curry has not slowed down, averaging a career high in points last season and almost single-handedly taking a young and injured Warriors team to the brink of the playoffs.
And this season, still with a relatively inexperienced team, Curry has continued to shine, leading his Warriors to an NBA-best record and has them firmly in the playoff hunt.
But surpassing Allen's record for the most three pointers made in NBA history – not just surpassing it, but breezing past it with years of his career to come – could be the crowning moment of his impact on the game of basketball.
"I never wanted to call myself the greatest shooter until I got this record, so I'm comfortable saying that now," Curry said Tuesday.
The future
Before Curry came to the fore, three-point shooting was an element of NBA offenses, rather than a reliable method to success.
But through his elite stamina, know-how, mobility, accuracy and tenacity, Curry has changed perceptions.
He led the way – in addition to other teams like the James Harden-led Houston Rockets – for normalizing shooting from a distance on a court that previously was unthinkable and just might have gotten you benched.
Such is Curry's influence is that he completely transformed the way basketball teams have played around the league, with more and more focusing on their long-range shooting.
There is also a whole new generation of players – including Trae Young and Luka Doncic – for whom three-point shooting is a primary way of scoring, not just something to use occasionally.
"What he's doing is revolutionary," Doc Rivers, Philadelphia 76ers head coach, said. "Only the greats can do that, leave their mark like that. Actually, the great-greats. They change the game."
When asked whether Curry is the most influential player in the past 30 years, NBA great and Hall of Famer Shaquille O'Neal tends to agree.
"I'm watching these little kids now, and I'm like: 'Bro, I've never seen a little kid do a dribble like that, shoot like that.' Yes, I would agree," he said on the "Dan Patrick Show."
O'Neal, who won three titles in a row with the Los Angeles Lakers from 2000-2002, said this season that he'd prefer to go and watch Curry play than this season's Lakers, such is the excitement he provides contrasted with the Lakers' style of play.
Even Allen had to pay his respects to Curry: "He's on his own level, one he made for himself."
A special night
Tuesday evening at Madison Square Gardens had different feeling to it with Curry's record breaking feat hanging over the regular season game.
TV cameras caught Curry, Allen and Reggie Miller – who has the third most three-pointers made in NBA history and was working for TNT's coverage of the Warriors vs. Knicks game – embracing before tip off.
Curry hit his first three pointer early in the game, drawing him level with Allen. And just minutes later, he was the holder of the record.
The game was paused with 7:28 to go in the first quarter, as he received a standing ovation with those in attendance. Curry got hugs from his father Dell as well as from Allen. He later got a hug from his mother Sonya.
Curry called the moment "special." "I got the ball coming down, and I could see everybody on that end of the stadium start to slowly stand up, and there was like a buzz," Curry described.
"I didn't want to rush it because I knew that's when you can kind of get in your head trying to like force the moment. The way that it happened, (Andrew Wiggins) came off a screen, and I kind of floated back to the three-point line.
"I didn't think I was getting the ball, and he hit me. It was exactly what the commercial said. I thought about nothing. I just let it go, and then after that, the emotions started kicking in.
"I just wanted to let it come. It's a pretty special moment. I shot it, I backtracked, I saw my pops over on the side, I saw my teammates going crazy. I felt the whole buzz of the whole arena."
After the game, in which Curry scored 22 points as the Warriors beat the Knicks 105-96, Allen and Miller surprised the Golden State guard with a "2,974" jersey during his postgame interview with TNT.
Curry's teammate, Draymond Green, who has been a vital cog in the Warriors recent run of success, gushed about him afterwards.
Visit CNN.com/sport for more news, features, and videos
"Not often do you have the opportunity to interact with someone great at something, let alone go to work with someone that is great – the absolute best – at something," Green said in his postgame press conference.
"That's a very rare thing because very few people are the best at said thing. Steph is the best to ever shoot a basketball and we get the opportunity to go to work with him every day.
"To share that moment with him … I'm in Year 10 now … every game I've played, he's been my teammate. So to share that moment with someone who is as special to me as Steph is, that was a big deal.
"Like I said, it's such a historical thing – the whole thing … happening at Madison Square Garden, having Ray Allen here, Reggie Miller here … to see him have that moment … honored to be a part of it."
Another basketball legend, James, paid his respects to Curry on Twitter. "Just landed in Dallas to see (Curry) broke the record and to make it even doper he did it in the GARDEN!! WOW CONGRATS BROTHER!! INCREDIBLE."
CNN's Jill Martin contributed to this report.