Boris Johnson must be sick of the sound of sleigh bells by now.
Last year, when the British Prime Minister U-turned at the 11th hour and banned Christmas gatherings for millions of people, many of Westminster's pundits wondered whether he could ever claw back public trust.
But his current festive nightmare makes last year seem like a ball; because, in Downing Street if nowhere else in pandemic-hit Britain, it apparently was just that.
Johnson's premiership has sunk to its deepest crisis yet, most analysts agree, after reports emerged that parties were held at his official residence, in other government buildings, and at the Conservative Party's headquarters at the end of 2020, all while the rest of the country was living under severe Covid-19 restrictions. Johnson and other top Conservatives have denied any rules were broken.
Those reports pitched the government into a scandal that seemed to multiply by the hour – and it's not the only fire Johnson was struggling to extinguish.
Johnson is also under attack over how he paid for renovations to his official flat. He has been forced to deny he fast-tracked Covid rules on Wednesday in order to distract from his political woes. In tandem, he's faced scrutiny over allegedly prioritizing the evacuation of animals from a shelter over people, which he has also denied.
And after losing his lead in the opinion polls to the opposition Labour party, Johnson now faces calls to resign from opposition MPs, as well as mounting anger from within his own party – despite his landslide victory in a general election just under two years ago.
His December is beginning to resemble an advent calendar full of bad headlines, with each day bringing another accusation, or a fresh broadside from his growing club of political critics – even from the newspaper that Johnson used to write for.
Here are the five scandals currently threatening the Prime Minister:
Christmas parties in Downing Street
Johnson's painful December began when the Daily Mirror broke a story about a Christmas party held in Downing Street in 2020. At the time, indoor gatherings were banned in Britain; the day after the party was allegedly held, Johnson announced even stricter restrictions for Christmas, banning millions from visiting their families, and telling the public: "It is with a heavy heart that I must tell you we cannot continue with Christmas as planned."
For a week, Downing Street stuck resolutely to its line: "There was no Christmas party and coronavirus rules had been followed at all times."
But CNN has established that social gatherings were indeed held on two of the days in question – December 18 and also November 27 – and has confirmed a Daily Mirror report that Johnson himself gave an impromptu speech at the November event. Sources also confirmed reports that secret Santa gifts were exchanged on December 18.
"To us, Downing Street was an island where we had to work and lockdown wasn't happening in the same way it was for the rest of the country," a current No. 10 official told CNN earlier this week.
A bombshell video of government adviser Allegra Stratton laughing about the December party while practicing a press conference with other staff infuriated the nation, and led the former journalist to resign on Wednesday. Johnson apologized, claiming he too was "furious" to see the video. He said that if rules were broken "there will be disciplinary action for all those involved," and announced an investigation by the Cabinet Secretary.
But it hasn't stopped the political bleeding. A majority (54%) of British adults questioned in a snap poll for Savanta ComRes on Wednesday after the allegations came to light said Johnson should resign.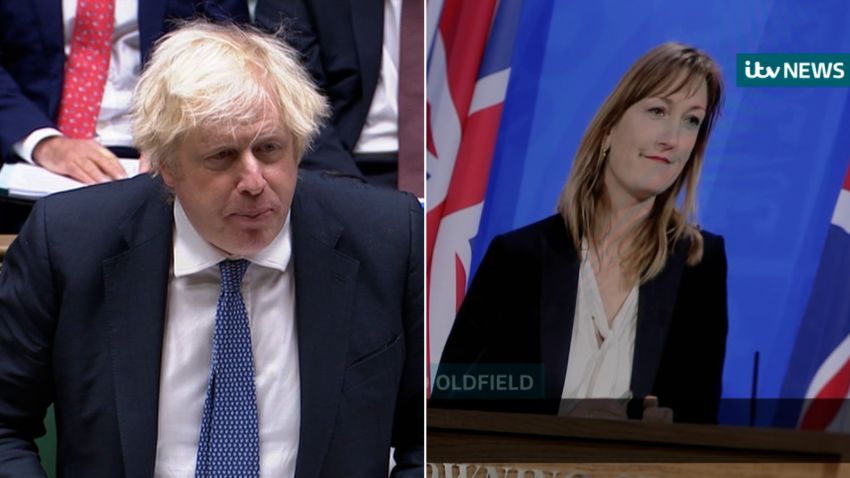 Leaked video shows former UK aide joke about alleged party during lockdown
And on Thursday and Friday, fresh revelations poured out. Jack Doyle, then deputy head of communications and now Johnson's most important press chief, addressed a gathering of "up to 50 people" at the December 18 party and gave out jokey award certificates to members of staff, CNN's affiliate ITV News reported on Thursday. Downing Street and Doyle both declined to comment to CNN while "there is an ongoing review."
'Rushed' Covid measures
Reports of Christmas parties are far from the only scandal engulfing Johnson's premiership.
He has faced opposition from large sections of his party against his move to a "Plan B" raft of Covid measures. The decision means masks will become mandatory in most indoor places, people are being asked to work from home, and, from December 15, proof of vaccination or a negative test within 48 hours becomes mandatory to enter certain venues like nightclubs.
The plans were announced suddenly on Wednesday, at the peak of the Christmas parties scandal – leading a backbencher in Johnson's own party, William Wragg, to claim they were a "diversionary tactic" on Johnson's part.
The Prime Minister denied that accusation at a press conference, saying: "You've got to act to protect public health when you've got the clear evidence."
Whatever the intention, the Conservative rebellion over the move is sizable enough that Johnson will likely need Labour votes to pass it through Parliament – a stark indication of how rapidly his command over his party is diminishing.
And it's unclear how effectively the moves will prevent the spread of Omicron at this stage. Johnson has been an outlier among leaders in western Europe by refusing to introduce mask mandates during the most recent wave until November 30 or to introduce vaccine certificates until now.
On Friday, Downing Street announced an emergency meeting would be held between the UK's four nations over the variant's spread.
More than 146,000 people have died in the UK during the coronavirus pandemic, the second-highest death toll in Europe after Russia.
Refurbishments to Johnson's apartment
Another saga has been simmering for several months, and re-erupted on Thursday when Johnson's Conservative Party was fined by the UK's Electoral Commission for "failing to accurately report a donation and keep a proper accounting record" over the refurbishment of the Prime Minister's apartment in Downing Street.
The investigation was launched on April 28, 2021 following reports in British media that Johnson had spent around £200,000 ($280,000) on refurbishing the flat.
The opposition Labour Party says text messages uncovered by the inquiry indicate Johnson may have misled his own standards adviser over how the renovations were paid for. The party's deputy leader Angela Rayner said Johnson "must now explain why he lied to the British public" when he said did not know who paid for the work, and that he had taken the nation "for fools."
The Prime Minister's official spokesman told PA Media: "We are liaising with (the adviser) Lord Geidt to answer any further questions he may have but beyond that I wouldn't get into any private conversations he has with his independent adviser."
In comments to PA Media, the spokesman denied Johnson had lied, insisting he has "acted in accordance with the rules at all times."
Evacuating animals from Kabul
Yet another battle centers on claims by a Foreign Office whistleblower that Johnson personally intervened to have the staff and animals of Nowzad, a non-governmental organization, evacuated from Afghanistan during the fall of Kabul in August, at the expense of people desperate to escape the Taliban.
"There was a direct trade-off between transporting Nowzad's animals and evacuating British nationals and Afghans evacuees, including Afghans who had served with British soldiers," ex-staffer Raphael Marshall told a parliamentary committee on Tuesday. Johnson told reporters the same day that the claims were "complete nonsense."
Marshall's testimony, more widely, was damning of the British response to the crisis. It claimed Britain's then-Foreign Secretary Dominic Raab took several hours to respond to urgent requests, and said many emails requesting evacuation went unread.
"It is clear that some of those left behind have since been murdered by the Taliban," Marshall said.
In a BBC Breakfast interview, Raab said he did not accept the allegations made by Marshall, adding that they came from "a relatively junior desk officer."
The UK got 15,000 people out of Afghanistan in the August evacuation operation despite "a very difficult set of operational conditions," he said. "We did, I think, a very good job under very difficult conditions," he insisted.
Allegations of sleaze
Johnson has batted back accusations throughout his career that he is economical with the truth – and throughout the pandemic, his opponents' most powerful line of attack has been that he and his friends flout the rules they have imposed on millions.
This is a Prime Minister who had barely recovered from a lengthy "sleaze" row, which came to a head in November after he briefly backed plans to overturn the suspension of a fellow Conservative MP who was found to have breached lobbying rules.
Paterson sent multiple emails to government officials on behalf of two companies that between them paid him £100,000 ($136,000) as a consultant. Paterson claims he was raising concerns about the quality of milk and pork; Kathryn Stone, the parliamentary standards commissioner, disagreed.
Paterson then persuaded Johnson's government to back an amendment that would overrule his suspension and instead refer the case to a newly set-up parliamentary committee of MPs chaired by one of his Conservative colleagues, John Whittingdale.
The backlash was so severe the government U-turned the next morning, but the avoidable saga led to weeks of reports about second jobs held by Conservative lawmakers.
Keir Starmer, the emboldened leader of the Labour Party, accused Johnson's government of "sleaze, cronyism, (and) corruption" last month. The Prime Minister hit back at the accusations, insisting the UK is not "remotely a corrupt country."
Where does this leave Johnson's leadership?
"It's one rule for the Conservatives and another for everyone else," Starmer said on Twitter as soon as the Christmas party story first broke, repeating a charge that is fast becoming the Labour Party's slogan.
That reputation has just become even harder for Johnson to shed.
Opinion polls have shown Labour taking a long-elusive lead over the Conservatives; on Thursday, the Conservatives face a suddenly tough battle to regain a parliament seat, in a by-election in the "true blue" county of Shropshire where Johnson's party would usually coast to victory.
Meanwhile, many figures in Johnson's own party are openly condemning him.
One Tory former minister, Tracey Crouch, said she was "fuming" and is "not even going to begin to justify or defend a party in Downing Street." Another backbencher, Duncan Baker, said that "if there was a Christmas Party in Downing Street, that is indefensible and I expect full accountability to follow."
And Sayeeda Warsi, a Tory peer and former Chair of the party, said, "Those that make the law must obey the law," adding: "This is dangerous territory for us as a nation."
The coinciding scandals have raised the possibility that the Conservative Party – known for ruthlessly deposing once-admired leaders when their shine has worn off – might dump Johnson to regain its standing before the next general election, scheduled to take place no later than May 2024.
Odds have been slashed on Johnson leaving office sooner rather than later; a defeat in the local by-election this week would add fuel to those suggestions, as would further revelations in the parties row, or a failure of his "Plan B" measures to prevent fresh Covid restrictions later in the winter.
So far Johnson, long considered immune to the kind of political scandals that would sink his adversaries, is holding on.
There was even a bit of happy news for him to celebrate: the Prime Minister welcomed his second child with his wife Carrie – and his seventh overall – at a London hospital on Thursday morning.
But given the torrent of criticism hurled at the Prime Minister this week on the front pages of Britain's newspapers, it's unlikely the Johnsons would have wanted to save any of them to commemorate the day.
CNN's Luke McGee contributed to this report.