It's no secret that Dyson makes some seriously stylish (and powerful) appliances, whether we're talking dust-busting vacuums, air-cleaning purifiers or curl-creating hair tools. If you've already jumped on the Dyson train — and, perhaps, are looking for a reason to justify treating yourself to another item from the brand — you're in luck.
From now through Dec. 12, Dyson is hosting its annual Owner Rewards Savings Event, during which those who have previously bought a Dyson and registered it will also receive a code for 20% off any product.
"Any product" is music to Dyson-loving ears, so we've rounded up 10 of our favorite Dyson hair tools, vacuums and more to spend that credit on.
Dyson Airwrap Styler ($439.99, originally $549.99; dyson.com)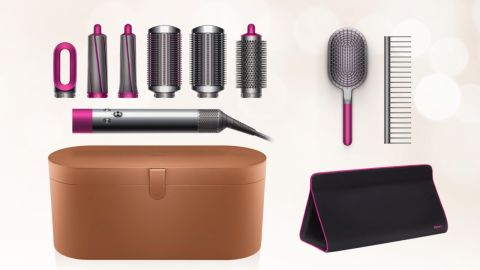 This multifunctional hot tool is the only thing you need to create an A-lister's worth of looks: It comes with a variety of interchangeable barrels and brushes for loose or tight curls and waves as well as sleek, smooth blowouts — and there's even a case for travel.
Dyson Outsize ($559.99, originally $799.99; dyson.com)
One of Dyson's latest and greatest, this top-rated vacuum is made for giving you all the benefits of cordless vacuuming with a superior runtime and, of course, suction capabilities (this is a Dyson, after all). It has a full-size bin and can clean your floors, baseboards and cobwebby corners for two hours before needing a recharge.
Dyson Pure Humidify + Cool Cryptomic ($719.99, originally $899.99; dyson.com)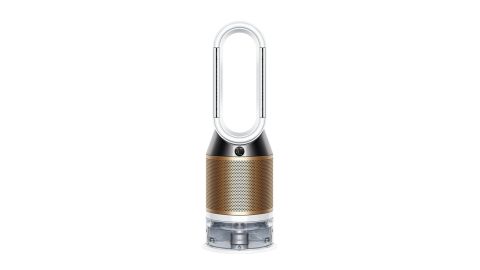 This extremely elegant air purifier is here for a variety of respiratory (and comfort) needs: It's an air purifier, humidifier and fan all in one. It's perfect for adding a little moisture back into dry winter days, and in the summer, the fan will cool your space, so you'll be comfortable with this machine year-round.
Dyson Lightcycle ($479.99, originally $599.99; dyson.com)
Genuinely high tech and aesthetics don't always go hand in hand, but we'd be happy to have this genius lamp sitting on our desk or nightstand. It's designed to simulate the day's natural patterns of light to reduce eye strain and can even adjust its light for your age and task at hand (all via an app, of course).
Dyson Corrale Hair Straightener ($399.99, originally $499.99; dyson.com)
Dyson can curl and dry, and now it can straighten too. This award-winning hot tool is cordless, which is practically revelatory: You can get the back of your head without taking out the toothbrush holder or your makeup back on the counter.
Dyson Supersonic Hair Dryer ($319.99, originally $399.99; dyson.com)
The dryer that started it all is now 20% off with this sale, and it's just as great as it's always been when it comes to boosting shine and getting the job done fast without damaging hair (hello, flyaway attachment!). Bonus: With this purchase, you can choose three bonus gifts to come with your shipment too. Read more about our pick for best high-end dryer here.
Dyson V7 Absolute ($279.99, originally $349.99; dyson.com)
For small apartments, this V7 will get the job done fast: The power is seriously great, and I love the flat head on mine (and that great pivot) when it comes to getting under my worktops and open kitchen shelving. A few permutations of the attachments give it enough length to get cobwebs in the corners of 14-foot ceilings too (even when the vaccuummer is, say, 5-foot-4).
Dyson Supersonic Gift Edition ($343.99, originally $429.998; dyson.com)
This C-suite version of the stylish Supersonic is most definitely the hair dryer Shiv from "Succession" would use, and maybe that's why her power lob is always so flawless. Either way, we're here for this gifting edition in deep blue and copper.
Dyson V10 Absolute ($439.99, originally $549.99; dyson.com)
With up to an hour of runtime and three power modes to tackle whatever grit lies in your path, this cordless stick vac takes care of dust, dirt and pet debris in no time.
Dyson Lightcycle Morph ($679.99, originally $849.99; dyson.com)
This lamp follows the path of the table-sized Lightcycle in an auto-adjusting floor version that also syncs up to the day's natural rhythms and your own personal schedule.