There is a weather term that terrifies many of us: polar vortex. If you've been in one, you know the importance of good outerwear. Whether you're just walking to work, taking a hike or actually working outside, durable warm gear is worth its weight in gold. It's an investment no one regrets.
Carhartt has cemented its reputation as a maker of gear that stands up to the elements no matter what you throw at it. This year, Carhartt has expanded its line of cold weather gear to match just about any clothing taste, purpose and warmth rating. Speaking of which, Carhartt has come up with its own Warmth Rating from 1 to 4: Warm, Warmer, Warmest and Extreme Warmth.
Here's a sampling of some of the items Carhartt offers at each rating level:
In the women's line, there is the Rugged Flex Relaxed Fit Canvas Jacket, which features mesh lining for extra breathability. This jacket also has Rugged Flex® technology, a feature that makes it easy to move around in. It's versatile, breathable and stylish, and it comes in three colors, with sizes that range from XS to 3X.
For something that looks and feels more like a traditional activewear down jacket, there is the Rain Defender® Relaxed Fit Lightweight Insulated Jacket. This jacket is designed to be ultra lightweight at 1.75 ounces and has CORDURA® outer material to resist tears, scuffs and abrasions. And as the name suggests, it is water-resistant in light rain. The Rain Defender jacket has a wide range of colors (eight in all) and includes tall sizes.
At the Warmest Rating, there is the Loose Fit Firm Duck Insulated Flannel-Lined Active Jac. This Carhartt classic is both rugged and comfortable, thanks to the combination of water-repellent, wind-resistant rugged cotton duck and a quilted-flannel lining. It is a good heavyweight, outdoor jacket for work or just for bearing the coldest of winter days.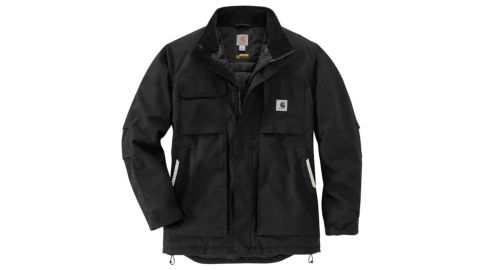 When you need a jacket that truly stands up to the elements, Carhartt has the Yukon Extremes® Full Swing® Insulated Coat. This jacket has much of the look and feel of a tried-and-true Carhartt jacket down to the corduroy-lined collar and reflective tape for safety when working outdoors. It also has multiple Carhartt technologies for resisting wind, rain and abrasion, and plenty of pockets.
Carhartt also has you covered in keeping your head and hands warm. For example, the Akron Hat is a great choice if you want an alternative to the traditional stocking cap or beanie, with Sherpa lining, ear flaps and a ribbed look. These hats are one-size-fits-all and come in two colors.
Depending on your activity, there is both the heavyweight Waterproof Insulated Glove, with a grippy palm and waterproof insert, and the Work-Flex High Dexterity Glove when you still need dexterity without pulling off your gloves.
This winter, Carhartt has you covered when temperatures drop with an ever-expanding line of clothing for indoors and outdoors that are made for types of uses and tastes.