Looking for the best products to gift — and to get — this holiday season? Check out Underscored's Holiday Guide here.
The holidays are chock-full of festive activities. From decorating your tree and baking cookies to watching "Elf" on repeat for a month straight, each activity is merrier than the next — but you know what can amp up the Christmas cheer factor even more? Matching family pajamas, that's what.
From tartan flannels to organic cotton sets with Santa's face on them, there is a matching set out there for every family — trust us! Check out our top picks below, and don't worry, we've got plenty of options for the four-legged family members too.
Hanna Andersson Tannenbaum Matching Family Pajamas (starting at $27.60; hannaandersson.com)
The OG brand to launch matching pajamas for the entire family, Hanna Andersson is a favorite among parents for one big reason — they last forever. Seriously! You can wash these pajamas a thousand times and they still look like new and can be handed down from your oldest to youngest kid while still looking pristine. Another reason we love them so? Because they have so many cute holiday patterns! This tree-bedecked set, for example, is perfect for Christmas, but is also generically wintry, so you can wear them all season long.
More to know: The Tannenbaum pattern comes in tops, bottoms and onesies for men, women, kids and pets, and includes lots of coordinating accessories like soft knit socks, slipper moccasins and a sweater knit hat.
Lake Pima Classic Pajamas (starting at $44; lakepajamas.com)
If you haven't tried Lake pajamas yet, well, you're missing out. But don't worry, there's still time to get in on the luxury goodness of the Savannah-based brand's ultra-soft PJs, which come in holiday-ready red and green pinstripes for the whole family. Choose from pima cotton and poplin fabrics in dozens of silhouette options — from nightgowns and bathrobes to baby sets and a must-have women's bundle that includes a long-sleeve shirt, shorts and pants.
Soma Family Pajamas (starting at $38; soma.com)
Soma makes some of the best women's pajamas out there, so scooping up fun Christmas options for the whole family is a no-brainer. While we love the new candy cane pattern this year, we're definitely partial to the red and black plaid options, which include a kids' and men's set, in addition to sleep shirts, long-sleeve button-downs, pants and shorts for women.
Company Cotton Family Flannel Classic Pajama Sets (starting at $49; thecompanystore.com)
Looking to upgrade your family's flannel this season? The Company Store has got your back in a big way, with pajama sets for men, women, kids and pups, not to mention coordinating bathrobes, nightshirts, boxer shorts and more. Six Christmas patterns are available — from chic plaids to silly Santas and snowmen — and the brushed-on-both-side flannel fabric is equal parts buttery soft and crisp. More to know: The items run slightly oversized to allow for shrinkage, and most pieces — even the dog PJs! — can be personalized with a monogram or name.
Lewis Is Home Pajamas Set Joyful Trees ($48; lewisishome.com)
Perhaps the prettiest pajamas on our list are these cuties from nursery brand Lewis. The perfect choice for anyone looking to have their kiddos matching this season, the organic, interlocking knit cotton PJs feature a wintry pattern that is equal parts festive and serene, which the brand describes as "an ode to the season — the quiet joy of a walk through winter woods, happening upon a brightly lit tree." Available in size newborn (in the sweetest kimono set we ever did see!) to 10 years old, the PJs are worth the investment — they're specifically designed to be durable enough for play, and to be handed down over the years.
Primary Family PJs in Navy Fair Isle (starting at $8; primary.com)
If you know, you know: Primary is a parent's savior when it comes to cute organic playclothes for kids with nary a logo in sight. So, it's no surprise that that brand is showing up big time for fam jams this year, with lots of fun holiday patterns and pieces for mom, dad, kiddos, babies and even pets. We're loving the navy fair isle pattern with its trees and stars and hearts combo, not to mention all its coordinating accessories like matching socks.
Wondershop Holiday Plaid Flannel Matching Family Pajamas Collection (starting at  $12; target.com)
Target's got your entire family — even your pets sized XS to XL! — covered with this cozy line of flannel jammies from Wondershop. Boasting a classic red plaid pattern, the PJs are 100% cotton flannel and have comfy drawstring waists for men, women and kids, while the baby footed pajamas feature an easy-access zipper.
Posh Peanut William Luxe Pajamas (starting at $38; poshpeanut.com)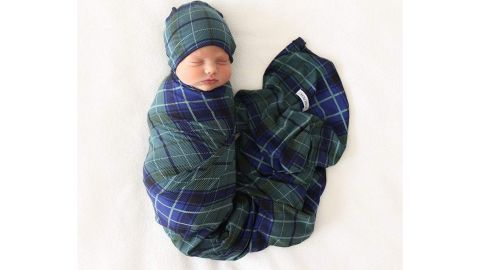 Upscale and chic are the words that come to mind when you see and feel Posh Peanut's holiday pajamas. Made from the brand's signature bamboo-infused fabric, the pajamas are soft and wrinkle-free and never overheat. We're loving the timeless William plaid, which comes in everything from a swaddle set and men's and women's lounge sets, but if you're looking for something bolder — like, say, a bright gingerbread man and candy cane option — Posh Peanut has you covered there too.
Janie and Jack Nutcracker Pajama Set ($36.99, originally $44; janieandjack.com)
We've said it before and we'll say it again: There's nothing cuter than a gaggle of kiddos running around in matching pajamas! And if you're going to go for it, why not really go for it? Janie and Jack is your solution, with this over-the-top adorable bright red nutcracker set that comes in sizes 6 months to 12 years old. Comprising a durable ribbed cotton fabric, the PJs have elastic waists and an itch-free label too.
PajamaGram Matching Family Christmas Pajamas (starting at $18.99; amazon.com)
More than 600 Amazon reviewers agree that these Christmas light-adorned family PJs are worth the purchase. Available in sizes newborn to 4X Tall for men — and pets big and tall too! — the pajamas are a mix of 95% cotton and 5% spandex, adding just the right amount of stretch to the fabric.
Little Sleepies Fair Isle Family Pajamas (starting at $28; littlesleepies.com)
Some of the best baby pajamas in the biz come straight from Little Sleepies. Featuring bamboo-viscose fabric, the brand's buttery soft family jammies have no snaps, buttons or interior tags (only zippers for babes!) and come in options from newborns to 16-year-old for kids, alongside matching sets for Mom and Dad. We're loving this cheerful stocking and gingerbread man-bedecked fair isle pattern, not to mention the design's extra-long arms and sleeves that allow for kiddo growth spurts.
Lands' End Aqua Dogs and Cats (starting at $14.97; landsend.com)
Since 1963, Lands' End has been churning out comfy durable wares to the masses, and this year that includes a slew of holiday pajamas for the entire family — from baby and grandpa to Fido and your teenager who's cringing at the matchiness of it all. The brand is offering six holiday patterns this year, and we're mildly obsessed with the aqua dogs and cats riding sleds design. With nearly 30 pieces, the collection comes in fleece, flannel and poplin fabrics, in styles ranging from women's nightgowns and matching sets to baby sleepers.
Old Navy Hanukkah Matching Family Pajamas (starting at $8; oldnavy.com)
Anyone celebrating Hanukkah this year should head straight to Old Navy, which is offering the cutest flannel and fitted options for adults and kids featuring a navy background and light blue menorahs. And for anyone not celebrating Hanukkah, fear not: Old Navy has your back too, with more than a dozen holiday family patterns ranging from dancing Santas to Christmas dinosaurs.
Hanna Andersson Red & Green Stripe Matching Family Pajamas​ (starting at $27.60; hannaandersson.com)
It doesn't get more iconic than Hanna Andersson's striped fam jams. Featuring bold red and green patterns (with alternating red and green arm cuffs and necklines), the organic cotton PJs are sure to last year after year without fading or tearing, making them well worth the splurge.
Shelry Store Family Matching Christmas Pajamas ($18.99; amazon.com)
There's nothing understated about these family pajamas, which is exactly why more than 7,000 Amazon reviewers love them. Available in 15 hyper-Christmasy patterns, the pajamas come in sizes 1T to 16 for kids and XS to 3XL for adults. More to know: A matching doll and pet bandana are also available.
Company Organic Cotton Matching Family Pajamas (starting at $44; thecompanystore.com)
Just as cozy as their flannel options, The Company Store's organic cotton ribbed sets have a snug fit and come in a slew of fun patterns — from Santa faces to dogs wearing winter hats — that will look adorable when matching everyone en masse. Available for Mom, Dad, teens, kiddos, babies and even fur babies, these sets are definitely Instagram-worthy.
Wondershop Holiday Jingle Bells Matching Family Pajamas (starting at $7; target.com)
Wondershop is nailing it this year, thanks to this family set that's pairing ultra-warm fleece bottoms with a cute Jingle Bells tee on top. Available in baby sizes starting at 12 months all the way up to men's sizes 5XL, the pajamas also have a coordinating pet scarf available for just five bucks. Want to see all of Target's holiday family pajamas options? Go here.
Primary Family PJs in Snowflake Stars (starting at $8; primary.com)
Snowflakes and stars, oh my! We love the festive, untraditional holiday vibe of these cotton rib jammies, which come in sizes for babies, kids, grown-ups and pets too.
Gap Flannel Family PJs (starting at $31; gap.com)
No surprise here: Gap knows a thing or two about a classic plaid pattern. We're loving all the brand's options this year, especially this green-blue plaid set that is sure to bring a major preppy vibe to your holiday season. Available in sizes for baby, kiddo, teen and adult, the best thing about these PJs is that they can be worn before, during and after Christmas.
Abercrombie & Fitch Family Pajamas (starting at $35; abercrombie.com)
We don't know about you, but we're smitten with all the cozy flannel family options coming from Abercrombie & Fitch this holiday season. Chock-full of separates and sets for kids and women and men, the options can be matched perfectly or perfectly mismatched — which is the best kind of optionality there is.