It's time to get into the holiday spirit. So pour yourself a cup of eggnog, decorate the tree and take a look through our comprehensive gift guide.
You'll find gifts for men, women, kids and the precious pets in your life. Get some inspiration for your gift-giving this year and while you make your list (and check it twice), don't forget to highlight any gifts you would like to receive.
Gifts for women
Our Place Always Pan ($195; ourplace.ca)
Treat someone really special to this pan that can replace up to eight kitchen staples. Now available in 10 colours, this attractive cult classic doubles as kitchen decoration as well as innovative cookware. Read our full review of the Always Pan here.
Maple & J Riggins Chain Bracelet ($139; mapleandj.com)
You really can't go wrong with a classy bangle from Maple & J. Mix and match to create an eclectic look combining silver and gold with different textures, or choose a favorite for everyday wear. Whatever you do, don't hang around. These fashionable bracelets often sell out.
Lafco New York Classic Scented Candle ($101.36; amazon.ca)
It might seem like a lot of money to spend on a candle, but Lafco creates truly premium products, infused with essential oils and crafted with a long burn time of up to 50 hours. This winter currant scent will fill her home with holiday spirit and create a unique ambiance for her guests.
Chantal Enameled Cast-Iron Cookware Dutch Oven ($170.52; amazon.ca)
Bring a pop of bright, cheerful colour to her kitchen with this sunshine-yellow Dutch oven from Chantal. The company has just celebrated 50 years in business and released this marigold colour as tribute. Made from quality cast iron, this is a statement piece she'll keep for a lifetime.
Help your loved one manage the symptoms of menopause or simply deal with life's stressful moments with this innovative product. This watch-like device provides cooling or warming sensations to provide immediate relief from hot flashes and promote restful sleep. Choose from black or rose gold to suit her unique style.
Jäneke Brush Chrome Body ($70.51; amazon.ca)
Not only will this quality hairbrush give her smooth locks, it also looks pretty fancy on her bathroom counter or nightstand. Italian-made since 1830, Jäneke brushes come in a range of colours to complement her aesthetic.
Gifts for men
Weber Genesis II EX-335 Smart Grill ($1,649; weber.com)
Spoil the grill master in your family with this amazing machine that takes outdoor cooking to a new level. They'll be equipped with 669 square inches of total cooking surface to grill all meats to perfection. They can even whip up sauces or marinades on the included side burner and there's a powerful searing station to get that flavor locked in. Connect to the integrated Weber Connect smart grilling technology to receive grilling guidance and real-time food temperature monitoring. Users will also receive an alert on their phone when fuel is low so that they're always ready to fix supper for a crowd.
Weatherman Travel Umbrella (starting at $126.89; amazon.ca)
This isn't just any umbrella, this is the last umbrella he'll ever need! Made with a fiberglass frame, this is one sturdy and hard-wearing essential. In this travel size, it's perfect for stashing in the car or a backpack to be ready for any weather. The smooth open action from the touch of a button highlights it as a quality investment. Storm-proof for winds of up to 72 kilometres per hour, this gift will last him through many seasons.
Vertagear S-Line 5000 Gaming Chair (starting at $565.05; amazon.ca)
This pro gaming chair is so easy and quick to assemble, he'll be gaming in total comfort minutes after opening it. The five-point base creates a sturdy and stable seat while the plush cushions offer a luxurious experience no matter how long he plays. A memory foam headrest pillow and lumbar support for his back elevate this chair way above the competition.
Manscaped Trim and Snip 4.0 Men's Grooming Kit ($139.99; amazon.ca)
With their suggestive and cheeky product names, Manscaped brings a little levity to men's personal grooming. Their products also offer sleek design to get the job done. This kit includes a trimmer, nail care set and a utility mat to keep hair off the bathroom sink. It doubles as a little light reading while he smartens up his look.
mClassic Graphics Enhancer ($134.53; amazon.ca)
Update his classic retro game collection with this nifty tool that sharpens images and upscales to 4K for enhanced focus. He won't experience any lag time or shimmer and his entire gaming and viewing experience will be elevated.
Fresh Wave Odor-Removing Gel ($41; amazon.ca)
Give the gift of clean, fresh air with Fresh Wave. Using natural ingredients, it helps remove odours from rooms for up to 60 days and can help combat unpleasant smells from pets, smoke or food. It disappears as it freshens the room and can be complimented with other Fresh Wave products like their small-space pods or laundry booster.
Gifts for kids & teens
Little Tikes Tobi 2 Interactive Karaoke Machine ($49, originally $69.99; amazon.ca)
Little ones will be singing along to their favorite hits with this adorable karaoke machine featuring a friendly robot face. The built-in light show creates a mini disco effect and kids can record their performances to play back later. There are also seven interactive games to play, including Freeze Dance.
Playmobil Dino Rise T-Rex: Battle of The Giants ($109.57; amazon.ca)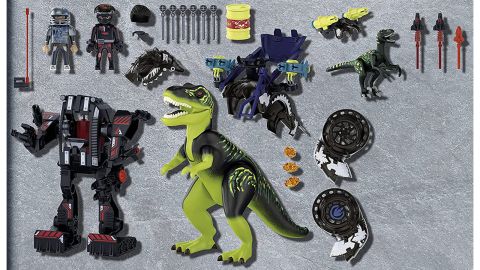 Imagine riding on the back of a dinosaur to defeat a robot enemy. That's just what kids can experience with this fun set from Playmobil, part of the Dino Rise collection. Choose from a variety of different sets that feature dinosaurs battling robot machines, complete with a whole plethora of accessories.
Kidpik Clothing Subscription Box (price varies based on items received, average is $124 per box; kidpik.com)
This subscription box keeps on giving beyond the holidays. Every month kids receive a box full of clothes they won't find in the mall. They can update their look, keep up with trends and impress their friends with their new threads. Simply take a quick style test to assess your little one's unique tastes and they'll receive their curated box in the mail.
Pokémon 25th Celebration 8-Inch Silver Pikachu Plush ($44.95; amazon.ca)
Celebrate 25 years of Pokemon with these special-edition silver plush toys. The shiny finish looks so cool and will quickly become a part of your kid's Pokemon collectibles. Go for everyone's favorite Pikachu, or choose from any of the other adorable characters. Gotta catch 'em all!
The Ohm Store Little Ohmies Collection ($48; theohmstore.co)
Help kids find a moment of inner calm or simply let them have fun making sounds with these beautifully crafted singing bowls. Made especially for little hands, they come with a hand-sewn cushion and a wooden striker. Create your own family mindfulness time anchored around these Tibetan-made bowls.
Gifts for pets
Merry & Bright Holiday Gingerbread House Corrugate Scratch Cat Hut ($23.99; petsmart.ca)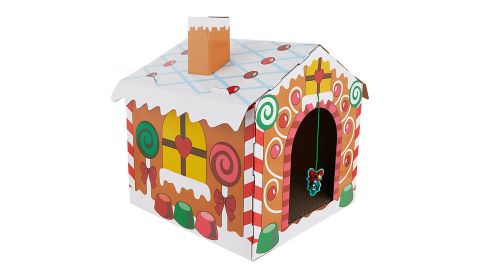 Your cat might not know the holidays have arrived, but with this sweet little gingerbread house, they can still take part in the festivities. Inside they'll find a scratching surface and a warm spot to curl up and take a nap. At the front door, a catnip-infused toy dangles at the perfect height to encourage play.
Merry & Bright Holiday Feline So Festive With Cat Toys 25-Day Advent Calendar ($9.97; petsmart.ca)
Start the countdown to Christmas with this advent calendar for cats that contains a variety of holiday-themed fun toys. Many of the 25 novelties include catnip to excite and delight your feline.
Vavolo Holiday Dog Plaid Bandana ($16.99; amazon.ca)
How festive your puppy will look with this two-pack Christmas bandana set. Made from a soft, comfortable material, it won't bother your pooch, making it more likely they'll keep it on and let you get that all-important holiday family photo.
Nacoco Dog Snow Sweaters ($19.99; amazon.ca)
Delight your guests when they arrive for holiday drinks by dressing up your four-legged friend in this darling little sweater. Made from a warm soft material and available in different sizes to fit most breeds, it ensures every dog can look their best on Christmas morning.