Looking for more holiday deals? Visit our Guide to Cyber Week to see all the best sales to shop during Cyber Monday
The Instant Pot revolution is real. And ever since the aptly named electric multicooker took its rightful place on the countertop just over a decade ago, this popular product has won its share of hearts and minds in the kitchen. Though its main selling point is allowing home chefs to quickly and easily pressure cook everything from fall-off-the-bone ribs to unsoaked beans in record time, there are plenty of other options depending on which Instant Pot model you choose.
A miracle of a product that has spawned a spate of cookbooks dedicated to its wiles, Cyber Monday is the perfect time to pull the trigger on the one that's right for you. Whether you're upgrading an older version or want in on this unique and beloved cooker, here are the best deals on Instant Pots right now.
Instant Pot 8-Quart 7-in-1 ($59, originally $99; walmart.com)
The most basic of the Instant Pot models, this roomy 8-quart model is only available at Walmart and is priced extremely right for Cyber Monday. Yes, you'll get seven different cooking functions, including slow cook, yogurt and rice cook, but you'll also be able to customize up to 13 programs with the touch of a button for simple meal prep.
• Related: Some of the best kitchen products we tested are on sale now.
Instant Pot Duo Plus 6-Quart 9-in-1 ($59, originally $119.99; amazon.com and target.com)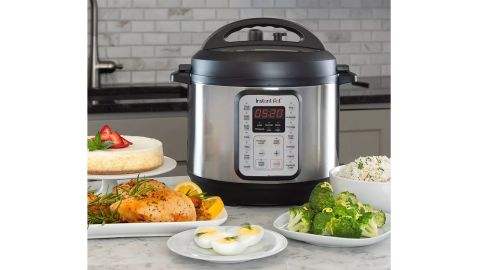 Though in a smaller 6-quart size, the Instant Pot Duo Plus offers more functions with nine in total, building on the electric pressure cooking and rice cooking that might pull most folks in. On sale for half off right now at both Amazon and Target, you also get to use this Instant Pot as a sterilizer (yeah, go ahead, put your keys in there) and a sous vide function that keeps water temperature constant.
You can also nab the 8-quart version of the same product for $79.99, originally $139.99, at Bed Bath & Beyond.
Instant Pot Duo Nova 6-Quart 7-in-1 ($74.99, originally $99.99; wayfair.com)
A little pricier than the Instant Pot Duo, the Duo Nova comes with more advanced options like a smart steam release valve on a simpler, updated lid and a status indicator to keep you fully informed in every step of cooking. It also comes in a supersized 10-quart option, though we haven't found it on sale yet.
Instant Pot Pro 6-Quart 10-in-1 ($79.95, originally $129.99; amazon.com and macys.com)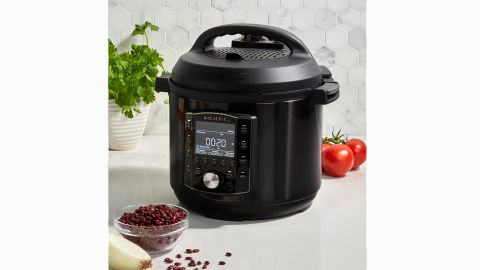 It ain't called an Instant Pot Pro for nothing. This 6-quart cooker offers a whopping 28 program settings and five programmable settings for more personalized meals. Don't worry, it still does all the fan favorites like pressure cooking, sautéing, sous vide cooking, yogurt making and sterilizing, but this one also adds a cake baking function. It also throws in a stainless steel steamer rack with easy-to-grip handles and a diffusing cover with a more gentle steam release switch.
Instant Pot Air Fryer Lid ($49.95, originally $89.99; amazon.com)
This ingenious accessory adds yet another popular function to the 6-quart models of the Instant Pot Duo, Duo Plus, Duo Nova, Viva, Ultra and Lux without having to buy a whole new product. A detachable lid sold separately and now on sale for $40 off on Amazon, it will instantly transform your cooker into an air fryer with the help of the included basket and broiling/dehydrating tray.
Instant Pot Duo Crisp 6-Quart 11-in-1 ($99.99, originally $149.99; target.com)
If this is your first Instant Pot, you may want to spring for this Duo Crisp, which gives you the added Air Fryer Lid in addition to the normal lid. So yeah, in addition to those 10 different cooking options, you can now air fry as well, which is simply crisping food with significantly less oil. Our favorites? Perfectly crunchy frozen french fries or onion rings or healthier air fried chicken wings.
You can also take a step up with the 8-Quart Instant Pot Pro Crisp, now on sale for $169.95 from $249.99 on amazon.com. Big enough to crisp up a whole chicken, it's a great addition to any kitchen with an amazing Cyber Monday discount.