Looking for more holiday deals? Visit our Guide to Cyber Week to see all the best sales to shop during Black Friday.
Samsung goes hand in hand with tech, and tech goes hand in hand with Black Friday. That makes today the ideal time to check out the prices on everything Samsung has to offer. So we've been hunting down the best deals on Samsung Galaxy phones, buds, tablets, QLED TVs and everything else the tech giant makes. Let's break 'em out.
Best Samsung Galaxy Buds deals
Samsung Galaxy Buds Pro ($149.99, originally $199.99; amazon.com and samsung.com)
As Samsung's flagship earbuds, the Galaxy Buds Pro offer strong noise cancellation, rich sound and long battery life in a simplistic design. You can also get them in a gorgeous purple variant. They're our top pick for Android earbuds.
Galaxy Buds Live ($99.99, originally $169.99; amazon.com and samsung.com)
These earbuds might look like beans, but trust us, they work better than putting beans in your ears. Galaxy Buds Live nestle in the ear and produce robust sound that isn't sealed in the air. While we wouldn't get these for their noise cancellation, they're an excellent open-ear earbud.
Best Samsung TV deals
Samsung 43-Inch Q60A QLED TV ($497.99, originally $599.99; amazon.com)
If you're a fan of Samsung's picture quality, this 43-inch Q60A QLED TV might just be up your alley. Not only does it have a simple design with relatively minimal bezels, but it has a Dual LED display for an accurate picture that makes colors pop. Plus, for under $500, you're getting a smart TV that integrates with Alexa and Google Assistant.
Samsung 43-Inch The Frame ($797.99, originally $999.99; amazon.com)
Samsung's The Frame is one of the more unique TVs on the market. Instead of just turning off and displaying a black screen when you're not using it, it displays art. With the matching frame borders (sold separately), The Frame looks like a work of art on your wall. It's currently discounted for Black Friday by over $200 for the 43-inch size and still acts like a Samsung QLED TV.
Samsung 75-Inch 4K Crystal UHD TV ($849, originally $1,000; samsung.com)
Samsung's 75-inch Crystal UHD is large and in charge. OK, maybe we're exaggerating a little bit. But seriously, at $849, you're getting a lot of screen for not a lot of money. You'll get a 4K HDR experience with a refresh rate of 60Hz, and Samsung's Smart TV Tizen platform to stream your favorite shows without the need for a set-top box. And if you're so inclined, you can even use Alexa or Google Assistant directly through the TV itself.
Samsung 43-Inch The Sero ($997.99, originally $1,499.99; samsung.com)
Whether you're obsessed with TikTok or want a truly unique TV, The Sero deserves a look. What makes this 43-inch TV special? Its screen can rotate. By default, its orientation is vertical, but thanks to its motor, it can also be used horizontally. It's pretty neat, but you're definitely paying more for the feature. Luckily it's over $500 off right now if you desire this unique TV.
Samsung 82-Inch 4K Crystal UHD TV ($1,097, originally $1,699; samsung.com)
Samsung's 82-inch Crystal UHD is currently on sale at Walmart, and it's perfect for those who want a giant TV with a clear picture. It runs Samsung's Tizen OS, so you'll have access to all of your favorite streaming apps and services, in addition to a 4K HDR picture with saturated colors. Gamers will appreciate the auto game mode feature that improves the overall look of their games without adjusting any settings.
Best Samsung Galaxy Watch deals
Samsung Galaxy Watch 4 ($114.99, originally $249.99; samsung.com)
Samsung and Google teamed up to create a new operating system and Wear OS experience, and the Galaxy Watch 4 is one of two devices to come out of the partnership. Use this watch to track your fitness activities and levels, all while having the ability to monitor alerts from your Android phone directly on your wrist.
Samsung Galaxy Watch 4 Classic ($164.99, originally $349.99; samsung.com)
The Galaxy Watch 4 Classic is similar to the Galaxy Watch 4 but with a more refined design. The bezel around the display rotates to help you navigate the interface, and it counts your steps, tracks your sleep and puts timely alerts at your fingertips.
Best Samsung Galaxy phone deals
Samsung Galaxy Z Fold 3 5G ($1,499.99, originally $1,799.99; amazon.com and samsung.com)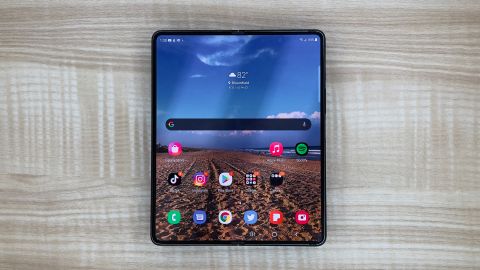 We called the Galaxy Z Fold 3 a "near-perfect foldable" that combines a phone and tablet into one device. With a $300 discount bringing the price down to $1,499.99, the Z Fold 3 is more affordable than before, and for the right person, it's an excellent device.
Samsung Galaxy Z Flip 3 5G ($849.99, originally $999.99; amazon.com and samsung.com)
The Z Flip 3 5G was the first mainstream — and durable — foldable at $999.99, but this Black Friday sale makes it even more affordable at $849.99. It boasts flagship specs like a 6.7-inch display, dual-camera setup and a fast processor from Qualcomm.