Black Friday is finally upon us — and, as usual, Amazon.ca is the spot to be if you're hoping to score unbeatable deals while still taking advantage of your Amazon Prime membership.
Right now you'll find major deals on big-name tech and home brands like iRobot and Samsung as well as serious savings on giftable items like weighted blankets, Bluetooth speakers and kitchen tools and accessories.
Whether you're hoping to get some holiday shopping in now to ensure your gifts are not affected by the anticipated supply chain issues or you're just curious to see if anything on your personal shopping list has been given the Black Friday treatment, here are some of the standout sales going on at Amazon.ca today and into the weekend:
Home & health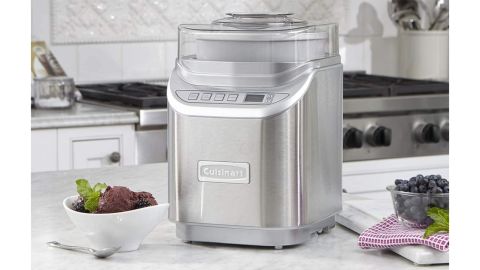 Bissell Portable Carpet Cleaner ($99.99, originally $149.99; amazon.ca)
Whether you have a carpeted home or you prefer the soft touch of rugs under your feet, a carpet cleaner is a game changer. The Bissell Portable Carpet Cleaner is very user-friendly and easy to use, thanks to its small but mighty make.
iRobot Roomba i3 (3150) ($399.98, originally $499.99; amazon.ca)
Is it even Black Friday without killer deals on iRobot Roomba? The iRobot Roomba i3 (3150) offers everything you want in a robot vacuum: It's Wi-Fi- and app-enabled, learns your home as it goes and is compatible with the iRobot clean base so it can empty its own bin.
Cuisinart ICE-70C Ice Cream Maker ($109.65, originally $149.99; amazon.ca)
You might not necessarily need an ice cream maker for your day-to-day culinary needs, but it'll certainly impress your friends at your next dinner party. The Cuisinart ICE-70C Ice Cream Maker can make everything from gelato to sorbet, depending on your taste or needs, in a few short minutes.
De'Longhi La Specialista Prestigio Espresso Machine ($799.98, originally $999.99; amazon.ca)
Looking to update your at-home coffee game? The De'Longhi La Specialista Prestigio offers coffee shop-quality espresso pulls and also offers a built-in milk steaming wand so you can make perfect lattes and espresso macchiatos without leaving home (or dropping $6 each time!).
Vitamix E310 Explorian Blender ($382.49, originally $449.95; amazon.ca)
The Vitamix Blender has a cult following — and for good reason. The professional-grade blender allows you to make smoothies, soups and even milkshakes or protein shakes at home without any additional cutting or prepping.
DeWalt 20-Volt Max Cordless Drill Combo Kit ($885, originally $1,039.32; amazon.ca)
The DeWalt 20-Volt Max Cordless Drill Combo Kit is a serious deal, even when it's not on sale. The comprehensive kit includes everything you could possibly need for serious home renovations — from grinder to circular saw — and even comes with an adorable DeWalt-branded Bluetooth speaker to provide tunes at the job site.
Fityou Accu Slim Sous Vide ($73.09, originally $159.99; amazon.ca)
A sous vide cooking system will change the way you prepare meals — not only does the immersion cooking method make preparation easier, thanks to its set-and-forget methodology, but it also helps to foster restaurant-quality cooking precision. The Fityou Accu Slim Sous Vide is currently on sale for nearly $100 off retail, which makes it a great time to test out the advanced cooking system.
AirPro 3-in-1 Pasta Maker Attachment for KitchenAid Mixer ($84.99, originally $99.99; amazon.ca)
There's nothing that compares to homemade pasta, and the AirPro 3-in-1 Pasta Maker allows just about anyone to craft their own decadent noodles from home. The culinary tool is compatible with the standard KitchenAid Mixer and can easily make anything from spaghetti noodles to lasagna.
Bare Home Microplush Velvet Fleece Blanket ($31.78, originally $54.99; amazon.ca)
Available in sizes ranging from twin to king, this microplush velvet fleece blanket was made for getting cozy at home. The Bare Home blanket is available in over 20 colorways to ensure you'll find something to suit your decor style.
Keeptop Kids' Weighted Blanket ($59.48, originally $89.92; amazon.ca)
Weighted blankets have been having a serious moment over the past couple of years, and for good reason. The heavy blankets simulate the feeling of being given a hug and can help to soothe feelings of anxiety and foster a better sleep. This natural cotton blanket was made for children under 80 pounds and promises to help little ones get (and stay) asleep.
Ultrean 8-Quart Air Fryer ($110.49, originally $129.99; amazon.ca)
The air fryer has become a culinary darling in kitchens all over the country for its super-easy and relatively healthy alternative to traditional deep-frying. The Ultrean 8-Quart Air Fryer offers rapid air frying technology that will make air frying even easier, while the large cooking capacity will allow you to prepare enough food or snacks for the entire family or dinner party.
Metal Stemless Insulated Wine Glass ($16.99, originally $19.99; amazon.ca)
Insulated wine glasses are a game changer for anyone who likes to take their happy hour beverage on the go. Whether you want to enjoy a glass of wine by the fire or enjoy a cocktail on your next camping excursion, this insulated wine vessel will afford the convenience of enjoying a cocktail outdoors without worrying about breaking a regular wine glass.
Quick Cocinero Kitchen Knife Sharpener ($18.05, originally $24.99; amazon.ca)
Looking for an easy way to extend the quality of your kitchen knives? This knife sharpener tool is going to be your best bet. The ergonomic design was crafted to make sharpening your knives as easy and comfortable as possible and even allows for both left- and right-handed use.
Instant Pot Max 6-Quart Multiuse Electric Pressure Cooker ($180.53, originally $233.76; amazon.ca)
This Instant Pot was built with the latest third "Max" generation technology, taking everything you loved about the classic pressure cooker and making it just a little bit more modern and easy to use. The updated kitchen tool features a new touch-screen design to make programming much easier, patented NutriBoost technology and a steam-release design for making venting much safer.
Tech & electronics
New Apple AirPods Max ($661.46, originally $779; amazon.ca)
Shopping for a teenager? This is what they want to find under the Christmas tree this year — trust us. The Apple AirPods Max offer the same convenience of classic AiPods, but they're much more comfortable, thanks to the memory foam ear cushions.
Samsung 55-Inch Q60A QLED 4K Ultra HD HDR Smart TV ($898, originally $1,098; amazon.ca)
The Samsung Q60A QLED 4K Ultra HD HDR Smart TV offers everything you'd want for next-level television viewing: advanced quantum dot technology for the finest picture possible, Quantum HDR for super-high contrast and an impossibly slim design that'll take up no space at all on your wall.
Echo Show 8 ($104.99, originally $169.99; amazon.ca)
The pandemic has changed the way we catch up with friends and family, and the Echo Show makes it easier than ever. This compact touch screen was made for making video calls as easy as possible; it's a great gift for parents or grandparents who might be keen to learn to Zoom but who might not have the patience to do so on their smartphone or desktop.
Echo Auto ($29.99, originally $69.99; amazon.ca)
Have you ever asked Alexa for something only to realize that you're not within the walls of your home? The Echo Auto might be for you! This smart device brings Alexa into your car so you can stay connected to your virtual assistant wherever you are.
All-New Echo Dot ($34.99, originally $69.99; amazon.ca)
The all-new Echo Dot offers everything you love about the original Echo Dot and then some. The design is much sleeker and more compact than the original model, while the speaker and voice control offerings have also been updated to be even more efficient.
Fire TV Stick 4K ($34.99, originally $69.99; amazon.ca)
The Fire TV Stick is a game changer for anyone trying to cut the cord on cable TV. This handy little device allows you to stream any and all apps — from Netflix to CBC — in one convenient spot rather than having to toggle between apps on your smartphone.
Kindle ($69.99, originally $119.99; amazon.ca)
The Kindle is well loved by book lovers and frequent flyers for its super-slim design and pages that look surprisingly like paper. The e-reader is considered to be one of the best for those who want the convenience of carrying thousands of books in their pocket — but who don't want to feel like they're reading from a tablet.
Blink Mini ($24.99, originally $44.99; amazon.ca)
At-home surveillance systems have become more popular over the years, and the Blink Mini makes it much more affordable and visually appealing than any other camera system in the past. The compact camera is super slick, and the motion sensing design will easily allow you to check up on your home from wherever you are.
GoPro Hero10 Black ($579.99, originally $649.99; amazon.ca)
Looking for a heavy-duty camera that you can bring on the road with you? The GoPro is going to be your best bet! This well-loved action camera offers impressively high-quality 5.3K60 Ultra HD Video and 1080p livestreaming. It's also suitable for rugged adventures, as it's completely waterproof and scratch-resistant
Nikon Prostaff Binoculars ($119.00, originally $169.99; amazon.ca)
Those who spend any amount of time hanging out in nature — whether it's weekends at the cottage or hiking with friends — know the importance of a great pair of binoculars. The Nikon Prostaff Binocular set is on major sale in time for the holidays and will make it easy to spot everything from owls to blue jays, thanks to the multilayer-coated lenses and high-reflectivity prism coating.
Nikon D750 FX-Series Digital Body ($1,599, originally $1,999; amazon.ca)
Nikon is, of course, also well known for its high-end camera equipment — and the Nikon D750 FX-Series is no exception. This premium DSLR camera was made for photographers of all skill levels, allowing you to grow with your new hobby. It also offers built-in Wi-Fi and a remote control for additional convenience.
Samsung T55 32-Inch Curved Monitor ($298, originally $379.99; amazon.ca)
Black Friday is a great time to invest in a new monitor for your home office — just look at this curved monitor from Samsung. The T55 is currently on offer for nearly $100 off retail price and will offer an instant upgrade for your space, especially if you tend to use your PC for both office work and gaming.
USB-C Hub HDMI Adapter ($24.99, originally $29.99; amazon.ca)
Sure, a USB hub and HDMI adapter might not seem like the most exciting Black Friday find, but you'll be grateful for it the next time you're trying to charge up your smartphone, watch and tablet at the same time. Along with additional charging ports for your devices, this multipurpose tool also comes with both SD and TF card reader slots for added convenience.
VMAI 36-Inch TV Soundbar ($93.49, originally $129.99; amazon.ca)
Audiophiles will be quick to tell you that your television's audio quality is not up to par, even if you opt for an expensive new smart TV. Don't worry, though — that's where a soundbar will come in handy. The VMAI 36-Inch TV Soundbar offers crystal-clear sound that can easily be modified to suit everything from action movies to virtual jazz shows.
OWLENZ 150-Inch Projector Screen ($33.83, originally $45.80; amazon.ca)
The OWLENZ 150-Inch Projector Screen offers the same high resolution and generous size of a regular television but takes up no space on your wall. If you're hoping to enjoy big-screen TV viewing but don't have the space or the budget to allow a big-time smart TV (or you just don't want a TV hanging in your space all the time), this foldable projector screen will do the trick.
Aigital Wi-Fi Range Extender ($26.34, originally $35.99; amazon.ca)
A Wi-Fi range extender is a game changer for anyone who lives in a space with Wi-Fi dead zones. Whether you've never been able to get a signal in your basement or bedroom, or you want to be able to use your Wi-Fi on your porch or in your backyard, the Aigital Wi-Fi Range Extender promises to extend your range by 100 meters and eliminate any dead spots.
Petlibro Automatic Cat Feeder ($84.99, originally $99.99; amazon.ca)
The Petlibro Automatic Cat Feeder is one of the most well-loved smart feeders on the market right now — and for good reason. This easy-to-use feeder allows you to program your pet's feeding times to dispense at the same time every day and even allows you to program a personalized voice recording so your pet will hear your voice before every meal.
iRobot Roomba i6+ ($649.99, originally $979.99; amazon.ca)
Currently on sale for over $300 off retail price, the iRobot Roomba i6+ is going to be your best bet for taking your vacuum routine into the 21st century. The smart vacuum is compatible with the iRobot smartphone app and allows for you to schedule cleans as needed. It also features automatic dirt disposal technology for additional ease of use.
W-King 50-Watt Powerful Bluetooth Speaker ($90.94, originally $106.99; amazon.ca)
This powerful Bluetooth speaker from W-King features a high-quality loud volume with a surprisingly rich base that'll make it easy to share tunes at outdoor events or backyard barbecues. The heavy-duty device also doubles as an 8000mAh power bank for easily charging your smartphone on the go.
Fashion & beauty
Revlon One-Step Hair Dryer & Volumizer ($44.50, originally $64.96; amazon.ca)
Whether you're shopping for your holiday list or you're hoping to treat yourself, the Revlon One-Step Hair Dryer is a game changer when it comes to minimal hair care. The next-level drying power reduces frizz by 30% and also helps to reduce hair damage from heat products.
Oral-B Genius X Electric Toothbrush ($159.97, originally $229.97; amazon.com)
Smart technology has made it to the dental department, and we're here for it. The Oral-B Genius X Electric Toothbrush uses advanced AI brushing technology and offers daily "coaching" that'll help you improve your brushing style and take better care of your teeth in the long run.
Champion Men's Authentic Originals Suede Jogger Sweatpant ($24, originally $32; amazon.ca)
Whoever said that sweatpants are going out of style post-pandemic has clearly never slipped into a pair of Champion joggers. These cotton-blend sweatpants are surprisingly sleek, thanks to the jersey-lined pockets and tapered fit.
Carhartt Men's 2-Tone Billfold Wallet ($31.34, originally $39.32; amazon.ca)
The Carhartt Men's Billfold Wallet is a bestseller for a reason: the two-tone wallet is crafted from 100% leather that'll only get better-looking as it ages. The fold closure also comes with a hidden key compartment that'll allow you to ditch your full-size keychain when you need to travel light.
Natasa Sterling Silver Cubic Zirconia Stud Earrings ($9, originally $19.99; amazon.ca)
Whether you're shopping for your young family members and friends' kids or you just want an affordable alternative to more expensive diamond or crystal earrings, this set of studs by Natasa Sterling Silver is going to be a great option. The cubic zirconia stud earrings are crafted from high-quality sterling silver material that won't irritate sensitive skin and features sparkling AAAAA cubic zirconia for a diamond-like look.
LifeSky High-Waist Yoga Pants ($16.95, originally $49.99; amazon.ca)
Decent yoga pants have a reputation for being quite a premium-priced investment, which makes this Black Friday deal particularly noteworthy for anyone hoping to replace the sweats they've been living in since the pandemic began. The LifeSky High-Waist Yoga Pants come in a huge variety of stylish colorways and feature a designated spot for your smartphone as well as a tummy control V-shaped waistband that'll stay in place during everything from Pilates to cardio workouts.
Toys & games
Lego Central Perk Building Kit ($71.99, originally $89.99; amazon.ca)
"Friends" fans will flip for this Lego Central Perk Building Kit. The cheeky 1,070-piece kit is crafted to look exactly like everyone's favorite coffee shop and even comes with Ross Geller, Rachel Green, Chandler Bing, Monica Geller, Joey Tribbiani, Phoebe Buffay and even Gunther minifigures.
Lego Harry Potter Advent Calendar ($37.49, originally $49.99; amazon.ca)
It's not too late to pick up a fun and quirky Advent calendar, and the Lego Harry Potter variety is one of the best. This playful Advent calendar comes with a new Harry Potter-inspired minifigure or accessory for every day leading up to Christmas, including a fun surprise for Christmas Eve.
LOL Surprise OMG Spicy Babe Fashion Doll ($27.99, originally $39.99; amazon.ca)
LOL Surprise has taken the toddler world by storm in recent years — these are some seriously well-loved dolls! The OMG Spicy Babe Fashion Doll includes over 20 fun surprises ranging from doll-sized shoes to accessories and also includes the coveted Spicy Babe herself.
Monopoly Classic Game ($13.95, originally $19.93; amazon.ca)
Monopoly is a must-have game in any household, and a great gift if you're hoping to foster a family game night over the holidays. The classic game hasn't changed much since its inception in 1935, and thank goodness for that. It's a classic!
Osmo Genius Kit for Fire Tablet ($83.99, originally $139.99; amazon.ca)
The Osmo Genius Kit was created to "trick" little ones into learning — it really does look more like a fun tablet game than a learning tool! — thanks to its fun approach to math puzzles and word games. Note that this set doesn't actually include a tablet, but thankfully the Fire Tablet is also on major sale this weekend!