Passionate, thoughtful and never-endingly curious, Sagittariuses are the ones in our lives who can turn life's lemons into lemonade. Their bright energy and enthusiastic interest in others make them incredibly loyal and supportive companions. So what better time than Sag season to let them know how much they mean to you?
With birthdays from Nov. 22 to Dec. 21, it's likely that you're wrangling together a holiday gift and a birthday gift for the special Sag in your life. Fortunately, they have tons of interests that make it pretty easy to find a gift that they'll get tons of use out of.
Away The Bigger Carry-On (starting at $245; awaytravel.com)
Away
For the zodiac's resident globetrotters, it's no surprise that our favorite carry-on suitcase has made this list as perfect for the Sagittarius in your life. We love how unique and eye-catching the limited-edition colorways are. But if they're constantly on their phone or laptop, you'll probably want to opt for one of the classic colors, which are available with a built-in USB charger for an additional cost.
Theragun Prime Massage Gun ($249, originally $299; amazon.com)
Amazon
Sagittariuses are known for their competitive streak, so chances are they've gone too hard during a hike, workout session or sports game. This massage therapy gun delivers powerful, deep muscle treatment to help speed up recovery and relieve the body of stress and tension.
Amazon Kindle ($49.99, originally $89.99; amazon.com)
Amazon
One way that a Sagittarius may try to satisfy their need to explore and discover is through reading. Whether it's a nonfiction book about a country they've always wanted to travel to, or a historical fiction book that whisks them off to another world, they can carry it all with them (wherever they go) thanks to this top-rated e-reader.
Vuori Ponto Pocket Performance Pants ($84; nordstrom.com)
Nordstrom
Whether they're preparing for an international adventure, gearing up for a weekend road trip or just heading to the gym, a reliable pair of comfortable and breathable performance pants is a must-have. These feature a slimmer fit and more structured silhouette, so it won't look like they're rolling out of bed wearing sweatpants.
Zodiac Constellation Necklace ($48; anthropologie.com)
Anthropologie
This stunning take on a piece of astrology-themed jewelry is super unique. As opposed to more standard pieces that might feature the whole constellation or just the astrology sign itself, each necklace in this line sports three sparkling stars that represent main points of the constellation. While the reference may be more subtle, the piece is definitely a statement, and one that we love the look of.
Dagne Dover Landon Carryall Bag (starting at $110; dagnedover.com)
Dagne Dover
No matter where the Sag in your life is headed, make sure they have a bag that can keep up with them. The Landon Carryall Bag — which is available in five different sizes — is perfect for the gym, the office and any weekend trips. It's a breeze to keep organized, and the neoprene material is lightweight, low-maintenance and super chic.
Tuft + Paw Stellar Cat Bed ($299; tuftandpaw.com)
Tuft + Paw
Sagittariuses are well known for their love of animals, so chances are they have a four-legged friend. For any cat owner, this gorgeous piece of home decor is also a feline's favorite hideaway.
Naadam Cashmere Oversized Turtleneck ($350; naadam.co)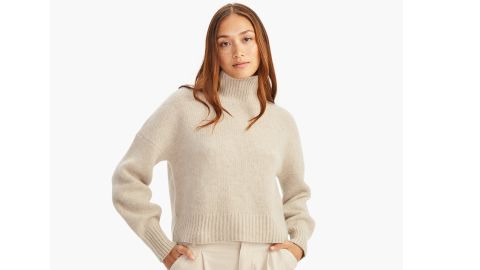 Naadam
An oversized turtleneck is the perfect wardrobe staple — comfortable, effortless, and still stylish. This cashmere option from Naadam is no doubt luxurious, but we can promise they'll be living in it all winter long.
Casely Battery-Powered Charging Case ($37.50, originally $75; getcasely.com)
Casely
It probably doesn't come as a surprise when the free-spirited Sag in your life can't keep their phone fully charged — so many people to chat with, social media profiles to check in on and things to look up. This sleek phone case has a built-in battery, so they can charge their phone whenever they need to without a cord or outlet.
Sheertex Fall Essentials Duo ($113, originally $188; sheertex.com)
Sheertex
Tights are a must-have for any cold weather nights out on the town (which we all know a Sagittarius can't turn down). And Sheertex's ultra-durable, super-comfortable tights are the only pairs they'll ever need — trust us, we even tried to rip them up.
MasterClass Subscription (starting at $15/month; masterclass.com)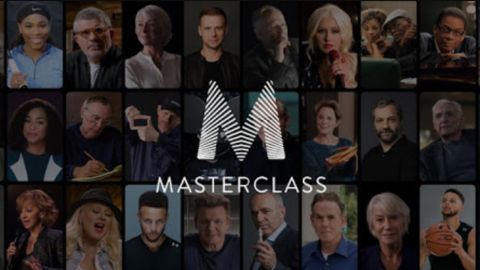 Masterclass
Satisfy any Sag's quest for knowledge with a monthly MasterClass membership. For just $15 a month, they can access tons of classes from over 100 instructors. Some courses that may appeal to them: Neil Gaiman Teaches the Art of Storytelling, Chris Hadfield Teaches Space Exploration and Jessie Krebs Teaches Wilderness Survival.
Apple AirPods Pro ($189, originally $249; amazon.com)
Amazon
Whether they're diving into a new podcast or their favorite artist's latest album, Sagittariuses can't get enough of the things they love. Make sure they're listening comfortably (and with the best audio quality) with these earbuds, which we've declared as the best true wireless earbuds money can buy.
Brooklinen Mulberry Silk Eye Mask ($23.20, originally $29; brooklinen.com)
Brooklinen
To keep the Sag in your life comfortable and well-rested during their next spontaneous trip, equip them with this adorable, 100% mulberry silk eye mask. It's naturally cooling and breathable, and the silk material is easy on skin or hair.
Driftaway Coffee Tasting Session (starting at $100; driftaway.coffee)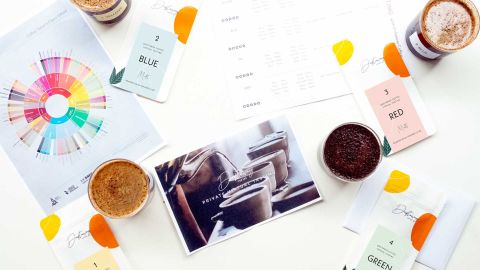 Driftaway Coffee
For the coffee-loving Sag, you can't go wrong with a virtual tasting session. Driftaway Coffee is one of our favorite small coffee companies, and their roasts are incredibly delicious. The brand's tasting session comes with a super fun mystery coffee tasting kit that helps you better understand what type of coffee you like and learn more about your ideal flavor profile.
Homesick Sagittarius Candle ($34; homesick.com)
Homesick
What would you imagine Sagittarius to smell like? Homesick, a brand that creates some of the most fun and unique scented candles on the market, took this question and created a whole line of astrology-themed candles. This option — as described by the brand — features smoky tobacco alongside some more herbal notes of thyme, sage and lavender.
Alo Yoga Airbrush High-Waist 7/8 Bootcut Legging ($98; aloyoga.com)
Alo Yoga
Chances are the sporty Sag in your life already has all the leggings they need. Opt for something fun and a little unexpected with these high-waisted bootcut leggings, which are super stylish and very on-trend.
Wild One Harness Walk Kit ($98, originally $118; wildone.com)
Wild One
For the Sagittarius pup owner, this kit comes with three adorable, color-coordinated must-haves: a lightweight harness, dirt- and water-resistant leash and poop bag carrier. Both you and your pet will be turning heads with this stylish set of everyday essentials.
W&P Porter Insulated Bottle ($30; wandpdesign.com)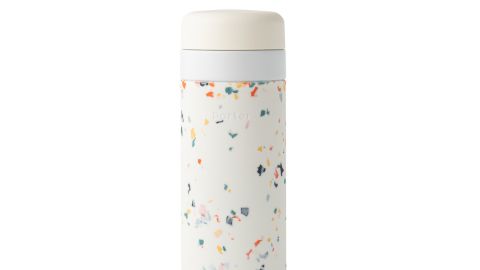 W & P
A high-quality insulated bottle is the perfect way to always have your favorite bev handy without having to use disposable cups. The ceramic-coated interior doesn't leave any taste, and the screw top is super secure so you can feel good about throwing this in your bag — no worrying about leakage.
Away The Pet Carrier ($225; awaytravel.com)
Away
For any pet owner who's constantly on the go, this carrier from our favorite travel brand Away is finally back in stock. With features like a water-resistant lining, sherpa bedding and multiple useful pockets, it's perfect for people with dogs, cats and even bunnies!
Piecework Sagittarius Mini Puzzle ($16, originally $20; pieceworkpuzzles.com)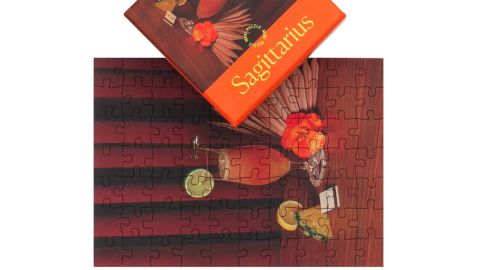 Piecework Puzzles
For the Sag who loves a good puzzle, Piecework Puzzles creates super-unique and gorgeously designed astrology-themed ones. This slightly tropical, vacation-themed puzzle is all about the fun-loving and free-spirited side to Sags.
Canopy Diffuser With Aroma Kit (starting at $70; getcanopy.co)
Canopy
For those quieter moments of contemplation, this diffuser and aroma kit is perfect for boosting your mood and just elevating your entire space. It's waterless and mistless, which makes the whole relaxation process easier and cleaner.
Skims Cozy Knit Pant ($88; skims.com)
Skims
Perfect for a girl's night in or any low-key family gatherings over the holiday season, these knit pants are unbelievably soft, comfortable and stylish. We'll be living in them all winter long, and can't recommend them enough. For a really wow-worthy gift, pair with a matching knit tank or bralette top.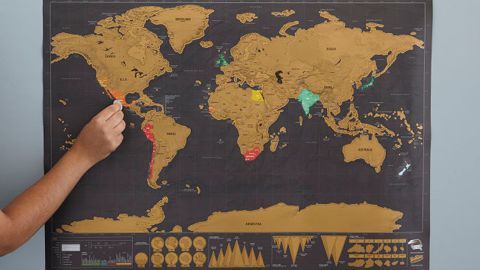 Uncommon Goods
For the adventurer that has it all, gift them a unique way to keep track of their travels. This scratch map is beautifully designed, and arrives printed in black and gold. Once they scratch off a country, it's revealed in a bright color.