You never know when a gifting opportunity (or let's be real, requirement) might pop up during the holidays. With that in mind, it's a great idea to have gifts on hand that you know everyone will love. That way you're prepared to dole out presents at a moment's notice! If you're looking for those unicorn gifts that will delight anyone, Hydro Flask has you covered. The stylish outdoor brand has mugs, bottles, coolers and all sorts of useful items that make perfect holiday presents. And to top it off, Hydro Flask has AMAZING opportunities to save this holiday season:
Hydro Flask makes outdoor gear for camping, fishing, hiking and outdoor cooking, but its durable, well-designed products fit right in for everyday use. Who wouldn't appreciate a nice coffee mug or tumbler? Water bottles are a great go-to gift, and coolers and totes always come in handy. Check out some winning Hydro Flask holiday gift options:
18-Ounce Standard Mouth Water Bottle in Rain ($29.95; hydroflask.com)
Hydro Flask's Standard Mouth water bottle is a great gift in the highly portable 18-ounce size. Double-wall vacuum insulation keeps beverages chilled, the stainless steel bottle is BPA-free and phthalate-free and the new on-trend blue color, Rain, is a surefire hit.
16-Ounce Tumbler in Alpine ($27.95; hydroflask.com)
It's easy to stay hydrated around the house when you've got a tumbler at the ready. And beverages stay at their desired temperature with Honeycomb Insulation™. Add a press-in straw lid ($9.95) for even more convenience. This is basically the only tumbler you need to own; it has a lifetime guarantee. A perfect gift for a new parent or someone who works from home.
12-Ounce Coffee Mug in Clementine ($24.95; hydroflask.com)
Queue cozy mornings by the fire! Whether it's a campfire or a fireplace, Hydro Flask's versatile, insulated coffee mug does its job in style. Bonus: The included lid prevents splashes and spills.
20-Ounce Coffee With Flex Sip™ Lid in Olive ($34.95; hydroflask.com)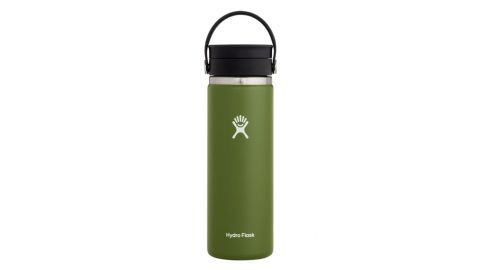 An amazing gift for anyone who commutes (or just likes to tote hot beverages), Hydro Flask's 20-ounce coffee tumbler is a traveling caffeine dispenser. The Flex Sip™ Lid ensures you won't have to deal with spills, and the strap makes it easy to carry. Bonus: It fits under most coffee brewing systems.
18-Liter Day Escape™ Soft Cooler Tote in Harbor ($149.95; hydroflask.com)
Hydro Flask's soft cooler tote is a fantastic option for a higher-priced gift, and it's equally useful at the grocery store or the beach. The Day Escape™ provides 36 hours of insulated cold for beverages, groceries or meals. This cooler is lightweight and durable, and features removable crossbody and shoulder straps for different carry options.
8-Liter Lunch Tote in Gulf ($44.95; hydroflask.com)
Hydro Flask's quality lunch tote keeps food cold for up to four hours, and it's a great item to have handy. It's waterproof, durable and easy to clean. Plus, the lunch tote folds up for simple storage.
Whatever you choose, Hydro Flask's lineup of outdoor gear is chock-full of winning gifts. Whether that gear goes on adventures in the wilderness or sits in traffic, it'll look great. And most importantly, it'll last. And you can feel good about your purchase: Hydro Flask created and funds the charitable program Parks For All, which benefits public green spaces.