It's never too early to start prepping for the holidays. After all, the sooner you finish up your shopping list, the sooner you can truly appreciate the joys of the season — without having to get caught up in the Black Friday/Cyber Week rush. That said, gift-giving isn't easy, especially if you're at a loss for presents they'll actually use and genuinely love. That's where Shutterfly comes in.
Shutterfly's goal is to help share life's best moments through personalized gifts, and since its website allows you to create intentional, one-of-a-kind items with point-and-click ease, it's no wonder it's a fan favorite for the holiday season.
Without even leaving your computer chair, you can custom-create hundreds of different items using your own photos, names and phrases. Think: ceramic coasters that showcase your family's holiday photo shoot, a wooden cutting board with your best friend's wedding date on it, custom ornaments that make for genius stocking stuffers or a desk calendar filled with pictures of your co-worker's cat. Shutterfly even helps you make your own custom holiday cards, which are sure to steal the show (even when hung among dozens of other cards on your recipients' refrigerators).
The best news? While this whole process might sound a bit intimidating, it's not — you don't even need to be all that creative, though the finished product will insinuate otherwise. Shutterfly's special services make your experience even easier; with the Make My Book service, Shutterfly designers create your photo album for free — just choose your images. The Art Library collection has nearly 1,000 free designs so you can find your inspiration, and the Printed Addressing Service adds a high-end touch to your holiday cards.
From Oct. 1 to Jan. 1, you can even knock off an extra 5% at Shutterfly when you use code EXTRA5 at checkout. Take a look at some foolproof yet intentional gift ideas below.
Tilty Collage Fleece Photo Blanket ($45; shutterfly.com)
Encourage warmth and togetherness with this custom fleece blanket, which will instantly become their go-to for every single family movie night from this point forward. In addition to adding your own photos, you can also customize the color, size, material and text.
Special Times Framed Photo Tile ($19; shutterfly.com)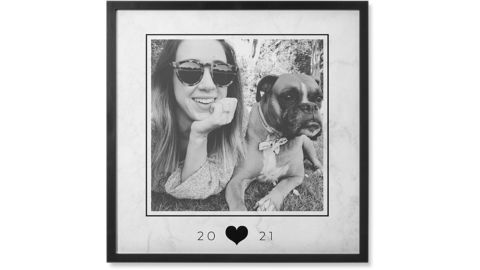 These wall tiles have a double-sided adhesive, so you can install and reposition them with ease — and without causing any damage. For that reason, they make for a sentimental, no-hassle gift for the single tenant, grandparent or kid-friendly household.
From the Kitchen of Photo Book ($287; shutterfly.com)
If you've been collecting your family's recipes for years, now's the time to put them to good use: This custom cookbook is sure to be the most thoughtful gift your favorite chef ever receives. You can personalize every aspect of it, right down to the copy, but thanks to the "awesome template," one reviewer raves that it's "easy to use and modify."
Gallery of One Love iPhone Case ($27; shutterfly.com)
Customize this phone case with any photo and edit the text, font and color. The result? A practical source of protection for their phone — and a constant reminder of your love that goes everywhere with them.