Rugs are one of those purchases that just seem unnecessarily inconvenient. For one, it can be hard to find a high-quality material with a design you truly love. For another, rugs are often ridiculously expensive and not all that durable — especially for something you walk on every day. Finally, if you're buying a vintage rug abroad, you have to worry about negotiations and extra luggage costs. Luckily, as the internet's best source for high-quality, handmade rugs, Revival is the exception and the solution.
This company got its start in 2017 as a online store for vintage Turkish rugs. Since then, its selection has exploded to include rugs in all different styles and for all different price points, not to mention furniture and decor too. You can now shop over 4,000 new and vintage rugs, but each one is durable, beautiful and meaningful. (Despite the recent expansion, Revival still values global collaboration, high-quality materials, time-honored techniques and accessibility in both price and design.)
Revival also offers several services and features that make rug shopping as unintimidating as possible. Take, for example, the View In Your Room tool, which lets you upload a photograph of your space and see exactly how any rug will look within it. You can also get free interior design support; an in-house team of expert designers will answer any questions you have about your space, style or budget. Even if you choose not to utilize these services, the product descriptions give you a thorough sense of each piece and highlight the legacy behind it, while the photography is high-def and detailed so you feel almost as if you've seen the rug firsthand.
Not sure where to start? Revival offers a wide range of collections, so you can easily find one that suits your space — without any of the usual rug-shopping headaches. From Nov. 1 to Nov. 20, you can even save 10% off of your order with code CNN10%. Here are seven of Revival's collections that are sure to WOW you with their diversity in color, texture and styles:
Revival got its start in vintage rugs, so this collection is the foundation of the whole company. Everything here is handwoven and handpicked by on-the-ground teams across Turkey and Morocco. Most of them are one of a kind too.
It doesn't get much more accessible than Revival's Recess collection, and that's because every single rug here is fully machine-washable. (Yes, you can have gorgeous rugs even in a household with kids and pets.) They're all made from 100% cotton, so they're soft, sturdy and affordable.
Jute is one of the best ways to add a natural, eco-friendly touch to your home — and these are some of the most affordable options on the market (and they're a fan-favorite of Revival shoppers). They were woven by a third-generation expert craftsperson and come in tons of sizes, shapes and colors.
They look just as good as your indoor rugs, but they're flatwoven using yarns from recycled plastic bottles; as a result, these eco-friendly outdoor rugs are capable of braving the elements, even despite their comfy textures and vivid colors.
Looking to incorporate some color? These rugs do just that in a classy, contemporary way. The Ombré Collection uses gradient fades and Sardinian wool to combine style with a soft, comfortable footfall.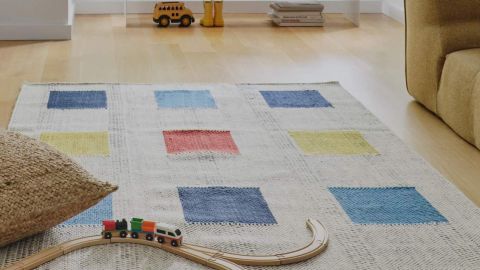 Pull a child's room together or inspire your inner kid with the Beep Beep Collection. Using bold primary colors, geometric patterns and a mix of cotton and wool, these flatweave rugs are whimsical and elevated at the same time.
These are not your standard shag rugs. First of all, they're hand-knotted for better durability and less shedding. Second, they're inspired by elemental colors and traditional patterns, so they add both warmth and contemporary flair to your floor.