China's three-person crew arrived at its new space station Saturday morning – a major step for the country's young space program, which is rapidly becoming one of the world's most advanced.
The three astronauts had lifted off on the Shenzhou-13 spacecraft just past midnight local time, launched by a Long March 2F rocket from the Jiuquan Satellite Launch Center in the Gobi Desert, located in Inner Mongolia.
China's Shenzhou-13 crewed spaceship has now successfully docked with the radial port of the space station core module Tianhe at 6:56 Beijing Time (6:56 p.m. ET/22:56 GMT) on Saturday, according to the China Manned Space Agency. The spacecraft docked at Tiangong Space Station about six and a half hours after launch. The team will live and work at the station for 183 days, or just about six months – the country's longest mission yet. (Tiangong means Heavenly Palace.)
The crew includes Zhai Zhigang, Wang Yaping and Ye Guanfu, who will spend the time testing the station's technology and conducting spacewalks.
Zhai, the mission commander, performed China's first spacewalk in 2008 and has been awarded the honorary title of "Space Hero" by the government.
This will be Ye's first mission in space; he is currently a second-level astronaut in the military's Astronaut Brigade.
Wang, who also received an honorary title after participating in a 2013 mission, is China's first female astronaut on board the space station – and will be the first Chinese woman to conduct a spacewalk.
Six months is the standard mission duration for many countries – but it will be an important opportunity for Chinese astronauts to become accustomed to a long-term stay in space and help prepare future astronauts to do the same.
"In the first place, any crewed mission is significant, if only because space travel by humans remains a risky endeavor," said Dean Cheng, senior research fellow at the Davis Institute for National Security and Foreign Policy. "This will certainly be their longest mission, which is quite impressive when you consider how early it is in their human spaceflight regimen."
This is the second crewed mission during the construction of the space station, which China plans to have fully crewed and operational by December 2022. The first crewed mission, a three-month stay by three other astronauts, was completed last month.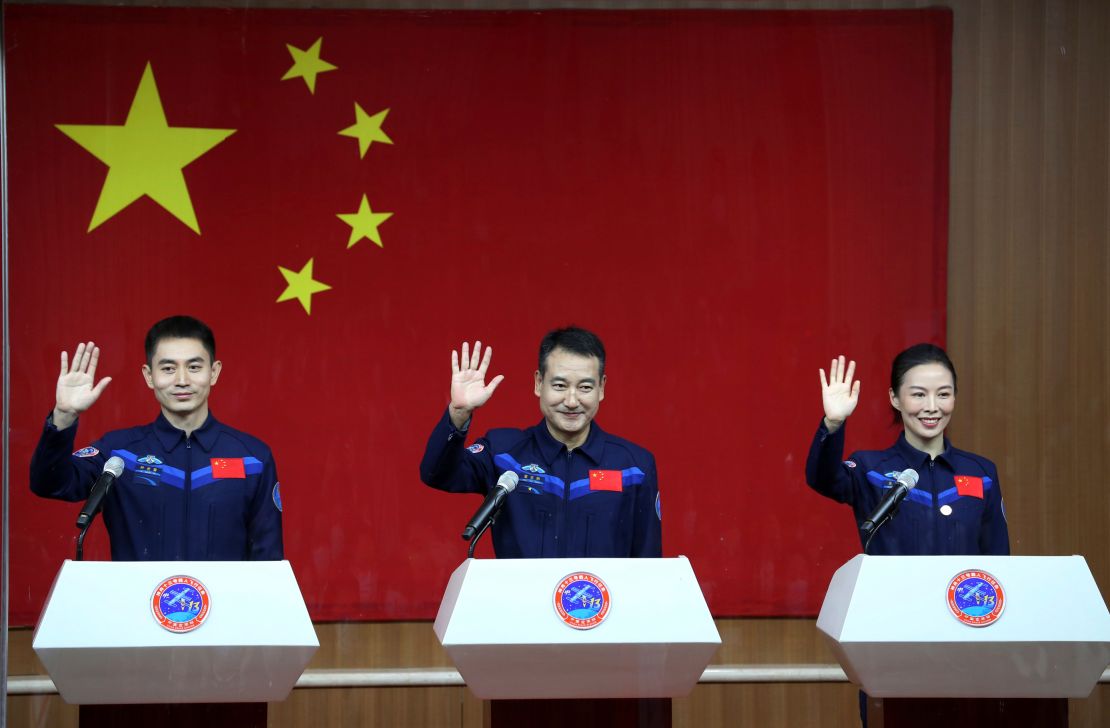 Six more missions have been scheduled before the end of next year, including two crewed missions, two laboratory modules and two cargo missions.
"For the Chinese, this is still early in their human spaceflight effort as they've been doing this for less than 20 years … and for fewer than 10 missions," Cheng added. "In the past, the Chinese put up a crewed flight only once every two to three years. Now, they're sending them up every few months."
"If the Chinese maintain this pace … it reflects a major shift in the mission tempo for their human spaceflight efforts."
Lead-up to liftoff
CNN gained rare access to the launch this week, including a series of highly choreographed events and news conferences in the lead-up to Saturday.
The launch site looks as if it's been dropped into the Gobi Desert in the middle of nowhere, hours aw