Here's what you need to know to Get Up to Speed and On with Your Day.
(You can get "5 Things You Need to Know Today" delivered to your inbox daily. Sign up here.)
1. Buffalo shooting
Dr. Gupta looks back on the pandemic as US deaths surpass 675,000
2. Church shooting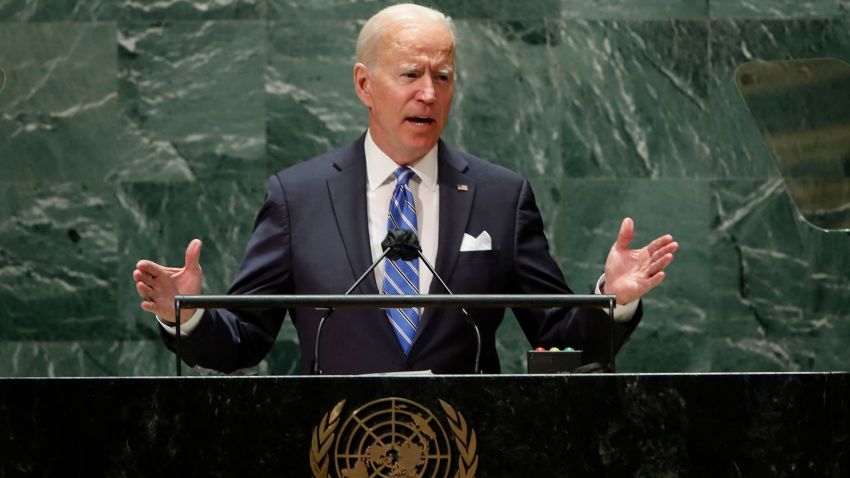 Joe Biden at UN General Assembly: This is a decisive decade for our world
3. Ukraine
Sanders: House Dems should block infrastructure deal if Manchin guts $3.5T bill
4. Abortion
Trump shares disappointment with Pence in new audio recording
5.Elon Musk
In the coming weeks, Ghana's parliament is set to debate a draft bill – framed in the guise of "family values" – that seeks to introduce some of the harshest anti-LGBTQ laws on the African continent. The prospect of it passing is pushing the country's LGBTQ community into the shadows. LGBTQ Ghanaians have been left asking how things got so bad, so quickly, and Western diplomats say they have been caught by surprise. But what one Ghanaian activist calls a "homophobe's dream bill" has deep roots in Ghana's religious community. It also found key inspiration from a US ultra-conservative group with Russian ties.
Thousands of migrants crowd into makeshift camp at US border
BREAKFAST BROWSE
Now, now, it's not a competition. All the giant Jesus statues are equally impressive. 
Yes, you read that right. Thirty seasons of mirrorball madness!
'The View' turns 25
Here's a look at 25 times the talk show got us, well, talking.
This child-sized Aston Martin toy car costs $123,000
"OK Junior, you can either go to college or have the coolest toy this cul-de-sac has ever seen."
Think remote meetings are hard? Hybrid meetings are much more complicated
Prepare to be stuck in an endless loop of "I can't see you" and "You're muted … I said YOU'RE MUTED."
Chipotle is adding a new meat to its menu
Here's a challenge: Can you read the words "beef brisket" and not immediately crave beef brisket?
In memoriam
Willie Garson, who famously played Stanford Blatch on "Sex and the City," has died. He was 57. In a statement, HBO/HBO Max honored Garson, calling his portrayal "one of the most beloved characters from the HBO pantheon."
TODAY'S NUMBER
That's how much the Hungarian Football Federation must pay in fines after being punished by football's world governing body for "numerous" fans' racist behavior during a recent World Cup qualifier against England.
TODAY'S QUOTE
Secretary of State Antony Blinken, discussing the lack of diversity at the US State Department. Blinken just named retired Ambassador Gina Abercrombie-Winstanley as the department's first chief diversity and inclusion officer.
Samantha Mayor, who was injured during the 2018 deadly school shooting at the Marjory Stoneman Douglas High School in Parkland, Florida. Mayor and other shooting survivors gave their firsthand accounts in a brief filed Tuesday in a case that could impact concealed carry and Second Amendment laws across the country.
TODAY'S WEATHER
First day of fall brings flash flood threat
Check your local forecast here>>>
AND FINALLY
This mind-blowing Pokémon cross-stitch just keeps going and going! Phew, the dedication. (Click here to view.) 
What's it like getting Dorothy's ruby slippers looking their best? Well, for one, they're way less pretty reeeally close up. (Click here to view)