British teenager Emma Raducanu continued her sensational run at the US Open, beating Olympic gold medalist Belinda Bencic in straight sets to reach her first grand slam semifinal.
The 18-year-old showed poise and composure that belied her age to come through two tight, grueling sets and outlast her more experienced opponent 6-3 6-4.
After Bencic hit the match's final shot into the net, Raducanu lifted her hands to her head with a look of shock etched across her face, scarcely able to believe her accomplishment.
"I didn't expect to be here at all," Raducanu told reporters after her win. "I mean, I think my flights were booked at the end of qualifying, so it's a nice problem to have.
"I'm just really enjoying the experience. Out there on the court today, I was saying to myself: 'This could be the last time you play on Ashe, so might as well just go for it and enjoy everything.'
"I didn't compete for 18 months, but here I am, and it just shows that if you believe in yourself, then anything is possible."
Remarkably, Raducanu is yet to drop a set in her eight matches at the US Open – five in the main draw and three in qualifying – and is the first qualifier in history to reach the final four at Flushing Meadows.
READ: Teenager Leylah Fernandez beats Elina Svitolina to reach US Open semifinals
She will now face 17th seed Maria Sakkari on Thursday, with little more than 24 hours to recover, for a place in Saturday's final.
When asked how she maintains such composure in high pressure moments, Raducanu credited the lessons she received from her parents when growing up.
Raducanu then joked that they had been "ghosting" her when she had tried to contact them the day before her win.
"I think that the calmness and the mental strength definitely comes from my upbringing," she said.
"I think my parents have both instilled in me from a very young age to definitely have a positive attitude on court because, yeah, when I was younger, it was definitely an absolute no-go if I had any sort of bad attitude.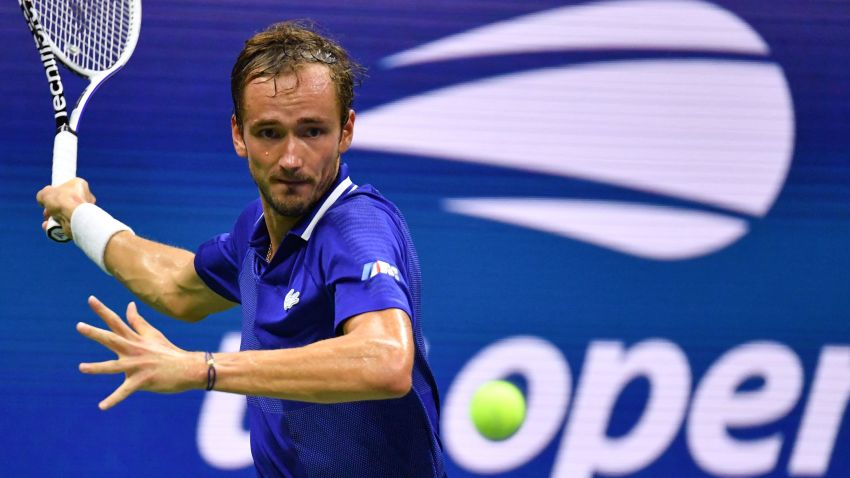 Daniil Medvedev on the 2021 US Open
"So from a young age, I definitely learned that, and it's followed me until now.
"When you're serving out a match on such a big stage, to go into your first semifinals of a slam, you definitely need a sense of calm to get through that moment, especially I was love-30, and to just reset and focus on what I could control.
"I knew exactly what patterns I was going to play and, yeah, I was just very focused and in the moment. Wasn't getting ahead of myself."
Raducanu is the second teenager to reach the semifinals at this year's US Open after Canada's Leylah Fernandez beat Elina Svitlolina on Tuesday.
'Show all her qualities to the world'
Patrick Mouratoglou is perhaps best known for being Serena Williams' coach, but he also knows a thing or two about nurturing emerging talents.
The Frenchman is the founder of the prestigious Mouratoglou Tennis Academy in France, where the likes of Stefanos Tsitsipas and Coco Gauff have gone to hone their skills.
Mouratoglou says Raducanu's deep runs at both Wimbledon and the US Open should make tennis fans, in particular those from Great Britain, excited about her future potential.
"I'm sure you're [British fans] very excited about Emma," Mouratoglou tells CNN Sport. "I would be too, if I was British – and even if I'm not British, I think she's very exciting. She's a great, great young player, who completely emerged suddenly at Wimbledon.
"We knew her because we were in the tennis industry for many years. We knew she had talent, we knew she had potential, but she's been able to really suddenly show all her qualities to the world and it's always nice to see.
"I love also to see those faces of those young players suddenly being so impressed by what they're able to achieve and so this raw happiness is so nice to see."
As with any rising talent that emerges on tour, Mouratoglou says the weight of expectation will eventually catch up with Raducanu and her future success will be determined by how she deals with that.
However, he believes the freedom she is playing with as a young star, without any pressure on her shoulders, has helped Raducanu surpass even her own expectations at the US Open.
"She's offensive, she plays with no limitations," he explains. "She doesn't think – and I said that in a very positive way when you're young like that – you have all your career to think and to think too much, to overthink: 'Oh, should I do it like this or like that?'
"When you're young like this and like Emma at the moment and having success, you just go with the flow, hit your shots without any stress, any limitation, go for your shots and this enables you to do things you would never think you can.
"And she's exactly in that moment."