Anna Nordqvist was supposed to be getting married in a castle in Scotland, but because of the Covid-19 pandemic, she and her husband had a smaller ceremony at home in Arizona, US, with guests watching over Zoom instead.
While the smaller ceremony was "special," Nordqvist says she can't wait to "walk down the aisle again in Scotland next year, as she spoke about life on and off the golf course after claiming a momentous Women's Open title at Carnoustie.
Fresh off her comeback major victory – her first professional triumph in almost four years – Nordqvist was in reflective mood as she talked about the challenges she has faced on the women's tours in the US and Europe.
Before her Carnoustie success, she had last won at the Evian Championship in 2017, and subsequently faced battles on and off the course during her barren run.
The Swedish golfer slipped out of the top 50 world rankings, finishing in the top 10 just once in the 19 majors she had competed in.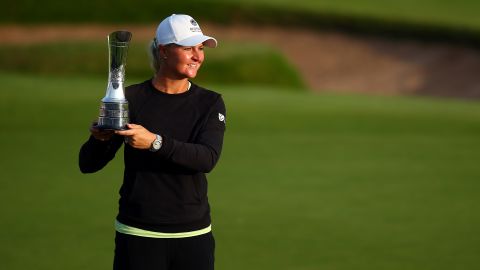 Things got so bad that the 34-year-old doubted if she would ever win again, Nordqvist admitted after lifting aloft the Women's Open trophy and picking up the winner's check of $870,000 as part of the new largest prize fund in women's major championship golf.
And as she struggled for form – as well as overcoming a bout of mononucleosis – Nordqvist revealed the "hardest part" was losing her "mental and physical endurance."
Mono is a contagious disease with symptoms which include extreme fatigue, fever, sore throat and head and body aches amongst others, according to the Centers for Disease Control and Prevention.
"I think last year during Covid, I finally had some time to be at home and slow down," she told the media in her press conference after winning the Women's Open.
"My life has always gone at 110 miles an hour. Great to finally have a little bit more time at home and not having to travel. I think [that] was probably the break I needed a couple years ago and just never gave myself.
"It was hard because I kept pushing but it was hard because it was like your feet kept slipping and I didn't have that extra gear I was always used to.
"When things got tough, I could always push it through mentally, but I just never had anything and I just felt really weak. So to be able to build myself back up again and have the support of people around me [felt great]."
READ: The power of three: How Arnold Palmer, Gary Player and Jack Nicklaus revolutionized golf
'Most special one'
The phrase "bursting onto the scene" is an apt phrase to describe Nordqvist's start to life in golf.
In just her fifth start on the Ladies Professional Golf Association (LPGA) Tour, she won her first professional tournament which also happened to be a major.
Aged just 22, Nordqvist finished four shots ahead of second-placed Lindsey Wright to win the 2009 LPGA Championship. In the same year, she earned a Solheim Cup call up, as well as winning the LPGA Tour Championship.
She was then named Rookie of the Year on the Ladies European Tour for her rapid rise.
Eight years later, she won her second major at the Evian Championship in France in 2017. But given the struggles she's had to endure, Nordqvist says her victory at Carnoustie is her "most special one."
"Just because it's taken me a couple years and I've fought so hard and questioned whether I was doing the right things," she said in the moments after her victory. "Also, knowing like how my caddie, Paul (Cormack), he's been working so hard and I really wanted to do it for him, too."
Her Carnoustie victory came after a heartbreaking finish to the 2016 US Women's Open.
Having finished tied atop the standings with Brittany Lang, the pair began a three-hole playoff.
Visit CNN.com/sport for more news, features, and videos
However, on the second hole, Nordqvist was penalized two shots for touching the sand with her club in a fairway bunker, delivering the title to Lang.
Despite the ups and downs golf brings, the sport has its hooks into Nordqvist.
"There's just something about golf that keeps driving me. I hate losing probably more than I like winning. I think all the controversy and all the downs, and having my caddie and husband there pushing me every day being a rock; I hate to give up."