Former ice hockey player Jimmy Hayes, who played seven seasons in the NHL and won an NCAA hockey championship at Boston College, has died at age 31.
He was pronounced dead on Monday morning at his home in the Boston suburb of Milton, but the cause of his death was not disclosed, the Boston Globe reported.
Hayes and his wife, Kristen, had announced the birth of their second son, Mac Kelly Hayes, in May 2021.
The Boston native was picked by the Toronto Maple Leafs during the second round of the 2008 NHL Draft, and two years later was traded to the Chicago Blackhawks in June 2010.
Hayes contributed to Boston College's second consecutive NCAA Division I championship win earlier that year, netting 35 points in 42 games as a sophomore, and earning an assist to help defeat Wisconsin 5-0 in the title game.
His teammates included New York Rangers forward Chris Kreider, Pittsburgh Penguins defenseman Brian Dumoulin and Philadelphia Flyers forward Cam Atkinson.
Across his seven-year NHL career, Hayes registered 109 points in 334 career games with the Chicago Blackhawks, Florida Panthers, Boston Bruins and New Jersey Devils.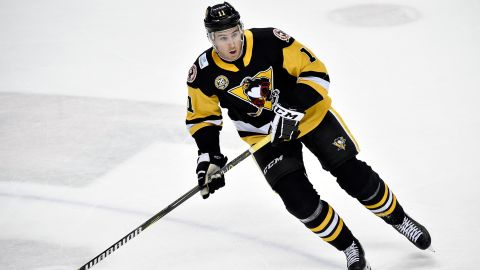 The news of Hayes' death was met with impassioned tributes from across the NHL.
"We are devastated to learn of the passing of Jimmy Hayes. Jimmy was a beloved teammate who lit up the locker room with his laughter," the Florida Panthers tweeted. "Our thoughts are with his wife Kristen, his sons Beau and Mac, his brother, Kevin, and the Hayes, Tkachuk, & Fitzgerald families. RIP, Jimmy."
The Chicago Blackhawks posted on Twitter: "We are heartbroken to learn of the passing of Jimmy Hayes. His warm personality made an immediate impact in the locker room and with our fans. We're proud of the memories he made in Chicago, including making his NHL debut in 2011. Sending our thoughts and prayers to his family."
"The Boston Bruins are heartbroken by the passing of Dorchester native and former Bruin Jimmy Hayes. Our thoughts are with his wife Kristen, his sons Beau and Mac, and the entire Hayes family during this very difficult time," the team tweeted.
"We are thinking of the Hayes family and friends during this difficult time. His infectious personality and easygoing nature were contagious to all who spent time with him. He had a tremendous ability to make everyone feel welcome," the New Jersey Devils posted on Twitter. "You will be missed, Jimmy."
The Philadelphia Flyers, where Hayes' younger brother Kevin Hayes plays as a center, also paid homage: "We are heartbroken by the tragic news of Jimmy Hayes' passing. Our thoughts and prayers are with Kevin and the entire Hayes family."
Hayes' last professional season was in 2018/19, when he represented the Wilkes-Barre/Scranton Penguins of the American Hockey League.