Driven by blistering temperatures across the West, fire personnel are bracing for more wildfires as they battle dozens that have scorched hundreds of thousands of acres across the region.
"Fire managers prepare for a potential increase in initial attack and overall fire activity in the Northern California, Northwest, Northern Rockies and Great Basin areas due to hot temperatures, dry fuels and predicted dry lightning," the National Interagency Fire Center said in its Tuesday update.
Forecasters expect warmer temperatures and thunderstorms that could bring a new threat of lightning-sparked fires to the area.
As of Wednesday, more than 26,000 firefighters and support staff were battling 105 large wildfires that have burned 2.4 million acres in 14 states, the NIFC said.
The nation's largest wildfire – the Dixie Fire – has been steadily growing over the past month in Northern California, where thousands were forced to evacuate, hundreds of structures were destroyed and an entire town was nearly leveled to the ground.
The second-largest wildfire in state history has charred 501,008 acres and was 30% contained as of Wednesday.
"Fire remained active overnight due to minimal humidity recovery. Heavy smoke conditions reduced visibility in the fire area. High pressure continues to build over the incident and will be the dominant feature with predicted thunderstorms moving in this week," the California Department of Forestry and Fire Protection, known as Cal Fire, said in an update on its website.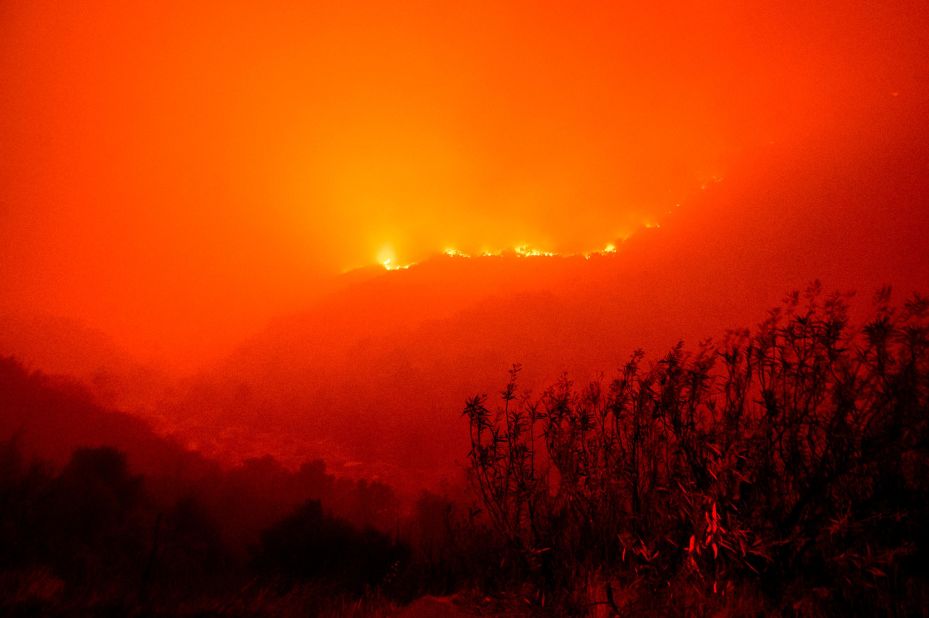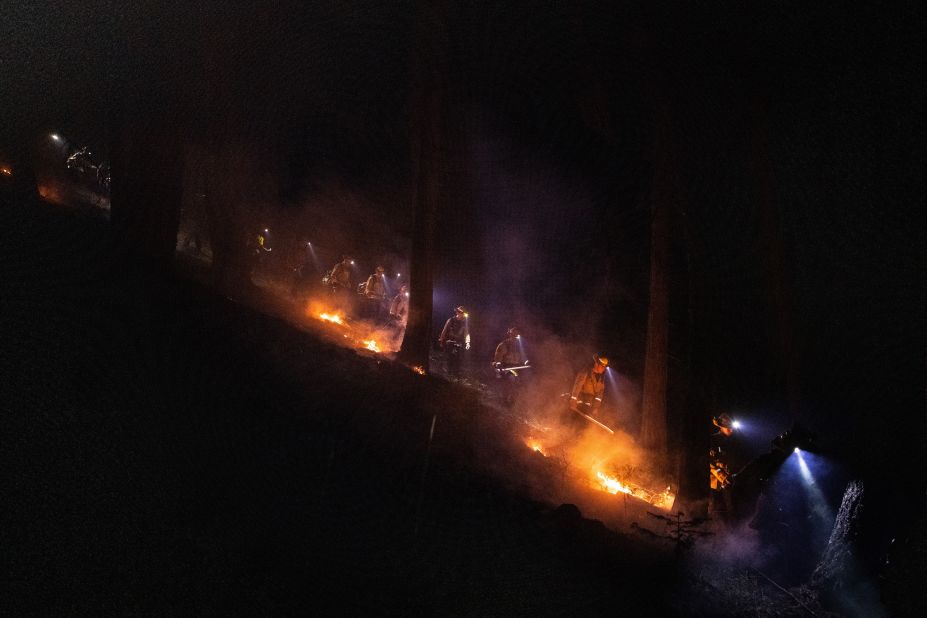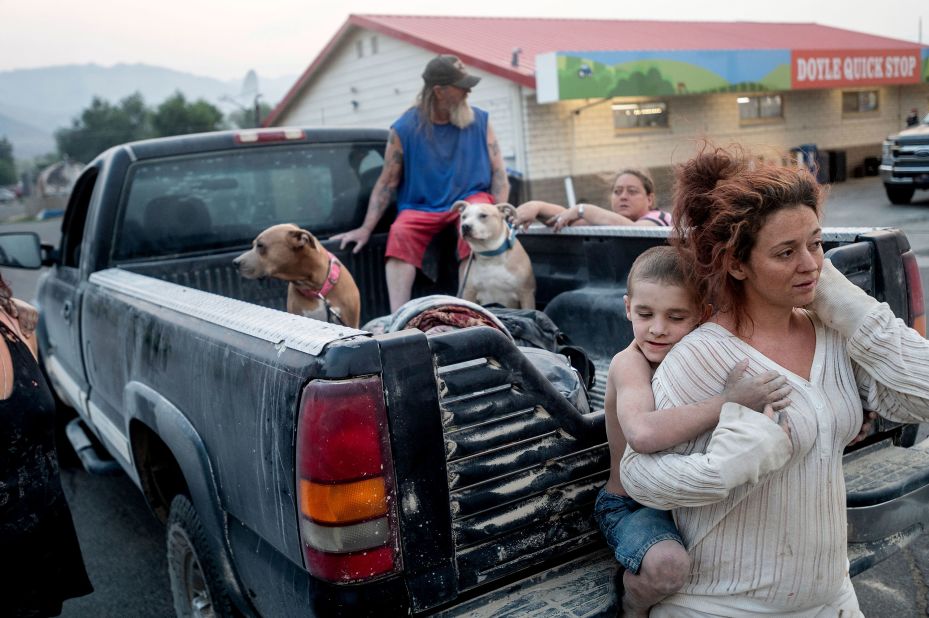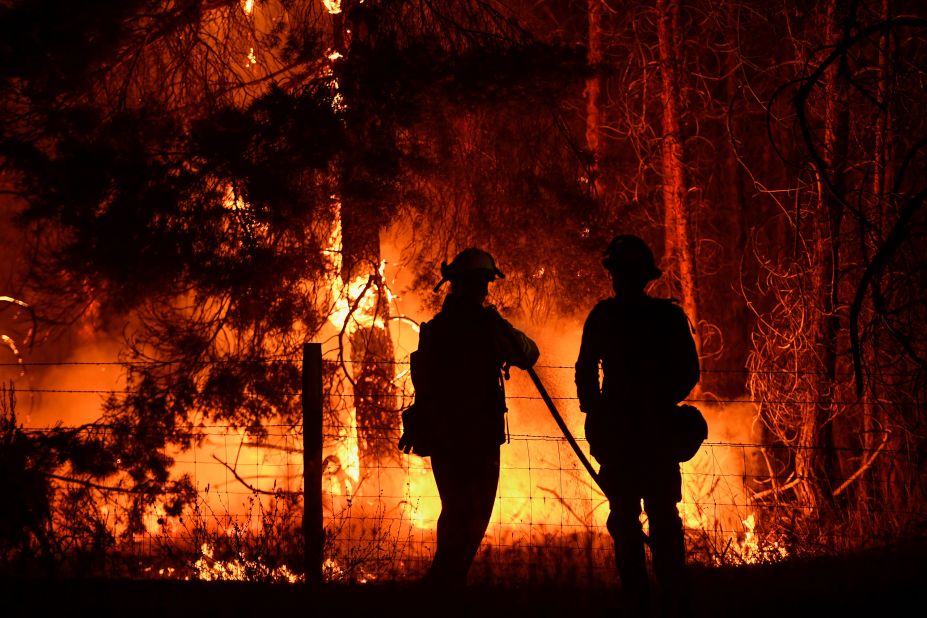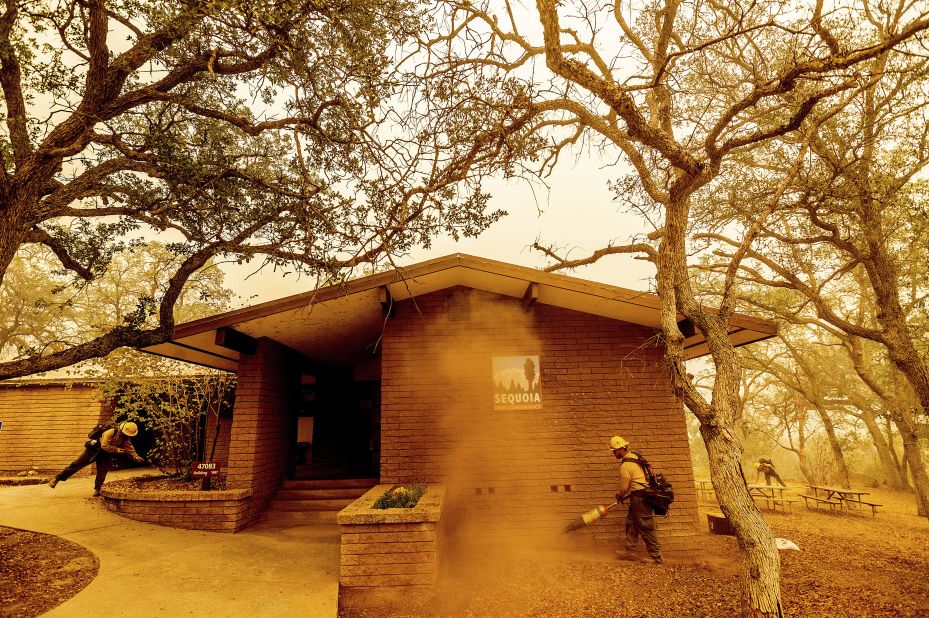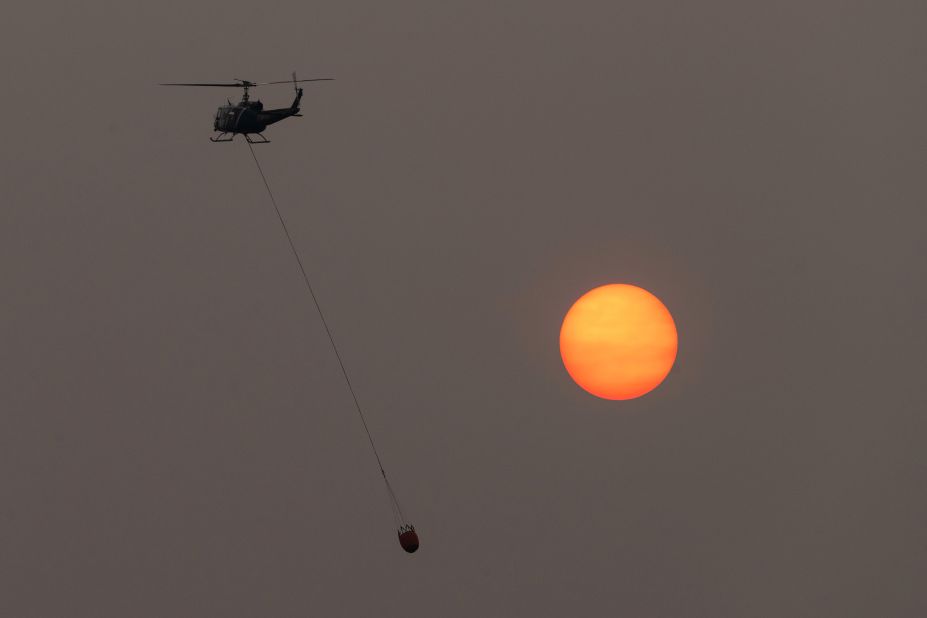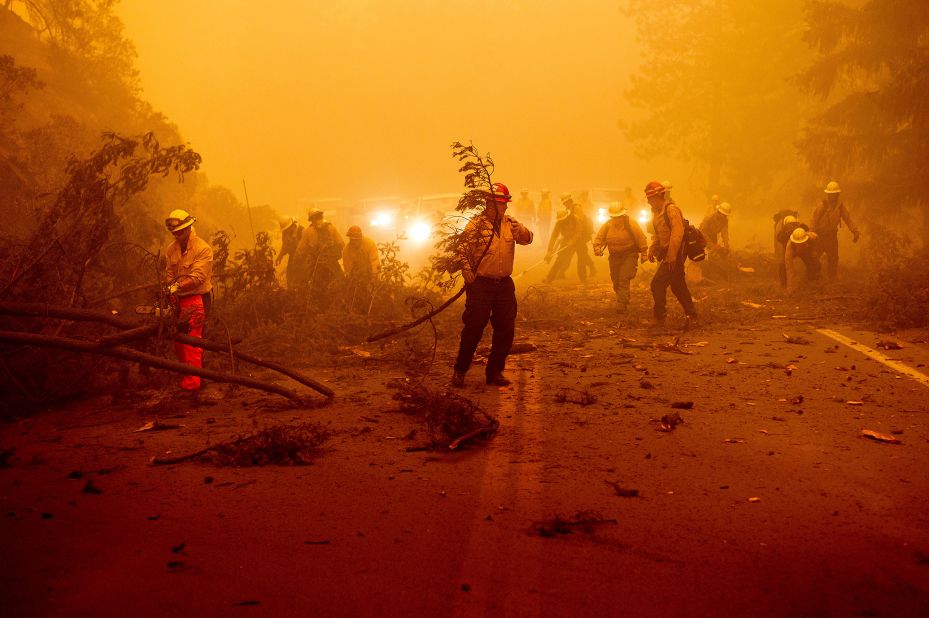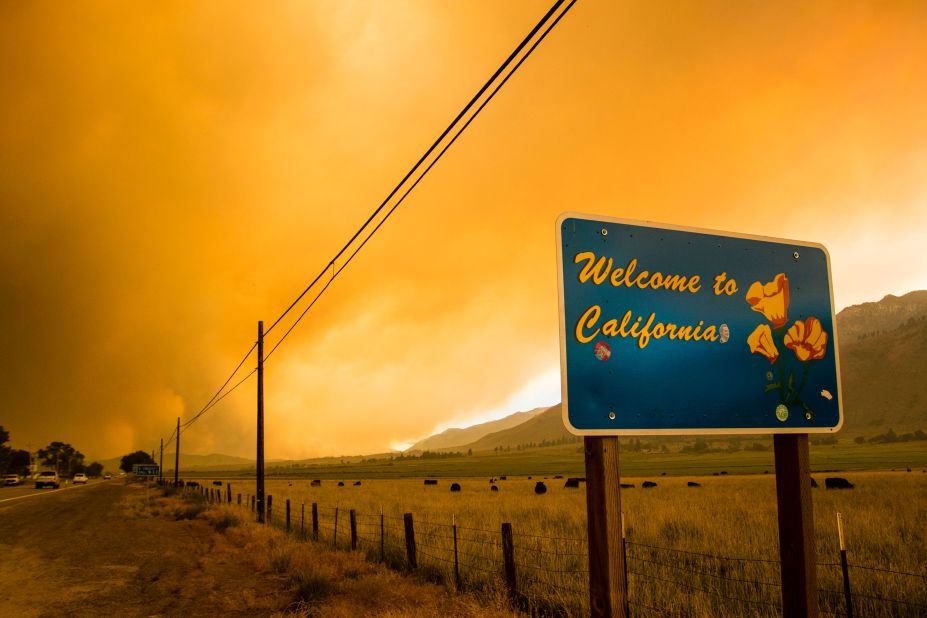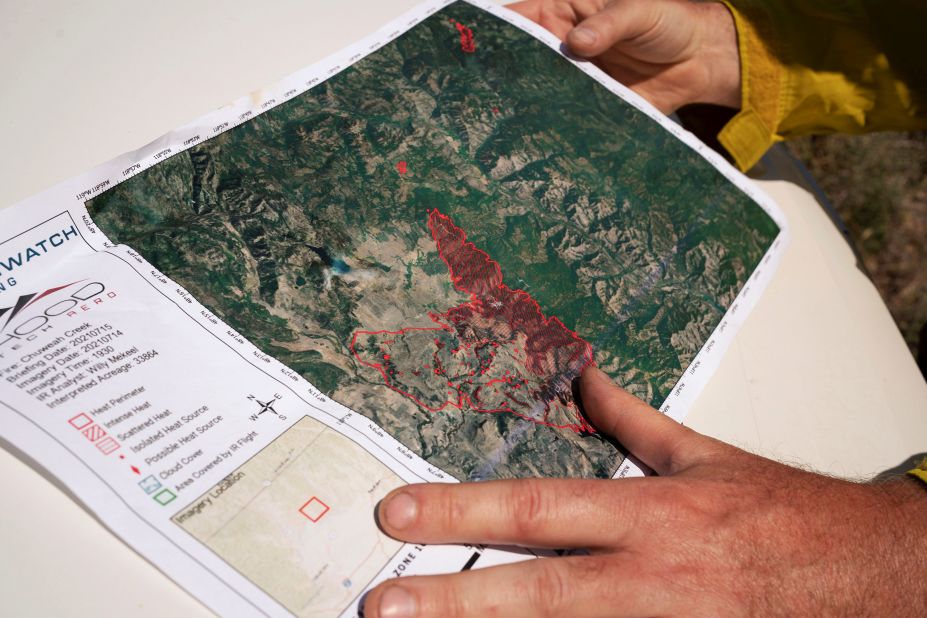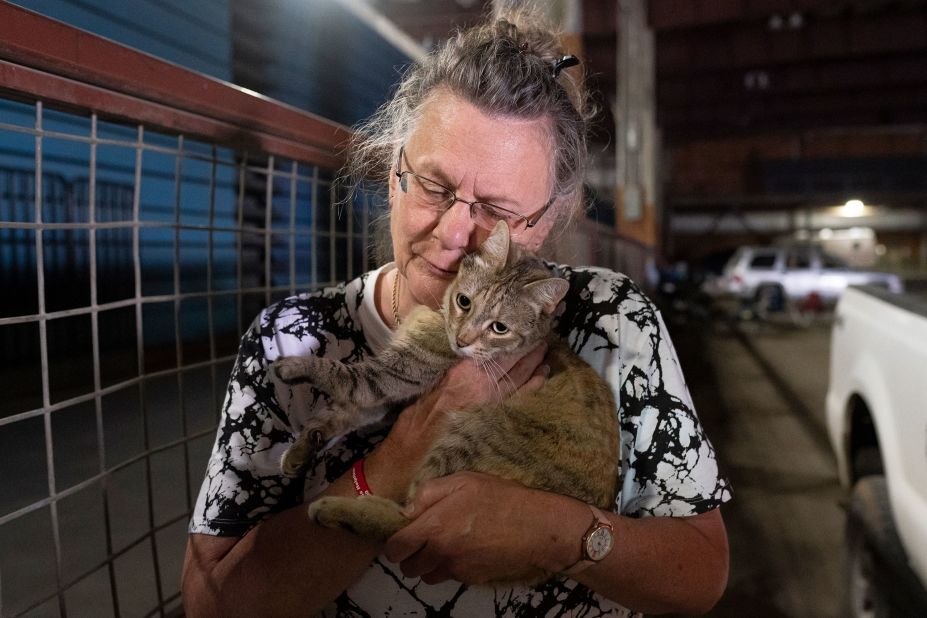 In pictures: Wildfires raging in the West
The fire has destroyed 1,045 structures, including more than 550 homes and 140 commercial buildings. Another 69 structures have been damaged, and more than 15,000 structures remain at risk.
The town of Greenville in Plumas County was nearly leveled when the fire swept through it. Roughly every business in the city's commercial center appeared to have collapsed or been gutted, with flames still flickering in the debris, video recorded last week by storm chaser Brandon Clement showed.
Gov. Gavin Newsom declared a state of emergency for the counties affected by the Dixie Fire, along with the McFarland and Monument Fires, which themselves had burned an additional 85,000 acres. The Dixie Fire is burning across Butte, Plumas, Lassen and Tehama counties.
More than 12,000 people across eight counties were under evacuation orders from the 11 large fires, according to the California Governor's Office of Emergency Services.
But in Plumas County, the sheriff's office said Wednesday that six areas were being downgraded from mandatory evacuation orders to evacuation warnings and four zones came off the warnings list.
California's wildfire season has been exacerbated by the severe drought condition and the climate change crisis.
To date, wildfires have seared more than 917,000 acres, which is a dramatic increase of 233% over the same period last year, becoming the state's worst wildfire year on record, according to Cal Fire.
"Hopefully this is not a trend that will continue," Daniel Berlant, Cal Fire's assistant deputy director, said in an update.
Western states brace for extreme heat as wildfires rage
As extreme heat is expected to grip the West this week, Oregon Gov. Kate Brown has declared a state of emergency.
The order was "triggered by the need for state agencies to assist local and Tribal jurisdictions" as they provide for the health and safety for the residence, the governor's office said in a news release.
"Oregon is facing yet another extreme heat wave, and it is critical that every level of government has the resources they need to help keep Oregonians safe and healthy," Brown said in the news release.
Additionally, portions of Oregon are under excessive heat warning from Wednesday afternoon until Saturday night, according to the NWS Portland office.
Oregon has 17 large wildfires that have burned nearly 600,000 acres, according to the NIFC.
Meanwhile, the National Weather Service has also issued an excessive heat warning for parts of Washington, including the Seattle metro area. The warning ends Saturday night.
The weather service office in Seattle predicted that temperatures could reach 100 degrees.
"Extreme heat and humidity will significantly increase the potential for heat related illnesses, particularly for those working or participating in outdoor activities," the office said.
There are 15 large wildfires burning in Washington that have scorched roughly 250,000 acres.
CNN's Brisa Colón, Kay Jones, Cheri Mossburg and Joe Sutton contributed to this report.