Robert Durst, the eccentric millionaire subject of the HBO crime documentary "The Jinx," testified in his own defense Monday as he stands trial for murder in the 2000 killing of his close friend and confidante Susan Berman.
Durst, once again, denied killing Berman and said he did not know who killed her.
In his testimony Monday afternoon, the 78-year-old Durst gave long, drawn-out answers when asked questions about his mother's death, his relationship with his father and how he met Berman in the late 1960s. Prosecutors often objected and asked the judge not to allow Durst to answer in "narrative" form or give irrelevant information.
"I can give a short narrative," Durst said on the stand.
Durst is charged with first-degree murder in the 2000 death of Berman at her Beverly Hills home hours before she was set to talk to investigators about the disappearance of his first wife, Kathleen McCormack Durst, who was last seen in 1982.
Durst has long denied killing Berman, and his lawyer has said that he panicked and ran after finding her body. He has pleaded not guilty.
The trial began early last year but was suspended in March 2020 after just a few days due to the coronavirus pandemic. It finally resumed this May, and prosecutors rested their case on Tuesday after several months of testimony.
Durst is set to continue his testimony Wednesday because of a medical appointment scheduled for Tuesday, the court told CNN. There will be no testimony Tuesday.
Durst explains he saw his mother die
Durst's testimony began with him listing his multitude of health problems, which include bladder cancer, having a shunt inserted into his head to relieve pressure on his brain and chronic obstructive pulmonary disease.
"I find myself constantly having to breathe through my mouth," he said.
He then explained his traumatic childhood. Durst is the oldest of four children and was only 7 when he saw his mother die. He testified the night she died, he saw her on top of the roof of their home. Durst's younger brother, Douglas Durst, testified Robert Durst was not even at the home at the time of his mother's death, something Robert Durst disputes.
"I did not see whether she jumped or fell," Robert Durst said.
The death of Durst's mother caused a rift in his relationship with his father, he said.
"Seven-year-old Bobby Durst … did not know how or why or anything like that, but Bobby Durst knew that his father had killed his mother," Durst said.
It was at this point in his life he started running away, at least every couple of weeks.
"I ran away from everything. My father kept sending me to see psychiatrists," he said.
Defense attorney Dick DeGuerin then skipped ahead years to when Durst met Berman in 1966 while attending University of California, Los Angeles.
"I readily found out that both her parents were dead and that her father had owned hotels in Las Vegas and had something to do with the mob," Durst testified.
He said the two of them hit it off because of their relationship with death. Berman's father died when she was 7 and her mother died when she was 12, Durst said. The two also related because of their wealth.
"We were both rich," Durst said.
The two kept in touch despite Berman heading to northern California for journalism school and him going to volunteer in the Watts neighborhood of Los Angeles. Durst then got the idea to open a general store that sold healthy food and other essentials.
He eventually opened one in Middlebury, Vermont, about 113 miles north of Albany, New York.
Durst testifies he never had plans to go into his family's business
Durst met his wife-to-be, Kathleen McCormack, as he was opening and building his store.
He testified the two hit it off so well that she eventually quit her job as a dentist's secretary and moved to Vermont to help him run the store. The two would operate the store for the next year and half. The ultimately got married in April 1973, he said.
Like his relationship with Berman, Durst and McCormack also bonded over death. McCormack's father died from colon cancer when she was 12.
DeGuerin also made sure to ask how much money Durst was making off his trust fund, an important fact that explained why he and his wife spent their honeymoon living in a van for two months and why they often sold items in their store for more than they bought them for, Durst said. In short, money was not an issue for Durst, thanks to his trust fund.
"More money came in every month than we could possibly spend," he said, adding that his biggest expense at the time was income tax. "It was never something that we needed money, because we had money."
But just how he made that money was something that caused friction with his father, Seymour Durst.
Durst's father, at the time, was trying to persuade him to run the family's real estate empire, The Durst Organization. Durst said he sometimes traveled to New York to attend a board meeting for the company.
Photos: Robert Durst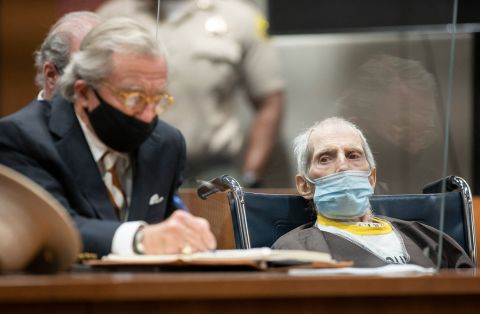 Photos: Robert Durst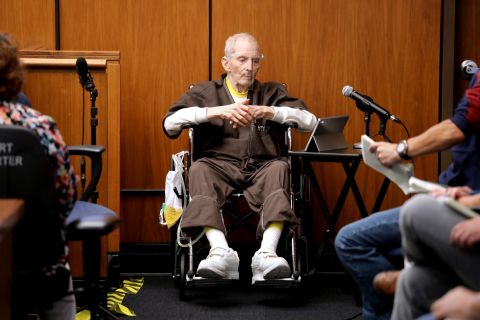 Photos: Robert Durst
Photos: Robert Durst
Photos: Robert Durst
Photos: Robert Durst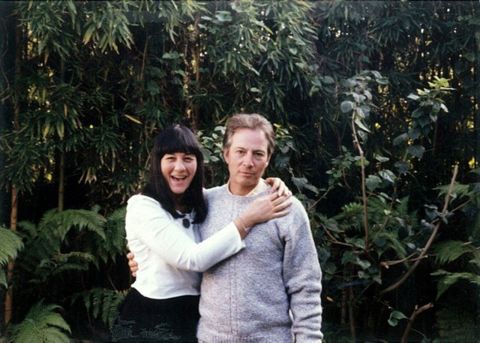 Photos: Robert Durst
Photos: Robert Durst
Photos: Robert Durst
Photos: Robert Durst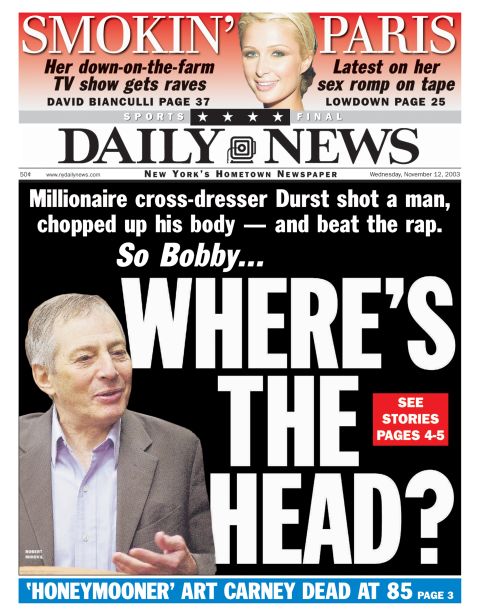 Photos: Robert Durst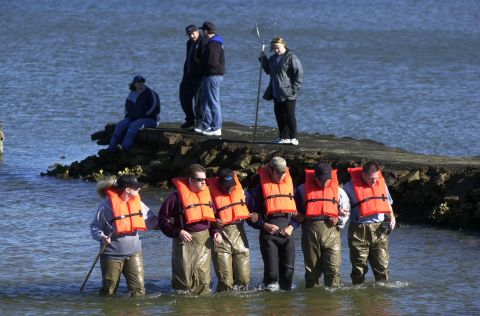 Photos: Robert Durst
Photos: Robert Durst
Photos: Robert Durst
Photos: Robert Durst
Photos: Robert Durst
Photos: Robert Durst
Photos: Robert Durst
"My dad felt like I was rejecting his business that he spent his lifetime creating for me," Durst said. "I felt like I should do something so that he did not feel I was feeling spiteful to him."
Durst also said his wife would get upset at him for going to New York for board meetings, because she predicted he'd give in and work for the company.
"I wanted to stay in Vermont, but I convinced myself that I should go work in the Durst Organization for a couple of years and then dad would see I did not like it and that I was not good at it and that it'd be OK with him that I didn't work for the Durst Organization," he said.
After returning from their honeymoon, Durst said, he went to work for his family's company. He sold the Vermont general store and made a small profit, he said.
"It was just like how I expected it to be. I did not love it. I barely liked it at all. I was in a room with a whole bunch of suits all day long," he said. "I gradually figured out how to do things, but it was not something I loved."
Durst was the subject of a miniseries in 2015
Durst's expected testimony is just the latest saga in an unusual life that reached mass audiences through "The Jinx" miniseries in 2015.
He was arrested in New Orleans the night before the final episode of the show, making the finale must-see TV. And in its final moments, Durst went into the bathroom, apparently not realizing his microphone was still on, and made a series of comments that became infamous.
"There it is. You're caught," he said in a series of seemingly unrelated sentences. "He was right. I was wrong."
"What the hell did I do? Killed them all, of course."
The comments came across to audiences as a stunning confession. However, transcripts of the audio recording in court revealed that the quotes were spliced and edited to be in a different order and context, The New York Times has reported.
Durst's health has deteriorated since then, and he looks and sounds frail in court. At 78, he is thin, bent-over and in a wheelchair and speaks in a whispery voice.
Earlier this week, Los Angeles County Superior Court Judge Mark Windham rejected Durst's lawyers' latest bid to delay or end the trial because of his health issues. Durst has bladder cancer and has undergone multiple surgeries, including the insertion of a shunt in his head to relieve pressure on his brain.
"I'm worried about his health," his longtime attorney Dick DeGuerin said. "I'm worried about his ability to survive and his ability to understand complex questions, both direct and cross-examination."
How we got here
Prosecutors allege that Durst shot Berman in the head from behind to stop her from incriminating him in the disappearance of this first wife, Kathleen, in 1982. They say Durst confided to Berman that he had killed Kathleen, and that she helped him cover his tracks.
Durst will likely be cross-examined by Los Angeles Deputy District Attorney John Lewin, who has relentlessly pursued Durst for Berman's murder.
Lewin and Durst squared off in a New Orleans jail cell in 2015 after Durst agreed to an interview that would last three hours, without his lawyers present, making potentially damaging claims and lamenting his many physical ailments.
"My life expectancy is about five years," the eccentric millionaire said in the 2015 interview.
There is little physical evidence in Berman's nearly 20-year-old unsolved death. There are no eyewitnesses and no murder weapon.
One key piece of evidence is the so-called "cadaver" note, a cryptic letter sent to police with Berman's address and the word "cadaver" in caps that led detectives to her body.
In the HBO documentary "The Jinx," Durst said the letter could have been sent only by Berman's killer. Defense lawyers previously denied Durst wrote the note, and they tried to exclude from trial handwriting evidence about it.
But in a court filing late last year, lawyers for the real estate mogul reversed course and acknowledged that Durst penned the anonymous note. "This does not change the fact that Bob Durst did not kill Susan Berman," DeGuerin said at the time.
Also in the documentary, filmmakers confronted Durst with another letter he once mailed Berman, with nearly identical handwriting to the "cadaver" note. In both, Beverly Hills was misspelled as "BEVERLEY."
Lewin, in the interview with Durst, asked him, "Why would you think the killer would have left a note?"
"I'm gonna stay away from that," Durst replied.
CNN's Paul Vercammen reported from Los Angeles, Amir Vera wrote and reported from Atlanta, and Eric Levenson wrote and reported from New York. CNN's Augie Martin, Cheri Mossburg and Ray Sanchez contributed to this report.