Take out your phone and navigate to your photos app. How many pictures do you have saved there? What are they pictures of? If you, like most people, use your phone to capture things you love, they're probably pictures of your favorite people, pets and memories. Now ask yourself: "What do I plan on doing with these, besides leaving them here to take up storage?" If the answer is "Nothing," it's time to change that. Cue Shutterfly, a site that helps you share life's joy through custom creations.
In other words, you can take any one of those pictures (or several of them) and upload them to Shutterfly's website. Then you can turn said pictures into countless different items, from jigsaw puzzles and glassware to throw pillows and calendars. The result? Personalized decor or practical gifts that are unlike any other — because they feature your loved ones and memories.
Needless to say, since its launch in 1999, this company has become a no-brainer go-to for holiday gifts, wedding gifts, announcements and creative holiday cards. But Shutterfly isn't just for the holidays. As the world opens back up, it's more important than ever to share the things that are important to you.
Wall Art
Relive every moment of summer travel; after all, we've all been waiting over a year to take that dream vacation, and we're never taking it for granted again. These hanging creations allow you to adorn your walls with your favorite photos from your favorite places. The customization doesn't end once you've chosen a picture either. Choose between 10 different designs: Canvas prints look like modern, photorealistic paintings. Photo tiles stick and restick without causing any damage to your walls (a genius solution for renters and college dorms). You can even superimpose a collage onto a piece of natural-grain wood, and all of them come in a wide range of sizes to suit your home.
Notebooks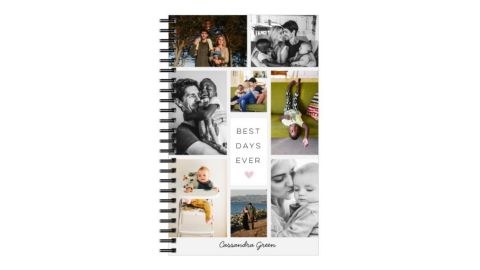 Schools and offices are opening back up. With Shutterfly's notebooks, you can ensure that you're organized and accompanied by the people and things you love. Take, for example, a lined, coil-bound notebook with a picture of your cat, who's always reminding you not to "stress meowt." You can also make yourself a collage of your Best Days Ever, or help your child feel at home in a new classroom with a customized dinosaur notebook.
Travel Mugs & Hello Happy Hour
Let's be honest: Coffee's getting a lot of us through a lot of things right now. Caffeinate (or hydrate) in style with these travel mugs, which you can customize with words, names, phrases and — of course — your own pictures. The insulated handle mug is a top seller, but you can also opt for flip-lid cups and tumblers with straws in both acrylic and stainless steel. All of them are designed to hold the heat in and channel the love out. And let's not forget our end of the day, unwinding, pour me a glass of my favorite bubbles in your go to Shutterfly glassware. Wine glasses, beer steins, and pilsner glasses can capture your favorite sayings, adding an extra bit of personality to you're already bubbly drink.