Life today is all about devices — laptops, tablets, e-readers, smartwatches, smartphones and more that make the modern world go around. And while we've seen advancements with screen tech and speeds, you still need to charge all of these. The problem is there isn't a standard port which leads to lots and lots of cables.
All of these devices need juice and there isn't a way of getting around charging them. But what if there were a better way to charge them?
Enter Courant, a company charting a more perfect path forward for our collective charging solutions. It's made charging not only frictionless but — dare we say it — beautiful too. With Courant, Qi-compatible wireless charging meets high-end leather and Italian craftsmanship that only looks better with age.
They're making charging…sexy? We don't know how they've done it.
But done it they have, and design-forward retailers like Nordstrom, West Elm and CB2 are taking notice. The combination of luxury materials, cutting-edge tech and Red Dot award-winning design is winning fans — ourselves included.
Here's what we have our eyes on — each one would make for a perfect gift. (Buying for yourself counts as a gift, right?)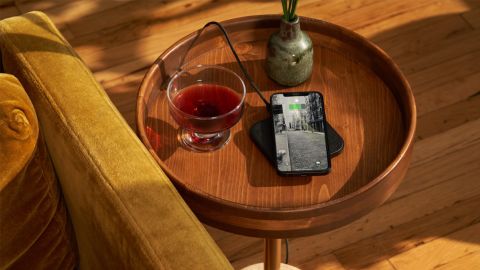 Simple, clean, elegant. That's modern design in a nutshell, and the CATCH:1 got the memo loud and clear. This neat little square is wrapped in gorgeous leather and weighted with aluminum alloy so it stays put and lasts. The low, unobtrusive profile looks great on pretty much any surface. But it's not just aesthetics: The large charging coil eliminates the "dead zone" problem that plagues some other wireless chargers, and the miniscule footprint means it can go anywhere where saving space is a priority.
If you're like us, getting all your devices charged can too often resemble a traffic jam: Too many smart-everythings vying for their juice from too few cords. Multi-device wireless charging, on the other hand, is like taking the express lane. Enter the CATCH:2, with a five-coil array of goodness to keep all your devices charging at once sans pesky dead zones. Perfect for entryways, living rooms, offices and any other place built for sharing. Two phones? Headphones plus phone? Other combo? Throw them on the CATCH:2 and mix and match to your heart's desire.
Buttery leather. A stylish valet silhouette. High-tech charging coils under the hood. The CATCH: 3 is the perfect, well, catch-all. Store all your important heavy-rotation accessories in one place, including your phone or headphones — and look good doing it. Bedsides and entryways will never be the same. Trust us: Grab 'n' go has never looked so gorgeous.
Airpods Leather Case ($45; courant.com)
Need an aesthetic upgrade — or want to match your CATCH? This wireless charging-compatible AirPod case checks all the right boxes. With colors including Saddle Leather, Black, Ash and Bone, you're covered every which way.
If you're looking to give your gift (again, gifting to yourself = totally cool) a little more je ne sais quoi, Courant offers monogramming on all its products in elegant gold or silver foil. We don't know about you, but for us, nothing says we've made it quite like a monogram.
Even better?
CNN Underscored readers get 30% off + free monogramming. Just enter "CNN30" for your coupon code during checkout.
A more perfect charging world awaits. Let Courant take you there.