Former Bosnian Serb army leader Ratko Mladic, nicknamed "the butcher of Bosnia," will have to serve his life sentence after an appeal against his war crimes convictions was rejected on Tuesday.
Mladic, 79, was sentenced to life in prison in 2017 after being found guilty of genocide for atrocities committed during the Bosnian war from 1992 to 1995.
Tuesday's decision ends the last major Balkan war crimes trial before a United Nations court.
Mladic was charged with two counts of genocide and nine crimes against humanity and war crimes for his role in the conflict in the former Yugoslavia, where around 100,000 people were killed and another 2.2 million displaced. He was found not guilty on one charge of genocide, but received a guilty verdict on each of the other 10 counts.
The trial, which opened in 2012, took place at the International Criminal Tribunal for the former Yugoslavia (ICTY) in The Hague, Netherlands. The ad hoc court was established to prosecute crimes committed during the Balkans conflict.
The European Union said the UN court's decision to uphold Mladic's life sentence "brings to an end a key trial in Europe's recent history for war crimes, including genocide, which took place in Bosnia and Herzegovina."
"Remembering those who lost their lives, our deepest sympathies are with their loved ones and those who survived," the EU's External Action Service said in a statement.
"Genocide denial, revisionism and glorification of war criminals contradict the most fundamental European values. [Tuesday's] decision is an opportunity for leaders in Bosnia and Herzegovina and the region, in view of the facts, to lead the way in honoring victims and promote an environment conducive to reconciliation to overcome the legacies of the war and build lasting peace," it added.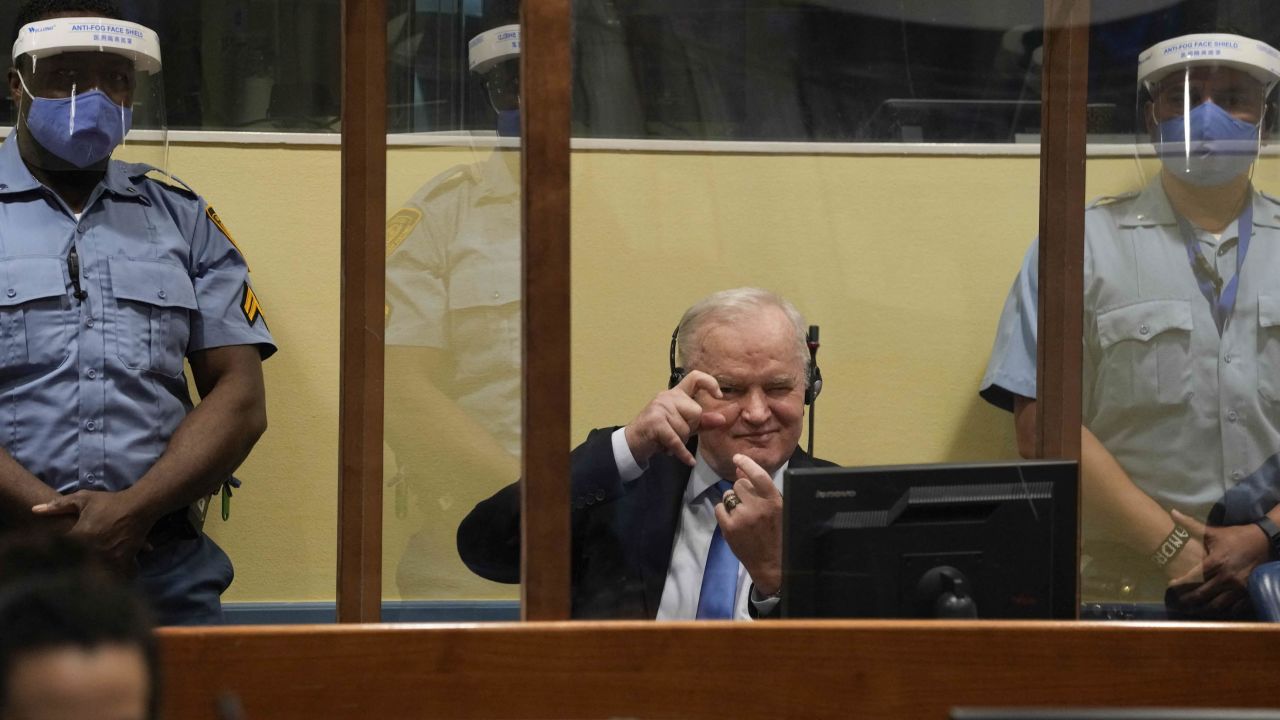 Who is Ratko Mladic?
Born in Kalnovik, Yugoslavia (now Bosnia and Herzegovina) on March 12, 1942, Mladic graduated from a military academy and joined the Communist Party in 1965.
Mladic was made Commander of the Main Staff of the Army of the Bosnian-Serb Republic ("VRS") in 1992. He led the siege of Sarajevo, where his heavily armed forces cut the city off from the outside world.
Serb forces attacked the city from higher ground, trapping Sarajevo's residents in the valley below. More than 10,000 people, mostly civilians, died.
Mladic was accused of orchestrating a campaign of ethnic cleansing, including the slaughter of thousands of Muslim men and boys at Srebrenica in July 1995. It is the worst massacre to have taken place in Europe since the Second World War.
After the war ended in 1995, Mladic went on the run before being found 16 years later when police burst into the garden of a small house in northern Serbia.
Though he was carrying two handguns, he surrendered without a fight. He was then extradited for trial in the Netherlands.
James Masters contributed to this report.