Extreme heat waves are more lethal than any other weather-related disaster in America, according to the National Oceanic and Atmospheric Administration (NOAA). A campaign this summer led by NOAA in cities across 11 states will map the disproportionate stress that heat places on poorer neighborhoods and suggest ideas to alleviate that.
The campaign will work with local National Weather Service offices to determine when an intense summer heat wave will impact these specific cities, similar to what is happening in the West this week.
Early this week, much of the West, including California's Central Valley, suffered scorching triple digit heat. Daily high temperature records were broken as several cities experienced their hottest temperatures of the year so far.
Redding does not normally average a maximum temperature of 100 degrees until the middle of July. However, the California town exceeded this temperature for at least three consecutive days this week (Sunday, Monday, and Tuesday) and this heat wave could persist through the end of the week.
A heat wave is considered a period of abnormally hot weather generally lasting more than two days and can occur with or without high humidity.
However, several recent studies have found that extreme heat risks are not distributed equally across a city's population.
A recent study published in Nature suggests that heat exposure may be unequally distributed across income groups, especially during the summer, when extreme heat waves are more common and are capable of lasting longer.
"We find that the average person of color lives in a census tract with higher SUHI [surface urban heat island] intensity than non-Hispanic whites in all but 6 of the 175 largest urbanized areas in the continental United States," the study said.
The study mentioned that this same pattern is found when comparing those in differing income brackets – households below the poverty line versus households at more than two times the poverty line.
Highly developed urban neighborhoods can experience temperatures that are up to 20 degrees Fahrenheit warmer than adjacent areas with more available green spaces, especially in the summer. This is often called the "urban heat island effect."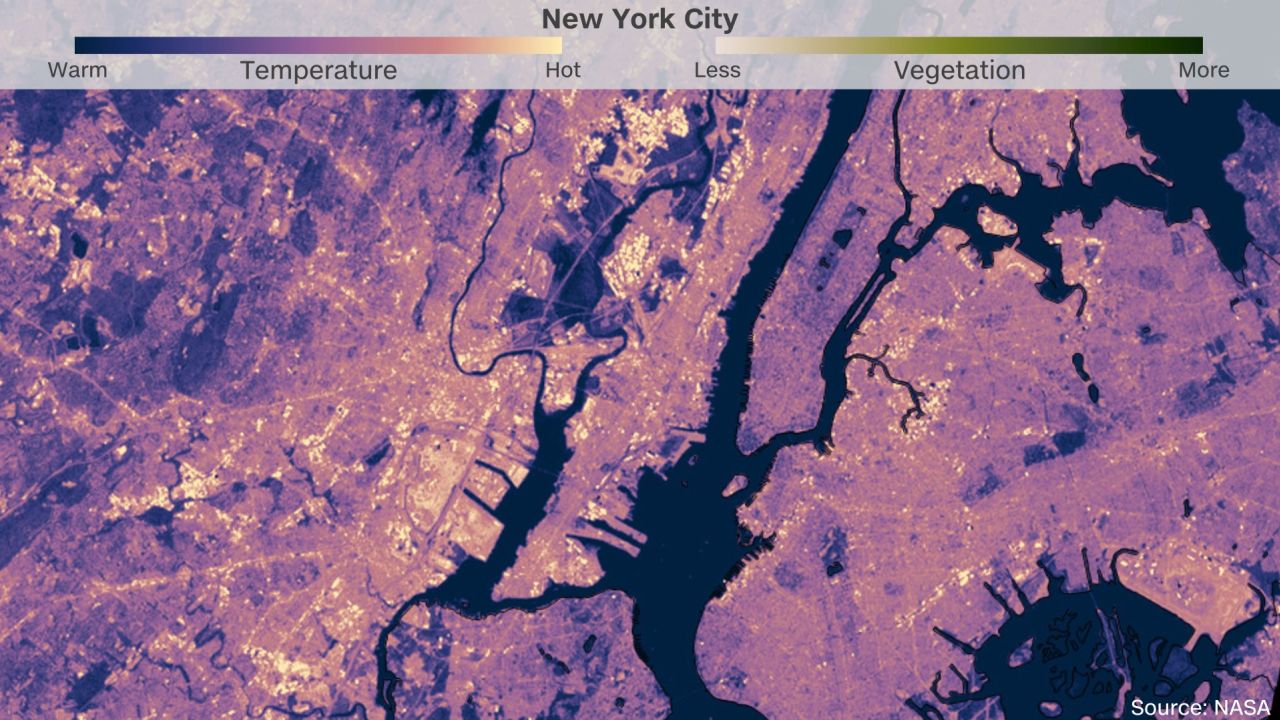 "This temperature difference occurs when cities' unshaded roads and buildings gain heat during the day and radiate that heat into the surrounding air," according to the National Integrated Heat Health Information System, or NIHHIS. This extreme change in temperatures can be deadly.
However, heat-related deaths and illnesses, such as heat stroke and dehydration, can be avoided in many situations.
"Heat-related deaths and illnesses are preventable. Despite this fact, more than 600 people in the United States are killed by extreme heat every year," according to the Centers for Disease Control and Prevention (CDC). The CDC is the official government source for cause of death in the United States, including weather-related fatalities.
Mapping extreme heat
In order to diagnose where additional actions can be taken to protect communities at higher risk, NOAA's National Integrated Heat Health Information System and local community partners are leading a community-led campaign that will map the hottest parts of cities in 11 states.
This campaign aims to reveal the disproportionate heat stresses on neighborhoods so communities can better adapt to a rapidly warming climate. Due in large part to historic redlining – a now illegal practice of refusing good or services to people solely based on their race or ethnicity, and more specifically in terms of obtaining a loan in order to buy a house.
These discriminatory housing policies of the past have led to present-day inequalities as communities struggle to keep cool during the summer's most intense heat waves. Communities that were redlined in the past also have a higher likelihood of having fewer trees and poorer air quality, according to a recent study published in Climate.
"Increasingly evident is the legacy of these historic policies in racial disparities in health care, access to healthy food, incarceration, resources allotted for schools, and public infrastructure investment such as the privileging of the suburban highway system at the expense of the city's public transportation," according to Climate.
"As climate change brings worsening heat waves, the information from these campaigns will help bring local and equitable solutions to those facing the greatest threat." said Hunter Jones, Climate and Health Project Manager with NOAA's Climate Program Office.
Armed with heat sensors mounted on their cars or bikes, volunteer citizen scientists traverse city neighborhoods during one of the warmest days of the year. Every second, the device measures temperature, humidity, time and the volunteer's location. Measurements are taken in the morning, afternoon and evening to accurately capture the diurnal warming of a city.
The campaign has already mapped hot spots of various cities such as Los Angeles, Houston and New Orleans during previous summer heat waves. This summer, the campaign will be collecting data in cities where temperatures are warming faster than the national average, including San Francisco, Atlanta and Manhattan (New York City), to name a few.
Experts analyzing the urban heat island data have noticed correlations between the hottest neighborhoods and lower income, underserved communities of color.
According to a nationwide study prompted in part by this project, 94% of previously redlined districts are subject to warmer temperatures than more affluent, non-redlined neighborhoods. Much of this is attributed to generations of disproportionate funding of public green spaces, which help to cool communities.
Equipped with the important data from the urban heat island campaign, city planners can build immediate and future climate resilience into their development plans. Simple solutions can achieve big results, such as zoning more public green space, planting more trees to provide shade, whitewashing dark pavement or roofs and providing access to additional public air-conditioned spaces.
The climate is changing, and cities are getting warmer
In general, temperatures across much of the contiguous US are warming. This can be seen in NOAA's new climate normals released just one month ago.
The current normals data set, which represent the average temperature for 1991 through 2020, highlight that most of the country has warmed, compared to normals for 1981 through 2010, except for the north-central US.
In most cases, cities bear the brunt of the hottest weather when compared to surrounding rural areas – due in part to the urban heat island effect.
Urban heat islands can impact a person's quality of life by compromising health, increasing heat illnesses and increasing energy consumption by cooling homes and businesses using air conditioning. This can also have a domino effect of increasing the emission of air pollutants and heat trapping gases, which can lead to an increased risk of respiratory illnesses.
This urban heat island effect can be even worse at night, due to buildings, sidewalks and roadways retaining their heat while more rural areas with more vegetation cool off faster.
"As the world warms, nighttime temperatures are slightly outpacing daytime temperatures in the rate of warming," according to NOAA.
This trend of rising temperatures, both during the day but especially at night, is concerning as the human body needs time to cool off and recover from extreme heat. If relief cannot be found, that is when heat-related illness begin to take hold, including heat cramps, heat exhaustion, and eventually heat stroke.