Inside a tiny middle school classroom, Georgette Abushahla has crammed all of her life's belongings. Two small sofas double as beds for her and her husband.
"Right now, I don't have a home because it was destroyed in the port blast," she told CNN, referring to the explosion that ripped through Beirut's harbor last August. "What can I say? I thank God for what we have."
Pots and pans sit idle on shelves meant for schoolbooks. She has no kitchen in the closed school and relies on Nation Station, a grassroots charity, to bring her hot meals three times a week.
The group's young and trendy volunteers zip around on orange mopeds, knocking on the doors of their neighborhood's neediest and most vulnerable.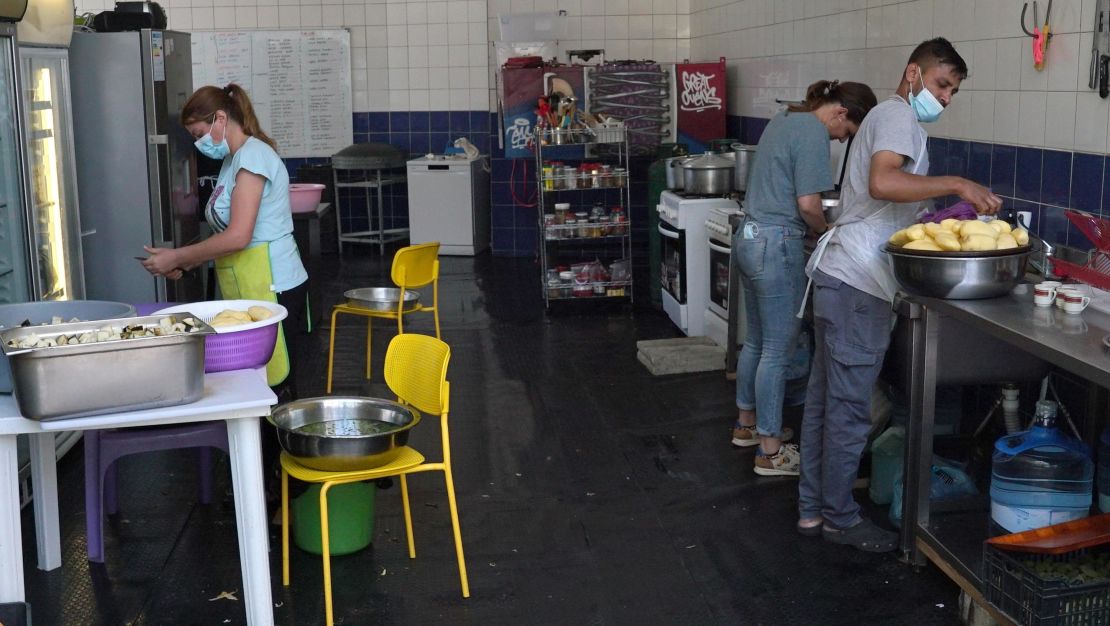 Izzo, 78, greets her visitors with a smile and the bustle expected of a generous host.
"I am sorry! We have no power. I don't have a generator. Please come in," she said. Lebanon's national grid is failing, leaving the poorest without electricity for hours every day.
"I tell them may God give them strength. Knock on wood," Izzo said as she emphatically knocked on her table and gestured at the volunteers, "I wouldn't eat without them."
Nation Station co-founder Josephine Abou Abdo said the group started when she and a few friends began handing out donations from an abandoned gas station two days after the port blast. Now, nine months later, that gas station has been transformed into a community kitchen that supports about 1,000 families.
"We thought that slowly, slowly after the blast the need would diminish, but to our surprise, with the economic situation, the need actually increased," Abou Abdo explained.
Lebanon is facing economic collapse. Since late 2019, the country's currency has lost over 90% of its value, and people's life savings are locked up in banks that have imposed discretionary capital controls. The financial meltdown has pushed half of Lebanon's population below the poverty line, according to the World Bank.
Political turmoil has exacerbated the crisis. The government resigned after hundreds of tons of ammonium nitrate – neglected and mismanaged for years by Beirut port officials – exploded, leaving more than 200 people dead and thousands more injured. The heart of the city still stands disfigured with countless buildings damaged and destroyed.
After months of political bickering, the ruling elite remain in deadlock over the formation of a new cabinet. Some blame the country's power sharing system, which allots seats by religious sect, for the gridlock.